Golden Thread Gallery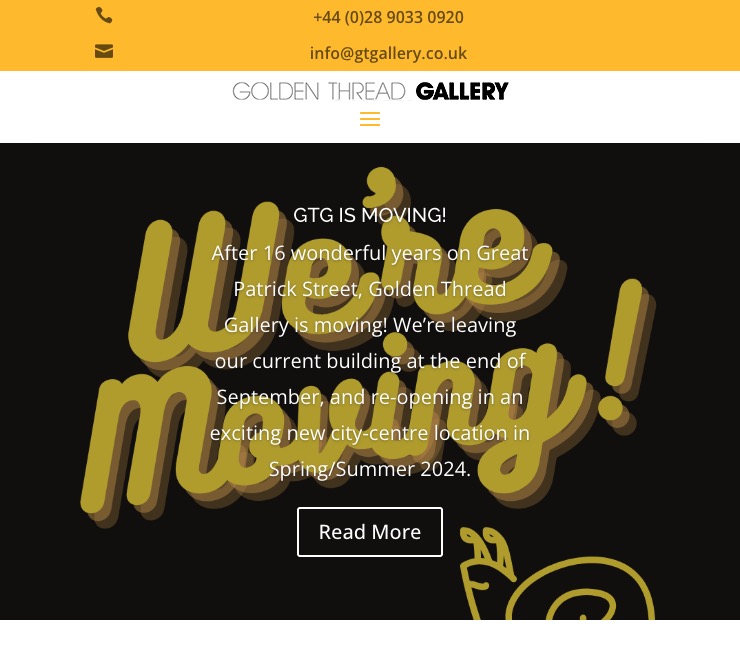 September 2023: GTG on the move!
More information here.
---
From its beginnings, in 1998, in a former linen mill on a contested 'peace line' in North Belfast, Golden Thread Gallery has delivered annual programmes of exhibitions and activities designed to make a real contribution to the visual arts and wider communities in Northern Ireland.
Now located in Belfast's developing 'sailor-town' area, on the edge of the city centre, Golden Thread Gallery has grown a unique position in the region by simultaneously developing programs of contemporary art that reach local and international audiences.
Golden Thread Gallery has no permanent collection. Providing instead an ongoing series of temporary exhibitions and activities, that provide accessible and thought provoking opportunities to engage with aspects of contemporary artistic practice. Annually the gallery's program features:
* 6 temporary exhibitions in its 280m2 of gallery space,
* In-house and off-site, outreach activities including: participatory events and projects
* Monthly exhibitions of emerging artists & curatorial practice, community projects or experimental works in its' dedicated 50m2 project space
* An international touring exhibition
* An ever-changing display of works in a 'not-for-profit' sales room
* Publishing exhibition catalogues and contextual publications
Golden Thread Gallery
84-94 Great Patrick Street
Belfast BT1 2LU
Telephone: +44 2890 330920
Opening hours / start times:
Tuesday 10.30 - 17:30
Wednesday 10.30 - 17:30
Thursday 10.30 - 17:30
Friday 10.30 - 17:30
Saturday 10.30 - 16:00
Admission / price: Free
Open till 9pm on the first Thursday of every month.