Yvonne Kennan: It's not that black, it's not black at all
Friday 6 September – Saturday 26 October 2019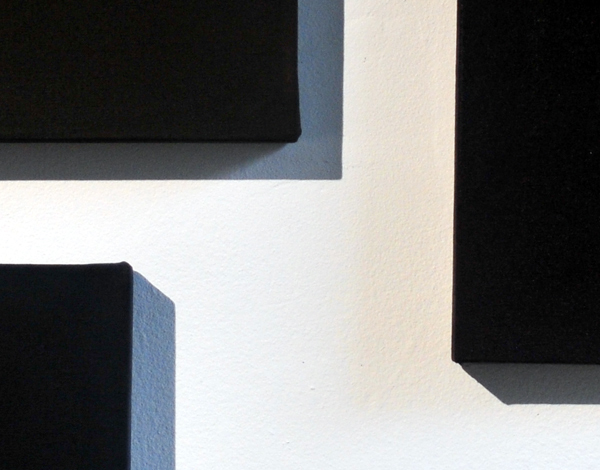 This work aims to develop a relationship between the viewer, the space, time and themselves. It is also concerned with the futility of image making. Rather than represent a subject, the work itself serves as the subject. The imagery is created by the presentation of the work. Blocks of varying sizes and colour are arranged to complement and conflict with each other. They are movable and stackable and transient. They are affected by the environment they inhabit. Changes in light, strengthen and weaken the colour differences. Natural light and artifical light each have an effect on the negative space between these colour blocks. Time and looking changes perception. Flatness begins to have depth, a blank becomes a reflection, the polarity of everything and nothing interlace.
'The colour in your shirt is darkening, against the paleness of your skin'¹
Throughout the duration of the exhibition the work will be presented in four arrangements. The initial configuration will be devised by the artist. Then, in the weeks following, Yvonne has invited some creative minds to rearrange, re-present the exhibition. These invitees are chosen based on Yvonnes admiration for their practice and their individual sensibilities: Mark Hackett, Peter Richards and Robyn G Shiels.
Yvonne Kennan was born in Dublin and currently resides in Belfast as a studio member of Orchid Studios. Yvonne was awarded a distinction from the University of Ulster upon completion of the MFA 2009 and studied Fine Art at Limerick School of Art and Design. Yvonnes practice emcompasses drawing, painting, collage, photography and assemblage. Yvonne has exhibited in various solo and group shows throughout Ireland.
Mark Hackett is an award winning Belfast based international architect. Mark focuses on urban projects, cultural buildings and research in divided cities. The practice is committed to projects with social and urban purpose. Mark was a founding director of Forum for Alternative Belfast, a think tank advocating for better urban design solutions for the city. Since 2015 his work continues focusing on Inner North Belfast. Before this Mark completed the nearby MAC arts centre with Hackett Hall McKnight. More info about Mark here http://www.hackettarchitects.com/
Peter Richards Gallery Director, has over twenty years' experience in the arts, both as a curator and as an artist. He has led the Golden Thread Gallery since 2001, is the current Chair of the Belfast Visual Arts Forum and Secretary of AICA Ireland. To find out more about Peter visit his website.
Robyn G Shiels is a Belfast based international award winning musician and founder of Black Tragick Records.
Darkness. Devastation. Hope. Beauty.
To find out more about Robyn visit his website AND follow on spotify.
This work was aided and abetted by the Arts Council of Northern Ireland.
¹ Peter Gabriel, Track four, No Way Out, Up, 2002
Friday 6 September – Saturday 26 October 2019
84-94 Great Patrick Street
Belfast BT1 2LU
Telephone: +44 2890 330920
Opening hours / start times:
Tuesday 10.30 - 17:30
Wednesday 10.30 - 17:30
Thursday 10.30 - 17:30
Friday 10.30 - 17:30
Saturday 10.30 - 16:00
Admission / price: Free
Open till 9pm on the first Thursday of every month.