No Ball Games
Thursday 3 March – Thursday 31 March 2011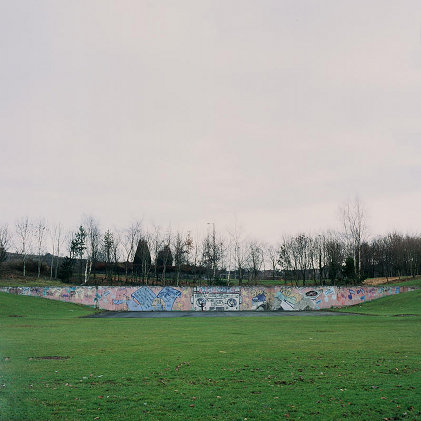 Curated by Rebecca Gilbert
No Ball Games has evolved from a dialogue between curator, Rebecca Gilbert and artists Jane Butler, Christopher Burns and Cameron Coombes. The work in this exhibition reflects the personal response of each artist to this ongoing conversation, which has centered on the architectural impact of dominant housing estates in our landscape, and has lead to exploring these structures with regard to personal experience and memory.
Christopher James Burns (b. Belfast, 1988) graduated from the University of Ulster, Belfast (2010) with First Class Honours in Fine & Applied Art, where his work is now held in the Permanent Art Collection. Burns' practice is concerned with liminality, the in-between and things that are in transition. Child and Before, (2011) explore Burns' personal interaction to housing estates in the area and their architectural landscape through sculptural installation. The works are created through a merging of both present day and childhood experiences within these environments.
Jane Butler (b. Belfast, 1986) completed her degree in Fine and Applied Art at the University of Ulster, Belfast (2009) specializing in sculpture and installation. Since graduating she has exhibited throughout Northern Ireland. In 2010, Butler was selected to join Array Studios in Belfast where she currently works as an artist. Butler's work is situated on the interface between sculpture, space, architecture and design. A Curious Seriousness consists of installation and wall based work, which have been generated through numerous visits to housing estates in West Belfast, where she grew up. These works draw upon the repetitive design and colour of each estate, curiosities which have intrigued Butler from childhood.
Cameron Coombes (b. Belfast, 1986) studied Photography and Digital Imaging at Leeds Metropolitan until 2010. He has since relocated to Belfast where his practice has developed through documentary photography. He enjoys mixing traditional with new technologies, by shooting on medium format film and using digital technologies to process his images. Coombes is interested in the interaction of humans with the landscape that surrounds them and has recently embarked upon a project to document all the major housing estates in Northern Ireland, observing these social scenes, with a distinct interest in the large expanses of green amid the clutter of terrace houses. The works within this exhibition are taken from this series.
Rebecca Gilbert (b. Belfast, 1987) has recently completed a Masters in Contemporary Art Theory from Edinburgh College of Art. Gilbert is an emerging curator currently working on a variety of projects in both Belfast and Edinburgh. As part of her degree, Gilbert co-curated They Do Things Differently There, Edinburgh (2010). No Ball Games is Gilbert's first solo curated exhibition, in which the themes of the exhibition have been developed through continuous discussion and dialogue between herself and the artists involved.
Image: Cameron Coombes: Untitled, January 2011
Thursday 3 March – Thursday 31 March 2011
84-94 Great Patrick Street
Belfast BT1 2LU
Telephone: +44 2890 330920
Opening hours / start times:
Tuesday 10.30 - 17:30
Wednesday 10.30 - 17:30
Thursday 10.30 - 17:30
Friday 10.30 - 17:30
Saturday 10.30 - 16:00
Admission / price: Free
Open till 9pm on the first Thursday of every month.