Travis Somerville: Homeland Insecurity
Saturday 4 August – Saturday 22 September 2018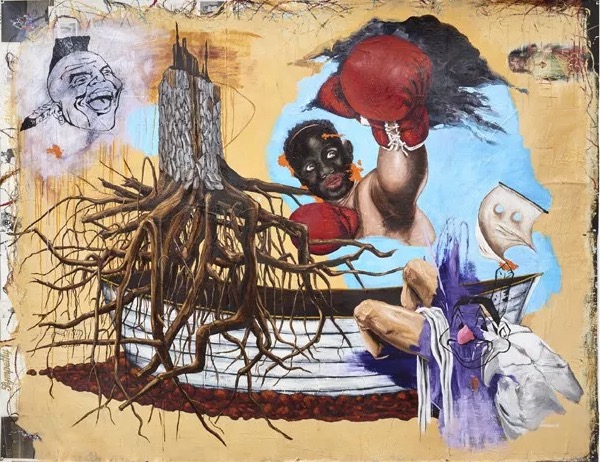 The Golden Thread Gallery is delighted to present the launch of two simultaneous solo exhibitions, a common fiction by Ian Cumberland and Homeland Insecurity by Travis Somerville. The positioning of these two solo exhibitions next to one another builds on the current themes being explored by the Golden Thread's 2018- 2019 programme of approaching ways of looking. Both Cumberland and Somerville's works is representational, explicit in its approach to storytelling. These two separate exhibitions and artists are brought together here for the first time, opening up the potential for conversations across the neighbouring spaces of the main gallery.
The Golden Thread Gallery is delighted to have worked in partnership with Maus Contemporary, Alabama to bring the work of Travis Somerville to Northern Ireland for the first time.
---
Travis Somerville (b.1963 Atlanta Georgia) grew up in towns throughout the Southern United States before studying at the Maryland Institute College of Art, Baltimore, MD and San Francisco Art Institute, CA.
Somerville uses large scale oil painting and drawings, incorporating collage and mixed media, to present images of political and cultural icons associated with the history of the southern states of the US. His work explores and identifies the complexities of racism and serves as a point of departure for discussion about US oppression and colonial attitudes abroad. Raised throughout the south, the themes of southern culture and iconography recur frequently in his work.  He uses complex imagery, nostalgia (or 'anti-nostalgia'), the idealism of his religious upbringing alongside the racial and political turmoil of his past to compel viewers to reconsider the standard measure of America's accepted history.
Somerville explores his political narrative through materials, the narrative is textural and detailed. In appropriating old advertisements and newspapers, vintage money bags and cotton sacks, the juxtaposition of his drawing and painting against found material entices the viewer to consider the aesthetic power of American culture's continued everyday brutality. He suggests that his work complicates the sense of a collective memory about how race has shaped the political, historical, cultural, and social contours of America
"As I attempt to navigate the terrain between autobiography, history, and art, all sorts of collisions take place. It is these interesting moments and the inconsistencies that inform them that I try to capture in my work."
Somerville's work has been included in numerous museum exhibitions including at the University of Georgia, de Saisset Museum at Santa Clara University,  Florida A&M University, Laguna Art Museum in Laguna Beach, California, the Smithsonian Institution in Washington, D.C., and Los Angeles County Museum of Art, among many others. His work is included in numerous Museum collections, including SF MoMA, the Museum of Contemporary Art San Diego, San Diego CA, the 21c Museum in Louisville, KY, the Laguna Art Museum in Laguna Beach, CA, the San Jose Museum of Art, San Jose, CA, and the Walker Art Center in Minneapolis, Minnesota. Travis Somerville has garnered critical attention in numerous publications including The Washington Post, Art in America, FlashArt and The Los Angeles Times.
Saturday 4 August – Saturday 22 September 2018
84-94 Great Patrick Street
Belfast BT1 2LU
Telephone: +44 2890 330920
Opening hours / start times:
Tuesday 10.30 - 17:30
Wednesday 10.30 - 17:30
Thursday 10.30 - 17:30
Friday 10.30 - 17:30
Saturday 10.30 - 16:00
Admission / price: Free
Open till 9pm on the first Thursday of every month.