David Godbold: Nightfall – amplissium terrarum tractum
Saturday 3 February – Saturday 10 March 2018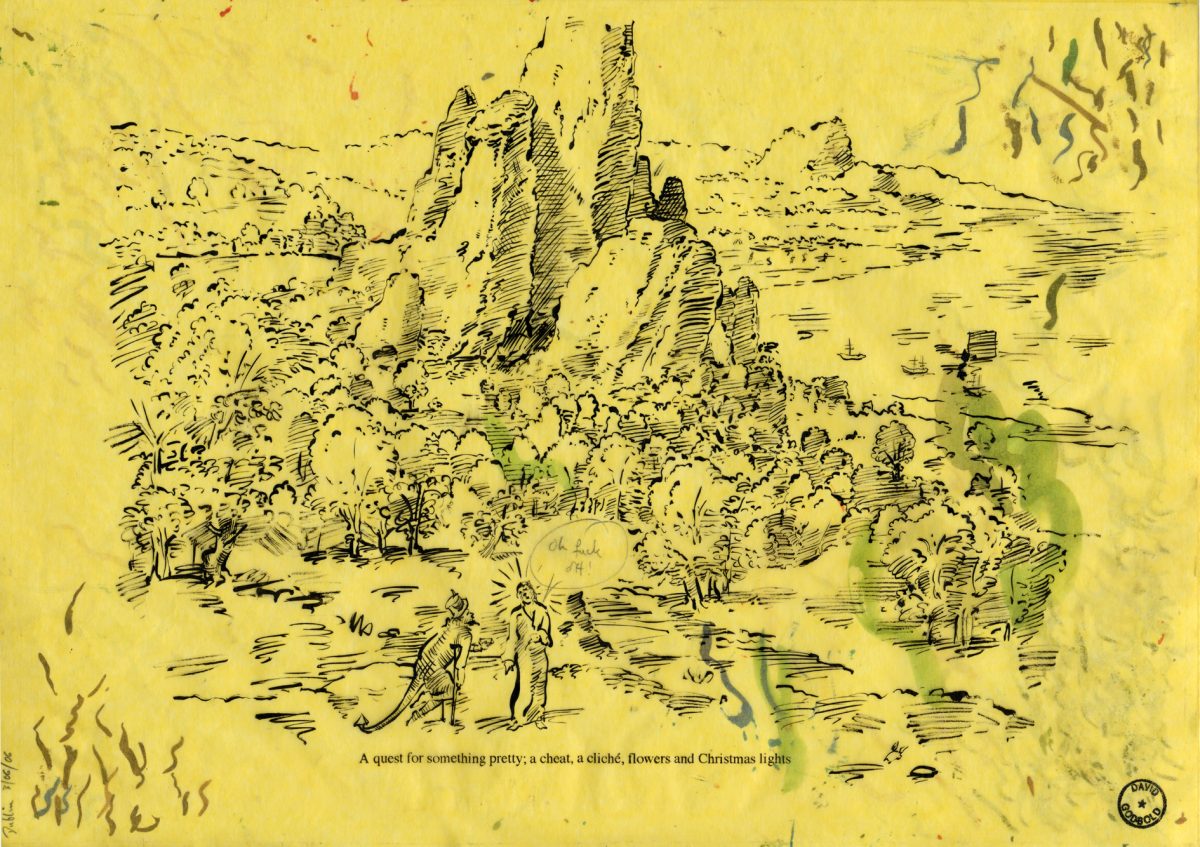 Like most Latin text, the 'implication' of a specific phrase carries enfolded meaning beyond its literal English translation. In the instance of the subtitle of David Godbold's new exhibition for Golden Thread Gallery, Belfast; amplissium terrarum tractum, Google Translate simplistically provides a prosaic rendering of "most regions…" Further exploration however allows a (somewhat fancifully) potential textual resonance of; most regions or territories, seen all at once, from a very great height, all at the same time.
In the biblical folktale, the Devil takes a tempted Christ upon a high mountain, from where he is offered domain of all that can be seen; land, water, plants, animals, minerals, insects, humans, microbes, properties, stuff…  Clearly there is a contemporary analogy here, with the temptations embedded in popular politics that have latterly and dangerously swept across vast territories – or where the end of the neo-liberal project increasing privileges the few at the expense of the many. Godbold's work, although arguably visually 'classical' in its appearance, and/or referential to what the late Noel Sheridan once described as the "golden era of power drawing", his exhibition carries a current and substantive political subtext.
The main seventeen-metre wall of GT's gallery one has been transformed into a vast hand-painted panorama, which theoretically would meet itself, if joined end-to-end; a huge territory seen all at once. Overlaying this, and clearly influenced by the panels and texts of Comics, Godbold has installed a substantial swarm of one hundred and twenty-one framed drawings, selected from a substantial production over twenty years, most of which have not been previously exhibited in Northern or Southern Ireland. A white neon hand-script of the Latin text, hung opposite, reflects in the drawings' glass, as distracting as it is illuminating. Interested in the narrative theories surrounding diegesis – wherein the telling of a story by a narrator (reliable or otherwise) summarizes events in the plot and comments on the conversations and thoughts of the characters – Godbold's drawings and texts not only talk to themselves, but amongst themselves, non-objectively relating image-to-image, idea-to-idea across the non-linearity of a false story-board, erroneously proposed by the swarmed drawings. Subjunctive conjunctions occur, new meanings swap-out old ones, things blur.
Galleries two and three expands the 'all at the same time' inference inherent within amplissium terrarum tractum, by pairing large-format night and day paintings of sublime/romantic landscapes, all of which are extracted from, or contained within the panoramic wall drawing. Aside from obscurantism of night – it's hard to control tracts of land, even vast ones, cloaked by darkness – Nightfall, the substantive exhibition title refers specifically to a small drawing dated, 22/1/99. 5.56pm, and revisited exactly nineteen years later. Whereby an artist's career, a life span, moves into a second half: a sporting metaphor, an eroded cliché, flowers and Christmas lights.
Godbold (born UK, lives and works in Dublin) was educated at Goldsmiths' College, London, and first came to prominence in the mid-1980s as one half of the duo, Godbold & Wood. Having moved to Ireland at the beginning of the 90s, Godbold continued to concentrate on the critical examination of the production, circulation and reception of visual imagery in both 'high' and 'low' culture. His work in a variety of media invariably involves a complex process of quotation and re-grafting of disparately sourced imagery to produce darkly humorous, irreverent and iconoclastic commentaries on a range of topics, but particularly the philosophical the encounter with the everyday, the "grey flats…", as Baudelaire described it. Originating during a year-long residency at PS1/MoMA, New York (1999-2000), Godbold began to incorporate found materials – discarded printed matter, leaflets and found letters, etc – into large-scale, scatter-hung agglomerations of caustic cartoons. David Godbold has exhibited widely over the past twenty-five years, is represented in numerous international collections and holds a PhD in Fine Art and Art History from the National College of Art and Design / National University of Ireland.
The image above: David Godbold, Flowers and Christmas Lights, 2006 ink on tracing paper over found paper 20.7 x 29.7 cm. Courtesy the artist / Kerlin Gallery, Dublin
Image: David Godbold: Nightfall – amplissium terrarum tractum
Saturday 3 February – Saturday 10 March 2018
84-94 Great Patrick Street
Belfast BT1 2LU
Telephone: +44 2890 330920
Opening hours / start times:
Tuesday 10.30 - 17:30
Wednesday 10.30 - 17:30
Thursday 10.30 - 17:30
Friday 10.30 - 17:30
Saturday 10.30 - 16:00
Admission / price: Free
Open till 9pm on the first Thursday of every month.