Sol Archer: not only the earth we share
Tuesday 25 May – Saturday 29 May 2021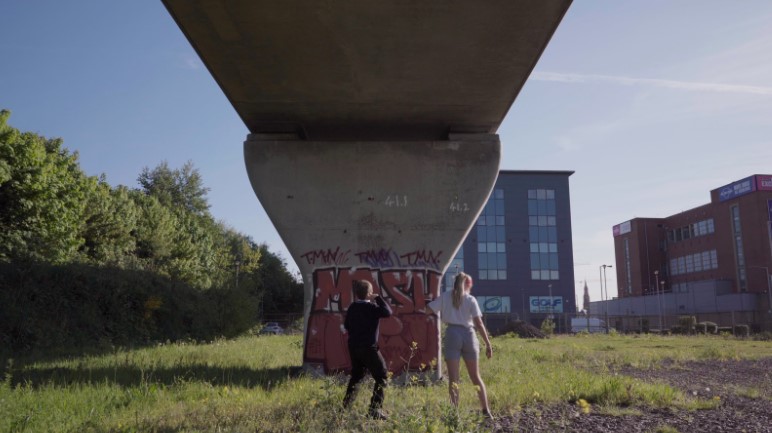 Golden Thread Gallery is delighted to present not only the earth we share, an exhibition of film and sculptural installation by Sol Archer. The exhibition examines the past, present, and future of a small neighbourhood in Belfast called Sailortown.
Up to the 1960s, Sailortown housed thousands of families who worked in maritime trade, factories, the docks and harbour, until it was almost completely demolished in the 1970s. The area today is home to a much smaller community of people, but continues to be a spiritual home to many who lived and worked there in the past.
Since 2018, at the invitation of Household, Archer has engaged with local groups intersecting, identifying, or currently operating in Sailortown and the surrounding area: elderly former residents, new migrant communities, local grassroots organisations, and children and young people living in local social housing. His resulting artist-in-residence project, titled The production of daily life, positioned the neighbourhood as a microcosm where histories are memorialised and (re-) enacted; the forces of regeneration and speculation are at play and can be examined; and communities are formed and (re-) imagined.
The films in not only the earth we share, which emerged from the artist-in-residence project, are informed by the social and creative practices of this community, and how storytelling, identity and community can result from, and act as agents of, neighbourhood resistance. In Sailortown, grassroots activism and regeneration take place alongside the expansion of the harbour estate and large scale, top-down urban planning and development. Therefore, not only the earth we share is an exhibition rooted in questions around rights to the city and by, for, and to whom the city acts; and explores the impact of decades of urban planning and development on people, place, and ways of life.
The films are exhibited alongside archival films sourced from the community, paintings by the local Arts and Crafts group, sculptural props that reference the architectural features of the original buildings in the former neighbourhood, and hanging fabric sculptural interventions that direct movement in the gallery and are reminiscent of domestic community spaces.
The production of daily life has been made possible with the support of the Mondriaan Fonds voor Beeldende Kunst and CBK Rotterdam. Sol Archer and Household would also like to thank the DAS Digital Art Studios Belfast, NI Screen, Paul Hamlyn Foundation, the Arts Council of Northern Ireland, and the people of Sailortown for their kind support and contributions.
Bios:
Sol Archer (1983) is a Netherlands-based artist who works through long-term collaborations with professional and non-professional groups and mixed communities of interest and place. He considers the encounter as a space of production and uses video as an apparatus for creating collective experiences and new work. He is interested in developing strategies for creating agency and auto-representation within groups, and platforming and supporting groups who see community building as acts of resistance.
His work has been exhibited widely, including in the Sydney Biennial, Sydney, AU; Rozenstraat, Amsterdam, NL; Le Crac19, Montbeliard, FR; Index Foundation, Stockholm, SE; TULCA, Galway, IR; Le Lieu Unique, Nantes, FR; MuKHA, Antwerp, BE. Residency programs Sol has participated in include the Jan van Eyck Academy, Maastricht, NL; Capacete, Rio de Janeiro, BR; IASPIS, Stockholm, SE; Vicinities, Belfast, UK; PHLOX, Huns, NL; AIR Anterp, BE; Het Wilde Weten, Rotterdam, NL; and the Digital Art Studios, Belfast, UK.
Household is an art organisation that works with artists and communities to meaningfully respond to public places. It collectively develops and produces art activities for and with communities of visual artists, writers, curators, residents and visitors in Belfast that take place across the city, often in unexpected spaces. Household values the production of high-quality art, relationships with collaborators and partners, and working in ways that connect with and benefit people and place. The organisation is interested in telling untold stories, asking unspoken questions, and revealing hidden narratives through creative, engaged visual arts programming. It also organises events that encourage networking and support shared learning and creative and professional development.
---
(N.B. not only the earth we share is accompanied by a public programme. Interactive workshops, interviews with invited external contributors, and moving image content on a purpose-built website created by design and branding studio NONGRAPHIC and will further explore some of the central themes of the exhibition.)
Tuesday 25 May – Saturday 29 May 2021
84-94 Great Patrick Street
Belfast BT1 2LU
Telephone: +44 2890 330920
Opening hours / start times:
Tuesday 10.30 - 17:30
Wednesday 10.30 - 17:30
Thursday 10.30 - 17:30
Friday 10.30 - 17:30
Saturday 10.30 - 16:00
Admission / price: Free
Open till 9pm on the first Thursday of every month.