Disconnected: Everyday Tension
Friday 25 February – Saturday 16 April 2011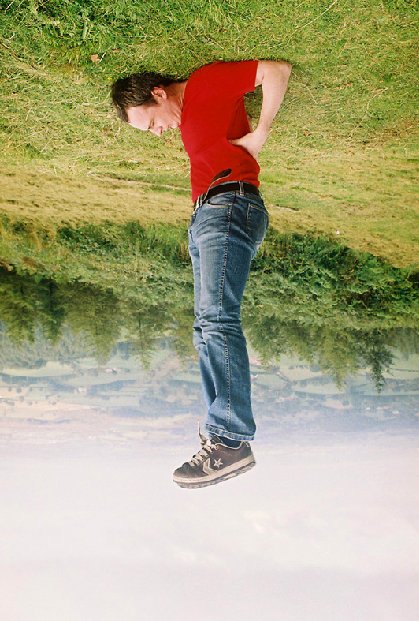 Curated by Peter Richards
…disconnected…adrift in a relentless stream of social global media… updated… informed… with an understanding of all the pressing issues… armchair managers, water-cooler brokers, bus-shelter chief executives… omnipresent…knowing all… liked…blissfully disconnected from the neighbours… jobs in balance… faith blurred … suspended, powered up… disenchanted… beyond the rose tinged sex, drugs and violence of the rural idle… defined by the warmth and safety of negative equity…
Disconnected: everyday tension isan exhibition of works by Maurice Doherty, Colm Clarke, Deirdre McKenna, Claire Morgan, Brendan O'Neill, Nicholas Keogh and Lorraine Burrell; exploring a range of observations and strategies engaged with rethinking superficial assumptions and contemporary shortcuts.
About the artists
Lorraine Burrell works in video and photography. She completed an MFA at the University of Ulster in 2005 and exhibits both nationally and internationally including Intersection: Globalization and Identity, Youkobo Art Space, Tokyo; Video Festival 07, Valencia, Spain and Engaged in Recreation, Borusan Culture and Art Centre, Istanbul. Her work is represented in various collections including the University of Ulster, Belfast. At present Burrell is represented by The Third Space Gallery, Belfast.
Colm Clarke is an artist based in Belfast creating actions, sonic scores, and situations. He received a BA (hons) Fine Art from University of Ulster (2006) and was a co-director of Catalyst Arts between 2006 and 2008. He currently sits on the board of Bbeyond and is collaborative organiser with A4 sounds & MOOK collectives. Clarke has created actions locally and internationally with his live work featured at Arts Electronica, Belgrade Triennial, Art Karavan and Exist-ence. Clarke develops his approach as a tactile strategy focusing on the body and the relationship between the individual and the environment. He is interested in phenomena such as vibration and resonance in considering the mechanisms of entanglement and aesthetics of power.
Maurice Doherty (b.1972) graduated from the University of Ulster, Belfast (1997) and went on to complete a Masters of Fine Art at Glasgow School of Art in 2001. Recent group exhibitions include: Beursschouwburg Kunstencentrum, Brussels (2010), MMX, Berlin (2010), Vulpes Vulpes, London (2010), The Project Room, Glasgow (2010), The City Art Rooms, Auckland (2009), and The Scottish National Gallery of Modern Art, Edinburgh (2009). Waiting is a video installation by Maurice Doherty, in which five waitresses have been employed to stand holding a tray of filled champagne glasses for as long as possible. Owing to the weight of the trays, the physical exertion and fatigue of each waitress increases as time moves on. Recorded as a single shot and presented life-size, voyeuristic implication becomes an integral part of the installation and synonymous to the protagonist's travails.
Nicholas Keogh (b. 1977) studied at the University of The West of England where he received a BA (Hons) in Fine Art in Context. Keogh lives and works in Belfast and is based at Lawrence Street Workshops. In recent years Nicky Keogh has participated in Experience Pommery #5: L'art en Europe 2008, Venice Biennale 2005. He has also exhibited internationally in New York, Chicago, San Sebastian and Lisbon.
Deirdre McKenna (b.1973) is a Belfast based visual artist. McKenna studied Fine Art at the RTC Sligo, and then at the University of Ulster, Belfast. She acted as a co-director of Catalyst Arts between 2002 and 2004, exhibiting, organising and collaborating. McKenna returned to the University of Ulster to complete her Masters in Fine Art graduating in 2007. She received the Royal Ulster Academy's Outstanding Student Award and the Dean's Prize for her work. McKenna is a studio holder at Flax Art Studios, Belfast. Her work is housed in the Arts Council of Northern Ireland collection, in addition to numerous private collections. The work McKenna produces is often highly detailed with a personal narrative. Having trained as a painter, McKenna's work lives somewhere between painting and sculpture with a strong emphasis on image making. She draws on the elevation of everyday situations and stories.
Claire Morgan was born in Belfast and is now living in London. She has exhibited internationally, with solo and group shows in the UK and Europe, and museum shows in US and Australia. In 2004, Claire won awards from the Royal British Society of Sculptors and in 2006 was awarded first prize in the Premio Fondazione Arnaldo Pomodoro, Milan. In 2008, Gone With The Wind, shown at The Laing Gallery, received acclaim. Morgan's work is concerned with the notion of change, the passing of time, and the transience of everything around us. There is a sense of fragility and a lack of solidity that carries through her practice. Animals, birds and insects have been present in her recent sculptures, with the use of suspense to create something akin to freeze frames. The evidence of gravity – or lack of it – inherent in these scenarios is what brings them to life, or death.
Brendan O'Neill (b.1971) studied Fine Art at the University of Hertfordshire from 1994–1997 and on the MFA course at the University of Ulster from 2002–2004. O'Neill worked as a visiting lecturer in the Fine Art Department at the University of Hertfordshire from 1999–2002 and was awarded a three-year studio fellowship at the Digswell Art Trust (1998-2001). He also co-directed at Catalyst Arts, Belfast, from 2004–2007. O'Neill uses artistic practice as a tool for examining our perception of reality as well as our relationship to culture and its productions. His work explores the iconography of evangelism; "I am interested in the ways in which art and faith are connected and in the process of how images and objects are endowed with meaning beyond their materiality". The current body of new work is derived from the manipulation of different material and imagery. This is reflected in the combination of competing influences between the subject matter and material, often evoking a sense of ambiguity and irony.
---
Disconnected: everyday tension is an exhibition that praises normality, re-writes its meaning and raises it up to be examined in fine detail. The everyday issues of scale, the conflict between man and nature, the force of gravity, the cycle of life and death and the interaction between artist and subject matter come into play through installation, video and photographs. Ideas of poignancy, futility, absurdity, ambiguity and voyeurism are explored and although each artwork is different and the collection as a whole appears to be incoherent and disjointed, everything works together. The viewer is challenged to re-examine their first impressions and thoughts, start to look for links between each piece and try to understand the deeper meanings within them.
Simple everyday things are raised to a new importance because they are removed from their original context. They have been disconnected and separated from their usual environment and placed within the confines of 'the gallery', the concept of which at once engineers respect and a new framework for examination, allowing each piece to be opened up to fresh interpretation. Each artwork breeds interaction from the audience, either directly with the piece as with Looking for Venus where a torch is used to explore the scene, or interaction with each other as with Pose Off and Waiting in particular. These pieces are slightly absurd and with Waiting the audience is kept on edge, speculating amongst them which tray will be the next to fall. All the works raise questions that can be considered, sometimes answered or left up for interpretation creating a rich narrative that changes with every new viewer.
Thematic elements such as creation and destruction, transiency, Christianity and the spectacle tie each piece together, the exhibition flowing from nature and the outside, to human and the inside and back out again into nature. This flow instils a range of different feelings and emotions in the audience, beginning with curiosity, moving into amusement, amazement, suspense and finally futility, fragility and poignancy. Plug and Formal create these last feelings and help to tie everything into the main theme of disconnectedness. Plug conveys something both silly and also strangely moving whilst Formal gives a feeling of transient fragile beauty, a random motion frozen into a structured shape.
Disconnected is a challenging exhibition which requires time and effort from the audience. It is not a quick walk-around but a considered journey through different ideas and subjects explored in a variety of ways. Once experienced, the exhibition gives the spectator a greater understanding and appreciation of the ordinary in life which, when seen from a different angle, is perhaps not so ordinary after all but rather something to be praised and valued.
Brigid Lydon, Gallery Intern
Image: Maurice Doherty: Weight of the World
Friday 25 February – Saturday 16 April 2011
84-94 Great Patrick Street
Belfast BT1 2LU
Telephone: +44 2890 330920
Opening hours / start times:
Tuesday 10.30 - 17:30
Wednesday 10.30 - 17:30
Thursday 10.30 - 17:30
Friday 10.30 - 17:30
Saturday 10.30 - 16:00
Admission / price: Free
Open till 9pm on the first Thursday of every month.