Sean Hillen: 100 works
Thursday 26 January – Saturday 11 March 2017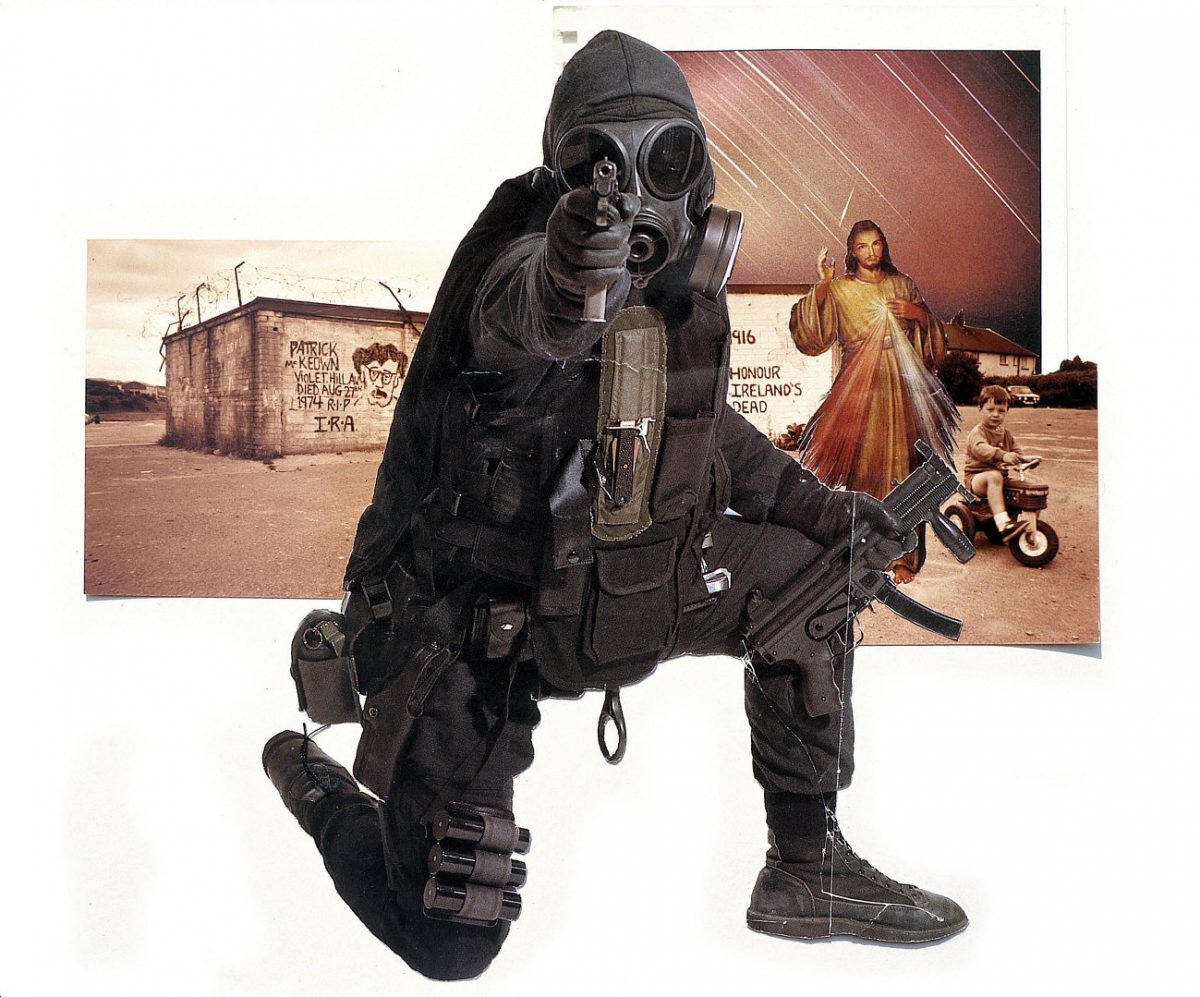 "Sean Hillen works in a space even Francis Bacon would tidy, creates collages that would give someone with 20:20 vision a headache, and is as much a cultural institution as a working artist."
Cora Burke LeCool in 2013
Sean Hillen: 100 Works is the first major solo exhibition of Sean Hillen in Northern Ireland, and is focused on his practice as a collagist, with works dating back to the early 1980's.His distinctive images have been circulating in Irish visual culture for over 30 years. Having grown up in Newry in an intense phase of the Northern Ireland conflict, he studied in London at LCP and at the Slade School. His earliest works were art/documentary photos which quickly became source material to a series of series of paradoxically funny but politically-charged photo-collage works, amounting to around 70 made between 1983 and 1993, when he moved to live and work in Dublin.
In the Irish Times chief critic Fintan O'Toole wrote that they "remain the best expression of what it felt like to be in Northern Ireland during the Troubles."

His subsequent series 'IRELANTIS' has appeared on over 30 book and magazine covers, and was described as "the most vivid and emblematic.. of the hopes and fears of 'Celtic Tiger' Ireland".
Seamus Heaney, opening the first 'Irelantis' exhibition in 1995 said:
"I admire them very much, for knowing their place, in all senses. For knowing their place in our history, knowing their place in the world, knowing their paces as well as their place. For their light touch, for their great cultivated allusiveness, and for their technical aplomb.. So, I feel so at home with them, I want to sign 'S.H.' under them, but it has been done already!"
Recently, a chance remark led to a diagnosis of Asperger's Syndrome, which Hillen describes as "a life-changing catalyst" for a renewed personal understanding and professional momentum. One result was assistance to fully document his output of collage works (amounting to around 220 over 35 years), and attempting to bring it to a wider public. In 2016 the curator Erik Kessels discovered Hillen's work at the FORMAT Festival, and offered to design a new book of the collages which will be released by an international publisher later in 2017.
This selection by the artist of 100 Works is represented here as a mixture of original works, many rarely-or-never seen, borrowed from private and public collections; prints in different scales and facsimile editions.
More information: Golden Thread Gallery +44 (0)28 90 330920
Golden Thread Gallery's artistic vision is engaged with the fluidity of history and the multiplicity of points of view. The programme investigates how moments in time can have an irrevocable impact on perspective. Our surroundings shape how we read meaning: an event can be something or nothing depending on where it occurs or what we have previously experienced.
Admission to the exhibitions is FREE.
---
Event
Date : 27 January 2017, 1pm – 2pm
Artists Talk: Sean Hillen in conversation.
Admission is free. Tea and coffee available.
Image: Sean Hillen: Jesus Appears in Newry (Security Forces Investigate), 1992 . On loan from Newry & Mourne Museum Collection
Thursday 26 January – Saturday 11 March 2017
84-94 Great Patrick Street
Belfast BT1 2LU
Telephone: +44 2890 330920
Opening hours / start times:
Tuesday 10.30 - 17:30
Wednesday 10.30 - 17:30
Thursday 10.30 - 17:30
Friday 10.30 - 17:30
Saturday 10.30 - 16:00
Admission / price: Free
Open till 9pm on the first Thursday of every month.