F.E. McWilliam Gallery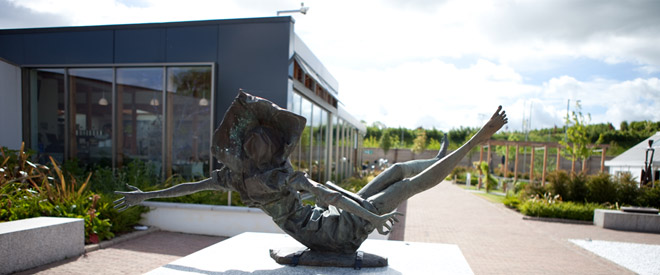 Opened in September 2008, the gallery celebrates the work of the sculptor, Frederick Edward McWilliam, who was born in Newry Street, Banbridge on 30 April 1909. A contemporary and friend of Henry Moore, McWilliam made his name in London and established a reputation as one of the most important sculptors of his generation.
After McWilliam's death on 13th May 1992, his estate gifted the contents of his studio, originally situated in Holland Park, London, and a number of sculptures to The Council. After several years of research a suitable site and funding was found to commence work on a purpose built gallery, sculpture garden and replica of McWilliam's studio. Designed by Kennedy Fitzgerald and Associates, Belfast, the gallery is conveniently situated on the outskirts of Banbridge and just off the main Belfast to Dublin road.
Featuring a permanent display of McWilliam's work, temporary exhibitions of Irish and international art, a craft shop, café and Banbridge Tourist Information Centre, the F.E. McWilliam Gallery and Studio attracted over 43,000 visitors during its first year and continues to attract a wide range of local, national and international visitors.
The Council is enormously grateful to the family of F.E. McWilliam who has enabled them to become the custodian of the wonderful collection of art works by the sculptor born in Banbridge. The majority of the works on display are maquettes, that is, works created as part of the sculptural process. The Council has purchased and subsequently added a number of finished bronzes to the collection. As money becomes available, perhaps through grants, it is hoped to acquire more sculptures to increase the collection.
The Council is very grateful to the private collectors who have loaned their works to the gallery for the public to view and enjoy. Many of these are on view in the sculpture garden.
F.E. McWilliam Gallery
200 Newry Road
Banbridge
County Down
Telephone: +44 28 4062 3322
Opening hours / start times:
Monday- Saturday 10am – 5pmSundays: (June-July-August only) 1 – 5pm
Admission / price: Free