Ellie Niblock: 174 Vessels
Ongoing 2022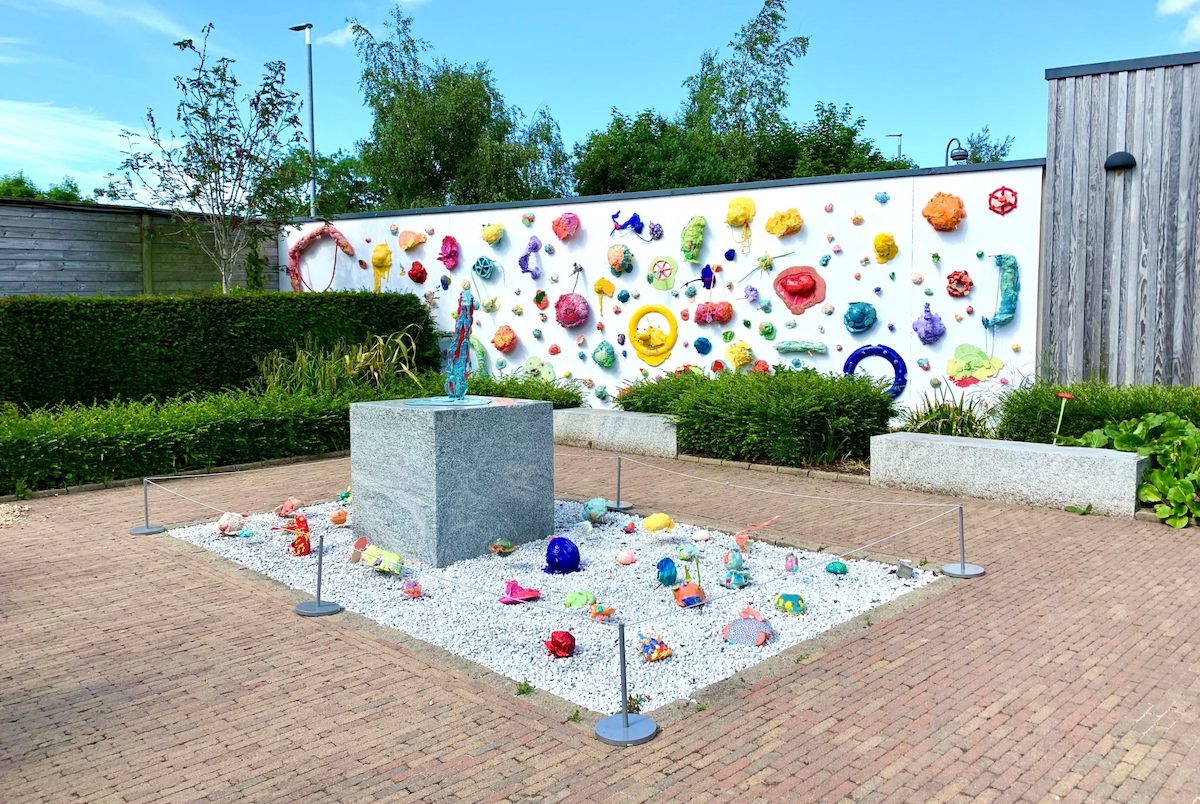 ――― In venue ―――
A sculptural installation, utilising tactile materials coated in resin to provide a glossy, waterproof aesthetic. A representation of the 174 vessels built for the Royal Navy in Belfast Yard between 1868 and 1969 by Harland and Wolff.
@ellieniblockartist • www.ellieniblock.co.uk
Ellie Niblock is a multidisciplinary artist from Northern Ireland, living and working in London. She is a graduate from the Fine Art Masters course at Central Saint Martins, which she completed in 2020. In 2015 she completed a BA (Hons) in Textile Art, Design and Fashion at Ulster University.
She has worked professionally as an artist for four years, through exhibitions, residencies, and commissions. During this time, she has held 3 solo exhibitions across Northern Ireland. Ellie has participated in international group shows, including working with notable venues such as Tate, British Council, The Mark Rothko Centre, and Baltic Centre for Contemporary Art. Additionally, she will be undertaking a residency at Yorkshire Sculpture Park in 2021. She was the first artist from Northern Ireland to be awarded an art residency to India in 2016, by The Arts Council of Northern Ireland and British Council, and has sold work to The Arts Council of Northern Ireland for their permanent collection.
Ellie primarily works with sculpture and digital technologies, and she is interested in exploring the possibilities of how materiality and technology can alter our perception of experiences. Utilising her textile background, she creates highly decorative, tactile, and colourful objects using a range of materials including synthetics and found objects. Ellie combines the physical and the digital by using 3D scanning, 3D printing, animation, virtual reality, and augmented reality, as a tool to explore the mutation of her sculptural objects and how they might appear differently in alternative scenarios. She is curious about visualising the invisible and making something intangible become tangible.
174 Vessels is a project consisting of 174 individual sculptures that were created by hand and are completely unique. They represent the 174 vessels built for the Royal Navy in the Belfast Yard between 1868 and 1969 by Harland and Wolff. These vessels included gun boats, depot ships, yachts, monitors, aircraft carriers and tugs. The project commemorates the work and craft from the employees at Harland and Wolff,
which includes members of the artist's family. 174 Vessels aims to act as a reminder of the importance of saving the Belfast Shipyard and countless jobs, through thought provoking, colourful, eye-catching sculptures. As an artist from the new generation, it is important for Ellie to honour the history in Belfast.
Ellie gathered research from speaking to her father about his experience working on the shipyard, through storytelling, archived documents, and photographs. Ellie is interested in making the intangible tangible; and she collected items which she felt resonated with her the most. Through the process of sculpting, mould making and casting, Ellie developed 174 sculptures to bring the stories to life, revisualising the once visible. There are subtle hints to the stories and inspiration in the work, through casting, colour, and form. The Harland and Wolff cranes were a visual aid for the project, and yellow became a key colour in the work. The sculptures are amorphous, whimsical, and tactile; as the eye looks closer, more is revealed, such as a cast of a chain protruding out, hand-crafted detail influenced by the sea through silicone spikes and flowing liquid plastic.
Image: Ellie Niblock (b.1993): 174 Vessels,  2021, polyurethane, foam, clay, silicone, resin
Ongoing 2022
200 Newry Road
Banbridge
County Down
Telephone: +44 28 4062 3322
Opening hours / start times:
Monday- Saturday
10am – 5pm
Sundays
: (June-July-August only) 1 – 5pm
Admission / price: Free