Tony Hill: Selected Works 2017 – 1972
Friday 14 April – Sunday 4 June 2017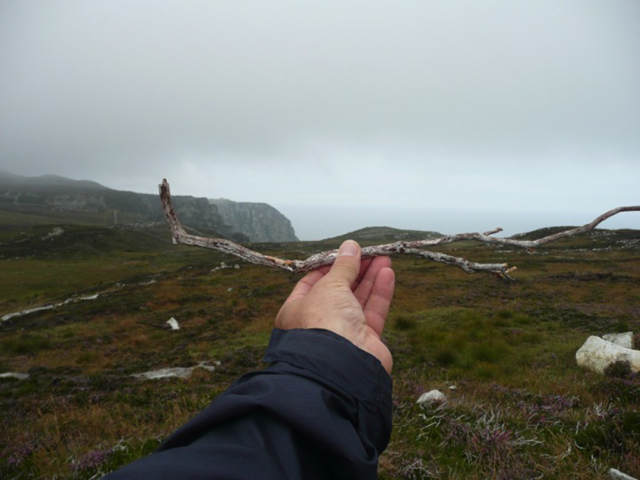 Featuring key works from throughout Tony Hill's career, this exhibition presents a diverse selection of art created over five decades. Ranging from sculpture, installation, drawing and photography to painting, video and performance, this is the first opportunity for the public to see a large body of Hill's work in one place.
From his abstract sculptural forms to his photo-graphic works responding to landscape and location, Hill is concerned with formal questions of colour, texture and volume and philosophical issues about the nature of art, and the role of the artist and the viewer. Despite the diversity of media and subject matter, there is a strong shared conceptual and aesthetic approach that unites these works into a consistent oeuvre.
Born in Natal, South Africa in 1949, Tony Hill grew up near Huddersfield in Yorkshire. He has lived and worked in Northern Ireland since 1975 when he was appointed Lecturer in Fine Art in the School of Fine Art at Ulster Polytechnic. He is graduate of Manchester College of Art and Design, 1968/9, Maidstone College of Art, 1969/72, and the Slade School of Fine Art, University of London, 1973/5. His teachers included Keith Arnatt, Stuart Brisley, Noel Forster and Malcolm Hughes. Hill also studied at the State Academy, Dusseldorf from 1972/73, where he was awarded a British Council Scholarship to work with the influential German artist and teacher Joseph Beuys. He was later associated with the Northern Irish branch of Beuys' Free International University.
Before he retired from the University of Ulster in 2012, Hill had been responsible for Sculpture and Experimental Media and was Director of the Masters in Fine Art Course from 1991 to 2003. Hill's wife, the artist Lynne Davies-Jones (1956−2004), contributed to a number of his works, particularly by documenting his live performances.
Hill has had several one-person exhibitions and his work has been included in numerous group and thematic shows in Ireland and abroad. He was a member of Acme Arts in London, The Artist's Collective of Northern Ireland and Art and Research Exchange, Belfast and has been a studio member of Flax Art Studios since 2009. He is represented by the Fenderesky Gallery, where he has shown regularly since the gallery formed in 1984. He has artworks in various private and public collections.
Image: Tony Hill: Stick and Cliff, County Donegal, 2012, inkjet
Friday 14 April – Sunday 4 June 2017
200 Newry Road, Banbridge
County Down
Telephone: +44 28 4062 3322
Opening hours / start times:
Monday- Saturday
10am – 5pm
Sundays
: (June-July-August only) 1 – 5pm
Admission / price: Free