Metropolitan Arts Centre (The MAC)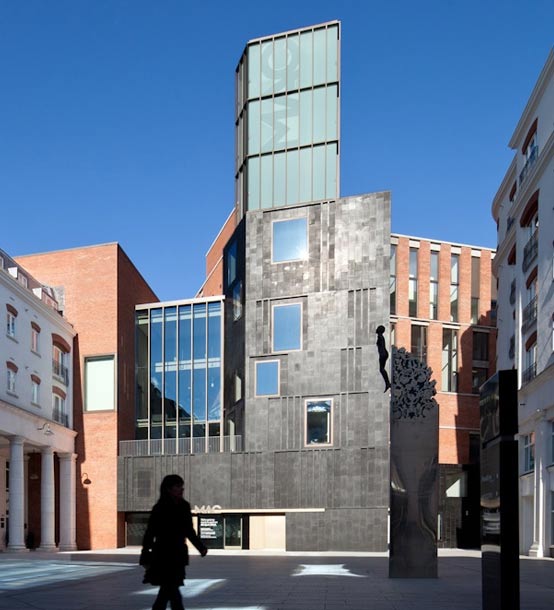 Belfast's new arts venue
We select, create and mix up music, theatre, dance and art – bringing you the very best of local and international talent, all under one roof.
Our world-class building is situated in the heart of Belfast's bustling Cathedral Quarter, right behind Saint Anne's Cathedral.We are home to international art exhibitions, the very best in live theatre, experimental works and all manner of weird and wonderful goings-on.
One visit and you'll discover that the MAC has something for all ages and interests. We hope you love our building as much as we do.
The MAC by numbers
2 Theatres (350/120 seater)
3 Art Galleries
1 Rehearsal Space
1 Dance Studio
3 Education & Workshop Rooms
4 Offices for Resident Art Groups
1 Restaurant/Bar
1 Artist-in-Residence Studio
1 Permanent Artwork The Permanent Present
The Permanent Present
We are deeply grateful to all our partners who have helped us create the MAC and we are particularly proud to have worked closely with the Thomas Devlin Fund in the commissioning and creation of a stunning and permanent artwork in our main foyer space. We wanted to commission an artwork that would comment on the Thomas Devlin Fund's commitment to highlighting the futility of violence as well as the hopes, aspirations and ambitions of young people.
---
What does MAC stand for?
It stands for Metropolitan Arts Centre but we're happy for you to call us the MAC, whichever you prefer.
What's in the MAC?
Our beautiful, brand new venue in Belfast's Cathedral Quarter will be home to all kinds of exhibitions, blockbuster performances, experimental works – with two theatres, 3 visual art galleries and much more.
Metropolitan Arts Centre (The MAC)
10 Exchange Street West
Belfast BT1 2NJ
Telephone: +44 28 9023 5053
Admission / price: As per event