Lindsay Seers: Every Thought There Ever Was
Friday 4 May – Sunday 29 July 2018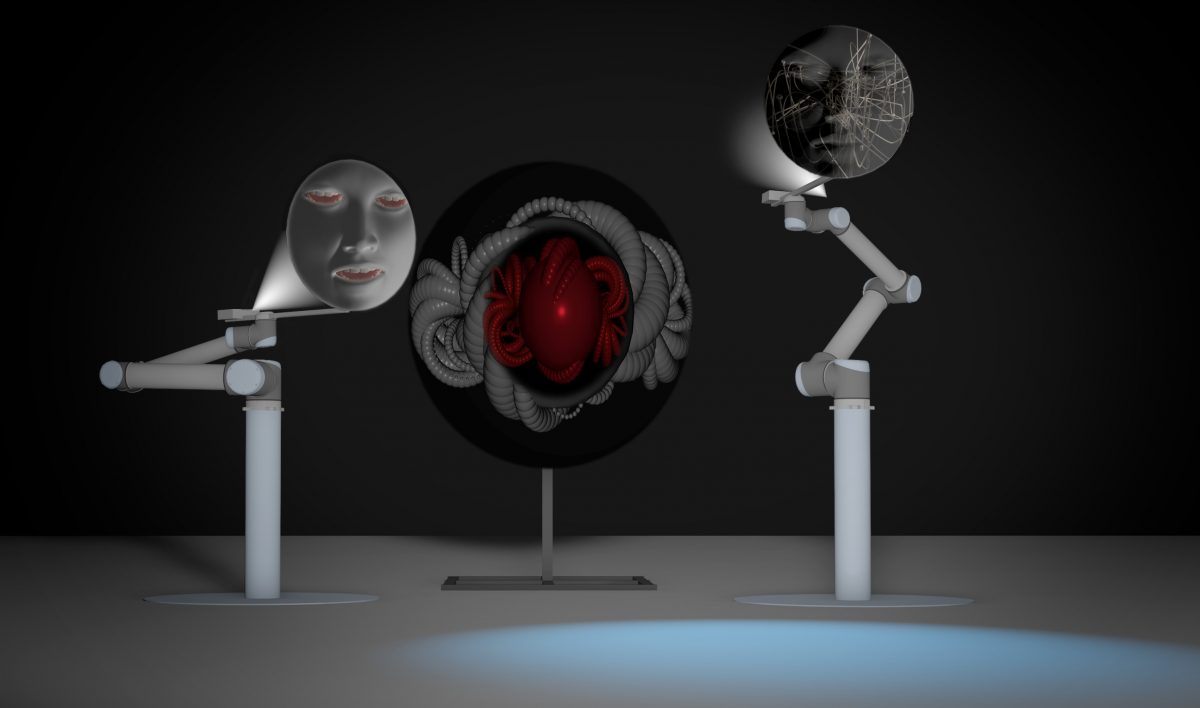 An ambitious moving image installation exploring human consciousness, artificial intelligence and the schizophrenic mind.
Drawing on philosophical ideas and scientific research, this ambitious project by UK based artist Lindsay Seers considers historical representations of schizophrenia and contemporary insights into the condition achieved through the use of virtual reality.
Every Thought There Ever Was is a major new touring exhibition by Lindsay Seers. Incorporating industrial robotics in conjunction with a three-screen video projection, the work is shaped by philosophical ideas and scientific research concerned with the phenomenon of consciousness.
Through digital animation, special effects, drawing and sound design, Every Thought There Ever Was explores the extraordinary brain functioning that occurs in the condition of schizophrenia. Two screens, supported by robot arms, move with the images, bringing agency to them as an active element in the work.
The work draws on an experimental treatment known as Avatar Therapy, in which those living with schizophrenia can speak to their persecutors in a digital world. Guided by first-person accounts and a collaborative drawing exchange, Seers' work has been shaped by conversations with scientific partners including Anil Seth at The Sackler Centre for Consciousness Science and Chris Frith, Emeritus and Professor of Neuropsychology, UCL to explore the current studies and thinking on the condition.
Pursuing her on-going fascination with how an individual's biography embodies history, Seers takes Victorian surgeon James Miranda Barry as her narrator. Barry transcends time through a connection with the offspring she gave life to by performing a ground-breaking emergency Caesarean section operation. Barry's future life sees her manifest as an Avatar with an ability to cure.
---
Every Thought There Ever Was is supported by Wellcome and is co-commissioned by the MAC, Belfast; Matt's Gallery, London; Focal Point Gallery, Southend-On-Sea; Hospitalfield, Arbroath; and John Hansard Gallery, Southampton.
Friday 4 May – Sunday 29 July 2018
10 Exchange Street West
Belfast BT1 2NJ
Telephone: +44 28 9023 5053
Admission / price: As per event