Robert Therrien: No Title (Table and Four Chairs)
Friday 20 April – Sunday 22 July 2012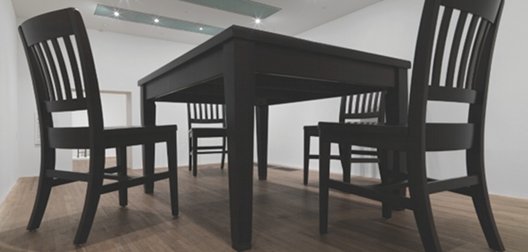 American artist Robert Therrien is internationally renowned for his monumental sculptures that transform everyday objects into fantastical installations.
This is the first presentation in Ireland of Therrien's impressive work No Title (Table and Four Chairs), 2003. Standing at almost ten feet tall, No Title (Table and Four Chairs) is a typical dining set reproduced on a giant scale. Towering over you, this colossal artwork provokes memories of childhood and asks us to reconsider household items that we often overlook as adults.
ARTIST ROOMS On Tour is an inspired partnership with the Art Fund – the fundraising charity for works of art, making available the ARTIST ROOMS collection of international contemporary art to galleries throughout the UK. ARTIST ROOMS is jointly owned by Tate and National Galleries of Scotland and was established through the d'Offay Donation in 2008, with the assistance of the National Heritage Memorial Fund, the Art Fund and the Scottish and British Governments.
Talk
17 May, 6pm
Anthony d'Offay
Image: Robert Therrien: No Title (Table and Four Chairs), 2003 / © ARS, NY and DACS, London 2011. ARTIST ROOMS Tate and National Galleries of Scotland. Acquired jointly through The d'Offay Donation with assistance from the National Heritage Memorial Fund and the Art Fund 2008
Friday 20 April – Sunday 22 July 2012
10 Exchange Street West
Belfast BT1 2NJ
Telephone: +44 28 9023 5053
Admission / price: Free