Jarman Award Screenings with Hardeep Pandhal
Wednesday 10 October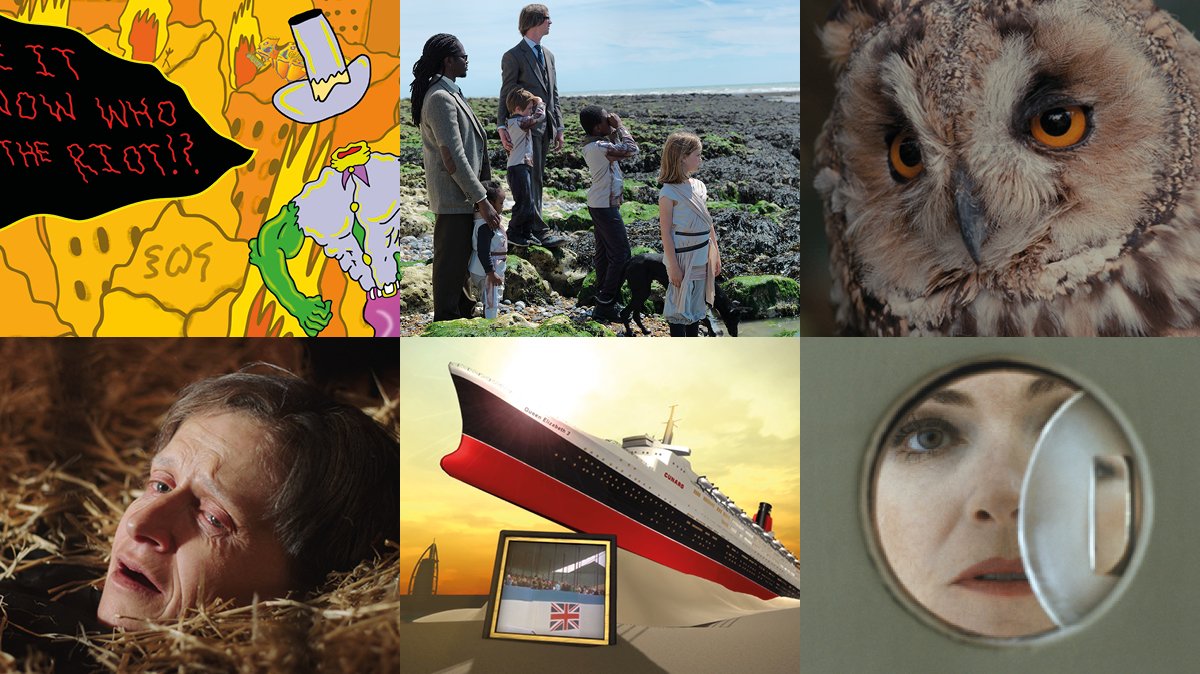 The MAC is delighted to once again host the Jarman Award screenings.
Free, booking essential • Book Now
Enjoy a programme of works from the artists at the forefront of experimentation in filmmaking today- the shortlist of this year's Film London Jarman Award. Larry Achiampong & David Blandy, Jasmina Cibic, Lawrence Lek, Daria Martin, Hardeep Pandhal and Margaret Salmon present innovative, entertaining and diverse films that tackle the world's big topics.
Inspired by visionary filmmaker Derek Jarman, the Award recognises and supports artists working with moving image. The selection from this year's shortlist once again illustrates the spirit of imagination and inventiveness within the medium, with works that explore both new practices in relation to digital image making and fresh approaches to traditional filmmaking.
From a sci-fi 3d presentation of the future, to a circus sideshow; from lurid comic-strip style animation to rich 35mm; and from a modernist architectural gem to Grand Theft Auto, these artists employ different tactics to express their engagement with important political topics.
The winner of the Jarman Award will be announced in November. The award is presented in association with Channel 4 and the Whitechapel Gallery, with support from Genesis Cinema. The tour runs from 10 October to 2 December 2018 and will visit over ten venues across the UK.
We are delighted to be joined at this event by Jarman Award 2018 nominee Hardeep Pandhal, who will discuss his work and practice.
This year's Jarman Award screenings are shown as part of AMINI Programme: Screenings and Discussion, an event at the MAC celebrating artists' moving image works. You can find the full festival programme here.
You can find more information on the Jarman Award here.
Jarman Award 2018 Shortlisted Artists:
Larry Achiampong & David Blandy
Through their collaborative moving image practice, Larry Achiampong (b. 1984) and David Blandy (b. 1976) examine issues of popular culture, race, class and heritage. Their main body of work, The Finding Fanon Series, looks at the politics of race and decolonisation and how this affects our relationship with contemporary culture, technology and globalisation, and is inspired by the lost plays of writer Frantz Fanon.
Jasmina Cibic
With a practice spanning film, installation and performance, Jasmina Cibic (b. 1979) considers how ideologies and cultures are constructed and then framed through mechanisms such as art, choreography, literature, and architecture. Working with actors and dancers who perform for camera, she encourages the viewer to consider the soft power apparatuses that authorities and nations employ for their political aims.
Lawrence Lek
Engaging with the fields of virtual reality and simulation, Lawrence Lek (b. 1982) creates moving image works using gaming software, 3D animation, installation and performance. His digital environments reflect the impact of the virtual world on our perception of reality, by rendering real places and architectures within fictional and often fantastical scenarios.
Hardeep Pandhal
Employing an array of media, including sculpture, performance, music and moving image, Hardeep Pandhal (b. 1985) creates provocative artworks that draw on source material such as satire and comic books. His digital animations offer a political commentary on contemporary Britain in lurid technicolour, referencing the aesthetics of social realism and psychedelia.
Daria Martin
Primarily working with 16mm film, Daria Martin (b. 1973) creates highly constructed cinematic worlds in which human gesture is contrasted with mannered artifice to challenge the viewer's habits of perception. Diverse subjects such as robots, dreams, synaesthesia and magic are considered within peculiar and isolated spaces, creating a sense of the slippages between the internal world and the external, and different levels of consciousness.
Margaret Salmon
Working exclusively with photography and 35mm film and taking an intuitive and often improvised approach to the camera, Margaret Salmon (b.1975) portrays the everyday – our family, friends, relationships and the environments we inhabit. Referencing the aesthetic of different historical cinematic movements, her works bring warmth and lyricism to the tradition of realist film.
Wednesday 10 October
10 Exchange Street West
Belfast BT1 2NJ
Telephone: +44 28 9023 5053