Gillian O'Shea: All Flesh
Saturday 14 October – Saturday 25 November 2023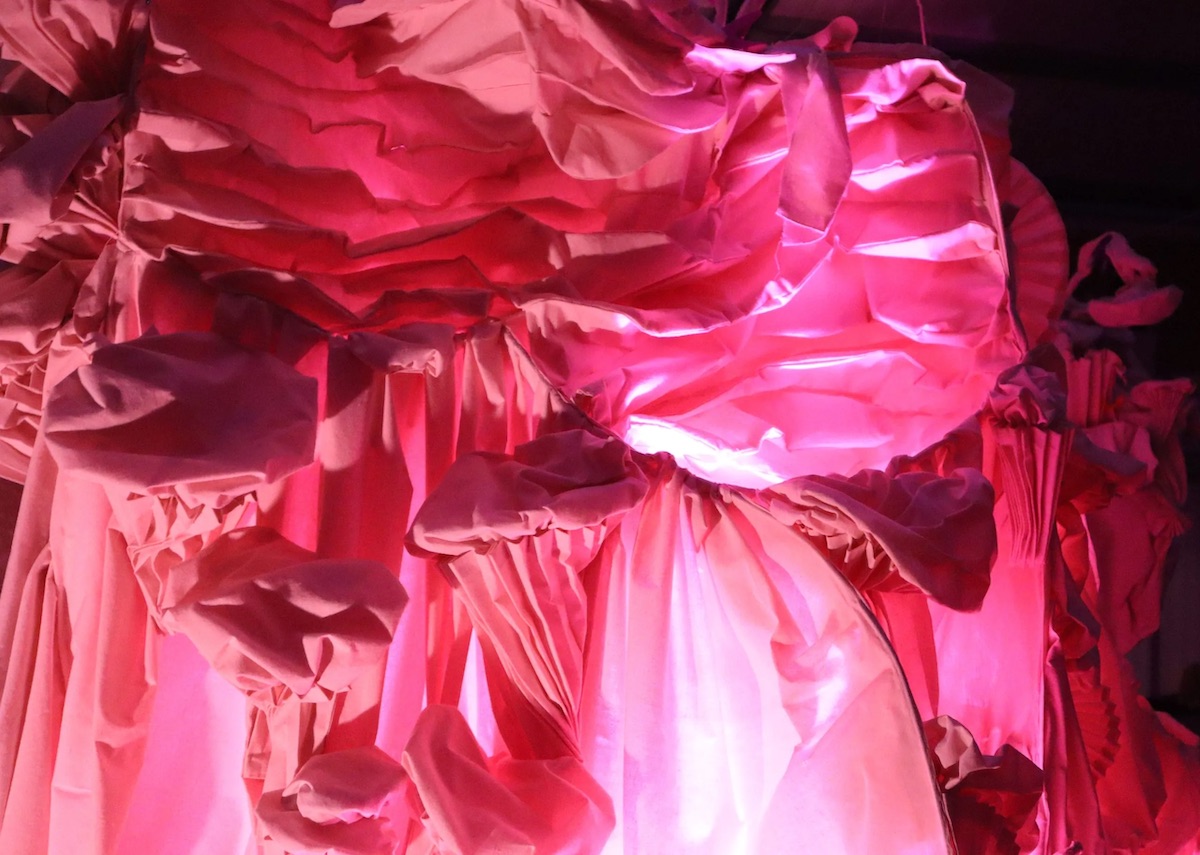 All Flesh is a new site specific multi-sensory textile installation and video work by Irish artist Gillian O'Shea. Through multi-layered installations sculpture, colour, film and sound merge, transporting us to an uneasy confluence of opposing realities. These created environments invite visitors to experience, consider and reflect on our ambivalent attitudes to the natural environment.
This work is inspired by the artist's investigations of the often forgotten and unseen intrinsic importance of fungi and lichens in stabilising networks of living relationships. These humble organisms are intrinsically connected to vast networks of life on earth, including our own. Yet, to most of us they are inconsequential.
Coarse, fleshy organisms intertwine and penetrate the troposphere, swaddling each vascular network, protecting the almighty mycelial network. This is the living subterranean seam by which our world is connected, regardless of and despite our interventions.
'Pulse' is a 4-minute-long video piece, central to the exhibition. This multi-projection of film immerses the visitor in a dystopian representation of the future. Drawing on the ombre chinois's tradition of shadow play paper mechanical links create a pulley system, using the greenhouse as a motif of human intervention. They are inevitably devoured by the very operating system that created them.
All Flesh will be exhibited in the Gallery of Modern Art Waterford (GOMA) from 14th October to 25th November 2023. This work will also form the gallery's submission for the Imagine Festival Waterford which will take place in October 2023.
Curated by Siobh McGrane. 
Gillian O'Shea is an emerging visual Irish artist. Her practice explores themes of transformation and escapism through ambitious large-scale works that offer the public exciting new ways to engage with contemporary art. O'Shea's multidisciplinary immersive installations feature paper and fabric sculptures, lighting and audio arranged to invite the viewer to escape their everyday routines. Gillian graduated in 2004 with a first-class honour's degree in fine art interdisciplinary sculpture and holds a Masters in Art and Research Collaboration from IADT. Over the past 10 years she has exhibited in Dublin, London and California. In 2019 O'Shea's participatory installation, 'Dawn' was selected for the 4th International Techstyle Art Biennial in San Jose USA, and in 2019 her 'Lockdown' painting work was shortlisted for the Zurich Portrait Prize at the National Gallery of Ireland.
Siobh McGrane is a Dublin based visual artist and curator with a first- class honour's degree in Visual Art Practice from IADT. She also holds a M. Phil in Psychoanalytic studies from Trinity College Dublin.
McGrane's curatorial and artistic practice over the past decade has been driven by an inquiry into the unconscious. Behaviours can often be explained by illuminating our unconscious shadow. Behav-ioural change can occur through understanding what's been illuminated. An artist's reparative drive ignites a wish to repair and care for the object it once destroyed, ensuring its survival.
Visit Gillian O'Shea's website.
Image: Gillian O'Shea: All Flesh
Saturday 14 October – Saturday 25 November 2023
6 Lombard Street
Waterford
Telephone: +353 871961923
Opening hours / start times:
Open Tuesday to Saturday 12 noon – 5pm
Admission / price: Free