Eamon Colman: Into The Mountain
Friday 10 September – Saturday 16 October 2021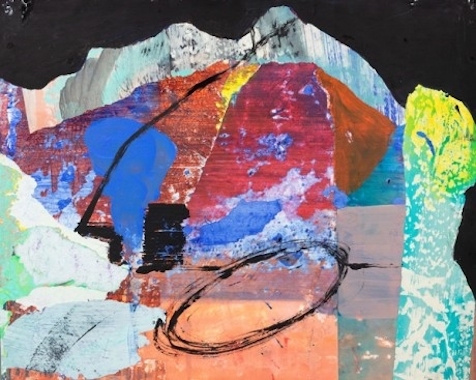 ――― In venue ―――
Eamon Colman was born in Dublin in 1957. His professional career spans from 1979, having created over forty solo exhibitions presented nationally and internationally he is considered one of Ireland's most important painters. He is an elected member of Aosdána since 2007 in recognition of his major contribution to Irish culture. In 1997, he was invited to host a major mid-term retrospective exhibition of his work entitled 'Post Cards Home' at the Royal Hibernian Academy, Dublin at the age of 39 years. This was accompanied by a monograph on his work by writer and art critic Brian Mc Avera entitled 'Dreams from The Lion's Head, The Work of Eamon Colman' published by Four Fields Press.
For his show at The Source Arts Centre, Eamon Colman cites Nan Shepherd's book 'The Living Mountain' (Aberdeen University Press 1977) which deals with the tradition of mountain climbing, a male pursuit for most of its history and where men were more concerned with reaching the summit then the climb in-between.
Colman read this and became interested in not only the in-between bit but the idea that in a rush to achieve the summit of everything that man wished to achieve, a catastrophe was happening to the planet.  He began to look at the central uplands;  those areas that lead to the mountain's summit and followed the tracks and old pilgrimage roads in his rural Kilkenny that inhabit the imagination.
Working on paper which is torn and scuffed, he allows  it's 'tough frailty' to stand as a metaphor for this landscape and what it is experiencing today. He took Nan Shepherd's advice and walked "in to the mountain"  – never intending to reach the summit.
A 25-year retrospective of his work is featured in a substantial publication by Gandon Editions, Kinsale: 'Profile 25 – Eamon Colman' (2006). In 1989, he won the First Prize Painting Award in EVA International; in 2001 First Prize Painting Award in Eigse, Carlow Arts Festival; in 2002, he was the first Irish artist to be awarded Full Fellowship Award from the Vermont Studio Centre, USA; in 2005, he won a CCAT Interreg Major Award for touring an exhibition in Wales, UK and in 2018 he was awarded a Culture Ireland GB18 Award. His work has been included in exhibitions representing contemporary Irish art in Brussels, Denmark, France, Spain, UK, Hong Kong, Canada and USA. His work can be viewed in his representative gallery: Solomon Fine Art, Balfe Street, Dublin 2.
In 2003 he moved from his native Dublin to set up a studio in the rural uplands of north-east Co. Kilkenny where he now lives and works.
Official launch Saturday 18 September at 2pm in the gallery.
Image: Eamon Colman: 'Walking at Night' (detail), milk paint / mixed media on paper, 72 x 60cm, 2021
Friday 10 September – Saturday 16 October 2021
Thurles
Co Tipperary
Telephone: +353 504 90204
Opening hours / start times:
The Gallery is open Tuesday to Friday 10am to 5pm, 2 to 5pm on Saturday and from 7pm when there is an evening performance.
Admission / price: Free