Paul Kane Gallery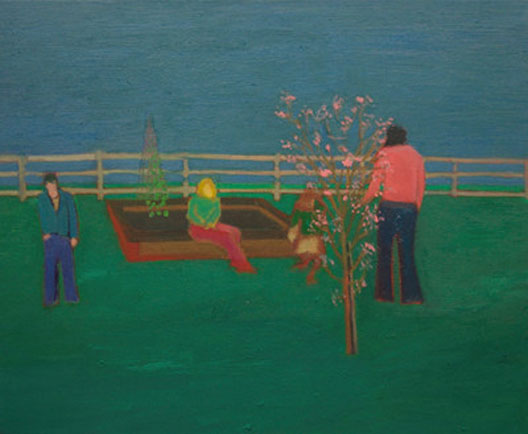 from the website: "THE PAUL KANE GALLERY IS CURRENTLY HOMELESS BUT WILL BE REOPENING IN A NEW VENUE SHORTLY. IN THE MEANTIME ALL ENQUIRIES CAN BE DIRECTED TO THE EMAIL ADDRESS OR TELEPHONE NUMBER BELOW."
As one of the original alternative spaces of the 90's The Paul Kane Gallery has shown the work of many of the foremost young Irish artists to have emerged over the last decade including Philippa Sutherland, Megan Eustace and Roisin McGuigan as well as more established artists such as Marc Reilly, Ben Reilly, and Kathlyn O'Brien.
In its new space at 6 Merrion Square, The Paul Kane Gallery continues as before but is widening its remit to include a selection of International Artists such as Tom Hammick, Basil Beattie, and Jane Bustin.
Works by the gallery's represented artists are held in many major public collections including IMMA, Dublin, MOMA, New York,the Office of Public Works Allied Irish Banks,, the Arts Council of Ireland, Arts Council of Northern Ireland; National Gallery of Ireland, Chester Beatty Library, Butler Gallery Kilkenny, The Crawford Municipal Art Gallery, Ballinglen Arts Foundation, the British Museum(Collection of Prints and Drawings); Yale Centre for British Art; University College Cork, Trinity College Dublin, Dental Hospital Dublin, Bank of Ireland, ABN Amro Bank, Guinness Ireland Ltd, St. Patrick's College Dublin, Clifford Chance, London, British Petroleum Brussels, Nissan Ireland, Microsoft Ireland, Contemporary Irish Arts Society, Glen Dimplex, PMPA/Guardian Insurance.
Paul Kane Gallery
6 Merrion Square
Dublin 2
Telephone: +353 87 6478423
Opening hours / start times:
Tuesday 11:00 - 18:00
Wednesday 11:00 - 18:00
Thursday 11:00 - 18:00
Friday 11:00 - 18:00
Saturday 12:00 - 17:00
Admission / price: Free