Yvonne Condon: Portraits and Other Works
Saturday 18 January – Friday 21 February 2020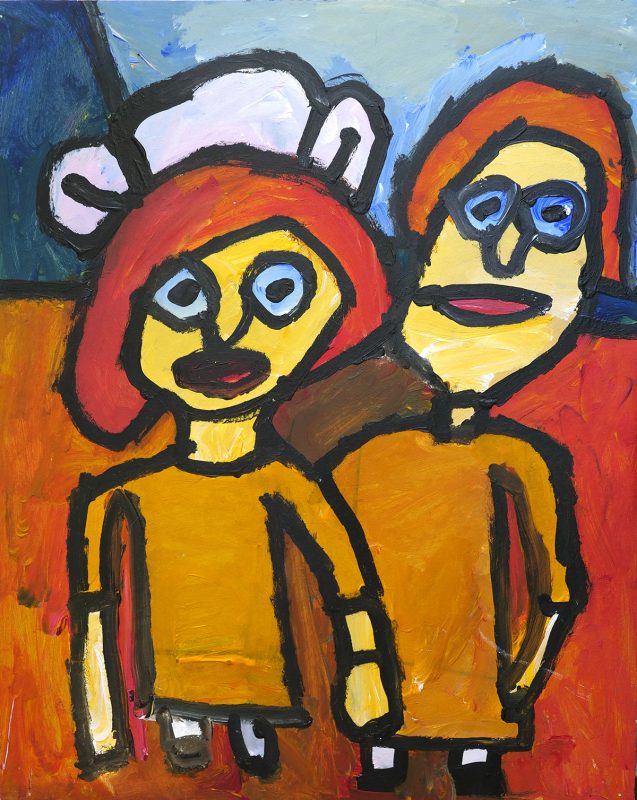 Yvonne Condon is a dynamic female artist from East Cork. She creates bold, uncompromising images, working at great speed. Yvonne also happens to be non-verbal and partially blind.
Yvonne's drawing style is determinedly graphic, fearless. She paints with acrylic on in-expensive card, using thick black outlines, mixing colour directly on the surface rather than a palette. Her method of production is singular and intense, she may produce a painting in a matter of just 10 minutes.
Yvonne works from observation, working with sitters or collected imagery from a plethora of books, magazines and photographs.
Yvonne's unapologetic figures present open-ended stories: a yellow lady examines her face using the fingertips of her three hands, a tiny beast balances on Saint Patrick's mitre, there is green-faced Adam.
Yvonne participates in Crawford Supported Studio and is a long-term member of Glasheen Artists Studio Programme Gasp Artists. (A supported studio is a sustained creative environment for individuals with specific health or social needs. Supported Studios provide technical artistic support, networks and audiences outside the health and social care settings.) Crawford Supported Studio is run in partnership Arts in Health and Education; Crawford College of Art and Design, Cork Institute of Technology – CIT , Cork Arts and Cope Foundation.
Saturday 18 January – Friday 21 February 2020
University of Atypical
109 - 113 Royal Avenue
Belfast BT1 1FF
Telephone: +44 9023 9450
Opening hours / start times:
Tuesday 11:00 - 15:00
Wednesday 11:00 - 15:00
Thursday 11:00 - 15:00
Friday 11:00 - 15:00
Admission / price: Free