X
Saturday 16 April – Saturday 30 April 2011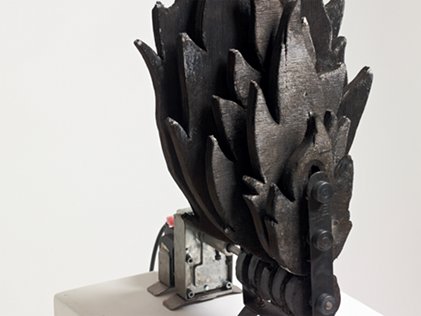 Visiting students bring innovative work and experiences to Ireland.
From 18 – 30 April, RUA RED's Gallery 2 will be taken over by visiting students from Goldsmiths College, London. The arts centre's keen focus on arts and technology is explored with this captivating partnership.
X is a group show comprising works by Ronin Cho, Hestia Peppe, William Robinson, Ian Wu and Kentaro Yamada who are all currently studying at Goldsmiths College on the Computational Studio Arts MFA. Their work reflects the wide range of approaches towards mediating between the worlds of visual, performing and relational (or interactive) art and technology.
With a background in graphic and interaction design, Ronin Cho turned to kinetic sculpture and media art. Driven by a keen interest in how one's experiences could be transferred to others. In developing his ideas he seeks to combine the benefits of using technology and traditional media.
Hestia Peppe works with drawing, performance and other technologies to consider pattern and narrative and to enable the transmission of knowledge. She seeks to explore creatively how technology is used via the body to navigate and connect space, time and self.
William Robinson's work explores the area encompassing both experimental science and art, with a specific focus on the way we accept science mediated through various news outlets, rather than direct from the source. By using technology both as a medium and also as a mechanism with which to shield the facts, he presents an altered view of both science and art.
Ian Wu is driven by his curiosity and observations of things from everyday life and how technologies can be used in an unusual way, as a material in his work. Ian often subverts the way a technology should be used, in order to deliver his personal belief, and to prompt viewers to use their different perspectives to respond, and rethink their own beliefs.
Born in Japan and growing up in New Zealand, Kentaro Yamada works in the mode of operation that is rooted in Japanese tradition such as zen. He hopes to communicate them through universal language that transcends cultural differences. Perhaps due to living in different cultures and operating in various status quos, Kentaro questions what it means to accept and question rules of operation. He feels that poetic use and misuse of syntax in communication, allows us to think about current context in which we observe the world. He hopes this idea of questioning the question will create possibilities of connecting art and life.
Karen Phillips, director, says,
"This is an interesting and developing partnership for us. There are a lot of great artists exploring arts using technology and playing with digital art. We want to be able to use this exhibition for artists interested in this area to see what is being explored elsewhere, share ideas and their challenges. This exhibition can be seen more as a 'project space' with plenty of opportunity for people to talk, question, network and explore the work."
Elements of performance and workshops will run throughout the exhibition run.
The exhibition is supported by Goldsmiths Digital Studios, Computing, University of London, UK.
Saturday 16 April – Saturday 30 April 2011
South Dublin Arts Centre
Tallaght, Dublin 24
Telephone: +353 1 451 5860
Opening hours / start times:
Monday 10:00 - 18:00
Tuesday 10:00 - 18:00
Wednesday 10:00 - 18:00
Thursday 10:00 - 18:00
Friday 10:00 - 18:00
Saturday 10:00 - 18:00
Admission / price: Free