Without the Words | Illustrators Ireland
Monday 24 April – Saturday 13 May 2017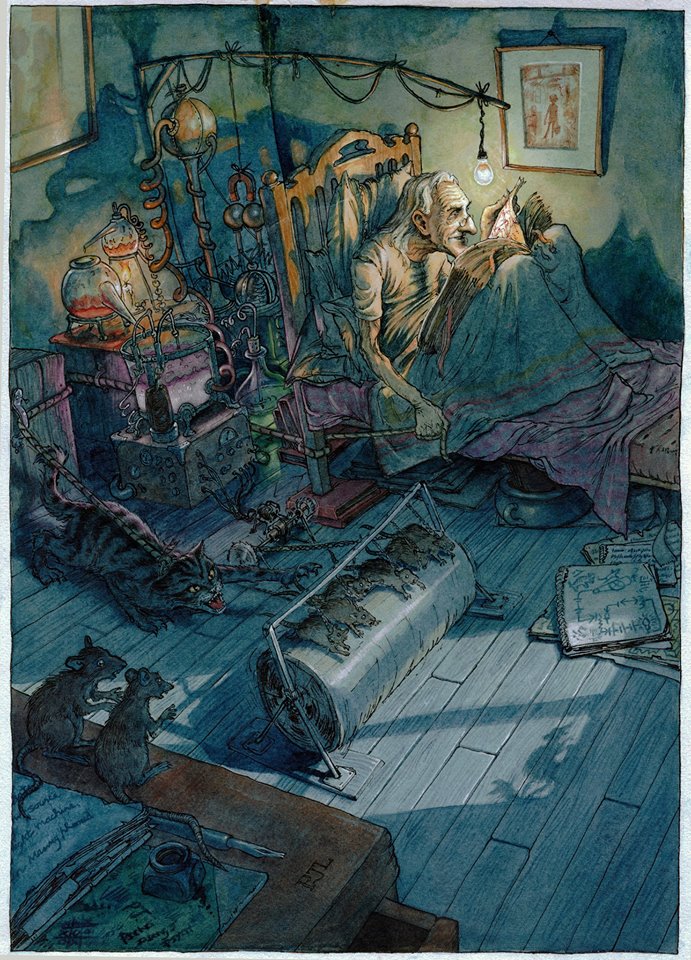 A Galway Arts Centre + Cúirt International Festival of Literature present • Curated by PJ Lynch, Laureate na nÓg
To coincide with this year's Cúirt International Festival of Literature, Galway Arts Centre is showcasing the exhibition titled Without the Words featuring work by members of the Illustrators Guild of Ireland.
As an exhibition, 'Without the Words' was inspired by a line from "Hope is the Thing with Feathers" (314), a poem by Emily Dickinson. Dickinson reminds her readers to always have hope:

Hope is the thing with feathers –
That perches in the soul –
And sings the tune without the words –
And never stops – at all –
In most circumstances, an illustrator will respond to a brief which is communicated through either written or spoken word. In this exhibition Illustrators Ireland tell visual stories, putting the pictures first – without the words. Here they tell their stories; visually stimulating the imagination to respond by creating an individual narrative, not a prescribed story.
Without The Words promotes visual literacy, storytelling and the power of imagination. The audience is invited to find their own narratives within the original: it is the audience's turn to respond to the brief.
It is curated by Laureate na nÓg PJ Lynch as part of his The Big Picture project. Audiences will recognize this illustrator from his recent collaboration with Ryan Tubridy, Patrick and the President.
The Big Picture project is a two-year focus on the art of illustration and visual storytelling that celebrates children's literature and the power of the imagination. Internationally renowned author illustrator PJ Lynch was named the fourth Laureate na nÓg in May 2016, and created "The Big Picture" as his main creative project while Laureate. PJ Lynch will be participating in regular podcasts over the next two years where he will discuss various aspects of illustration and picturebook making. He will also initiate major public art projects that will focus on working with local partners such as festivals and community groups to develop and install large-scale murals that encapsulate the theme of storytelling through visual art.
Illustrators Ireland is a non-profit organisation that supports the development of Illustration in Ireland, by showcasing the work of its members and fostering links with similar organisations at home and abroad. Its aim is to raise the profile of Irish illustration as a dynamic and cutting edge art form, as well as promoting the work and skills of its individual members who produce work for fields as diverse as editorial, advertising, animation, storyboards, packaging, street art, graphic novels and children's' books, as well as their own personal projects.
The quality of members' work has been recognised by awards both in Ireland and on the world stage, including from the AOI (UK), Communication Arts, 3×3 and Creative Quarterly, ICAD, CILIP, the Society of News Design and the Society of Illustrators (US). For more information, visit www.illustratorsireland.com or www.childrenslaureate.ie
Image: P.J. Lynch
Monday 24 April – Saturday 13 May 2017
47 Dominick Street
Galway
Telephone: + 353 91 565 886
Opening hours / start times:
Monday 10:00 - 17:30
Tuesday 10:00 - 17:30
Wednesday 10:00 - 17:30
Thursday 10:00 - 17:30
Friday 10:00 - 17:00
Saturday 10:00 - 14:00
Admission / price: Free