Winter Programme at the RHA
Friday 19 November – Wednesday 22 December 2010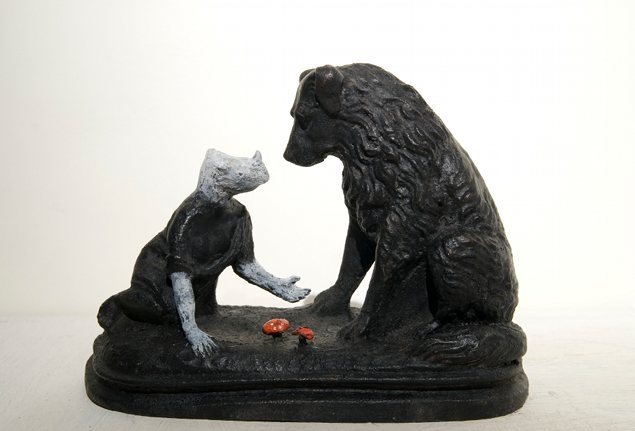 JANET MULLARNEY, things made, Gallery I
ARTUR ZMIJEWSKI, Two Monuments, 2009, Democracies, 2009, in association with the Fire Station Artists' Studios, Galleries II & III
RHA MEMBERS DRAWING EXHIBITION, RHA Ashford Gallery
GEORGE DAWSON, An Unbiased Eye,
Modern and contemporary art from Trinity College Dublin since 1959,
Dr. Tony Ryan Gallery
CLARE LANGAN, The Wilderness, Part I, RHA Foyer
things made at the RHA is a survey exhibition of sculpture by acclaimed Irish artist Janet Mullarney made during the 90s, which have been sourced from both public and private collections and will also include new work. This exhibition runs concurrently with things done, showing at the Taylor Galleries, Kildare Street. The exhibition consists of figurative sculpture formed from and incorporating materials such as bronze, wood, sponge, cloth, glass and furniture which display her refined language as a skilled carver and maker.
The artist explains "This is a show of sculpture; the materials essential to the concept. It is a revisiting of the old, a juxtaposing with the new. It is the recycling of a language that speaks in different accents, a weaving in and out of thoughts and expressions that create a new picture, some giving light to others in the shade. The whole picture speaks of human dilemmas and aspirations." Janet Mullarney, October 2010
In 2008 the Fire Station Artists' Studios, as part of its annual Studio Award, invited Polish artist Artur Żmijewski to develop a project in Dublin, that would take as a starting point, the changing nature of Polish Irish relations and the labour market. It was at this precise time that the previously booming Irish economy was in decline and the new immigrant workforce, from Poland and other Eastern European countries, was feeling the impact. Over a series of visits to Dublin in 2008-2009 the artist invited Polish and Irish unemployed men and women to take part in a series of intense workshops, where they were given the task of working together to construct their own workers' monuments. The artist filmed and edited the results into Two Monuments (2009).
Democracies consists of 15 short videos made by Żmijewski between 2007 and 2009, in cities and towns across Europe exploring the diversity of political uses of public space. These videos which play simultaneously, include a protest against the Israeli occupation in the West Bank, a Loyalist parade in Belfast, a re-enactment of the Warsaw Uprising, the funeral of an extreme right wing leader in Austria, and a crowd of German and Turkish football fans.
First shown at the Istanbul Biennale (2009), and in Cornerhouse, Manchester, (2009) this is the first time Two Monuments and Democracies have been shown in Ireland.
A panel discussion to accompany the exhibition will take place at the RHA Gallery on Friday 3 December, 2 – 3.30pm – 'The ethics of collaboration within socially engaged arts practice.' with Dave Beech, UK writer/artist, Dr Aine O'Brien, Director of the Forum on Migration and Communications FOMACS and Jesse Jones, artist. Chaired by Liz Burns, Fire Station Artists' Studios.
A selection of over thirty drawings by RHA Academy Members will be on exhibit, and for sale, in the Ashford Gallery. Drawing has always been of paramount importance to Academy Members and this exhibition offers an opportunity to view works drawn with silverpoint, graphite, charcoal, pastel, Indian ink and conté by Members including Liam Belton RHA, Pauline Bewick RHA, Veronice Bolay RHA, Carey Clarke PPRHA, Gary Coyle RHA, James English RHA, Martin Gale RHA, James Hanley RHA, Charles Harper RHA, Brett McEntagart, Eilis O'Connell RHA, George Potter RHA, Patrick Pye RHA, Michael Quane RHA, Thomas Ryan PPRHA, Anita Shelbourne RHA, Donald Teskey RHA, Diana Copperwhite ARHA, Joe Dunne ARHA and most recently elected Member Una Sealy ARHA.
Selected by Catherine Giltrap, Curator of the Trinity College Art Collections, the exhibition, George Dawson, An Unbiased Eye, Modern and contemporary art from Trinity College Dublin since 1959 comprises over 35 works inviting the viewer on a journey through Cubism, Abstract Expressionism, and Minimalism, to Op, Pop, Conceptual, and Installation art, right up to the influence of digital technology on visual arts practice.
Artists represented include Nevill Johnson, Pablo Picasso, Henry Moore, Gerard Dillon, William Scott, Roy Lichtenstein, Camille Souter HRHA, Victor Vasarely, Louis Le Brocquy HRHA, Brian O'Doherty (Patrick Ireland), Ellsworth Kelly, Robert Ballagh, Richard Gorman RHA, and Clare Langan. Woven through the selection is a narrative recounting how the modern art collection at Trinity College was formed, by whom, and why. Visitors to the exhibition will be encouraged to continue their experience by taking an interactive walking tour through the nearby Trinity College campus which serves as the University's living exhibition space and features works by Arnaldo Pomodoro, Alexander Calder, Patrick Scott HRHA, Anne Madden, Barrie Cooke, and Michael Warren RHA, among others. This exhibition is part of the Celebrating 50 Years of Modern and Contemporary Art at Trinity College series.
Panel Discussion, Wednesday 17 November 1pm, Swift Theatre, Arts Building TCD. Further information on this and public tours of the exhibition and campus available at: www.tcd.ie/artcollections.
Clare Langan, The Wilderness. Part 1, surveys a landscape of abandon, darkened by uncertain catastrophe. A requiem for a vanishing planet, The Wilderness, Part 1 is an examination of an extinct world that strangely resembles our own. Shot in infrared HD video and with the use of hand-made filters, the images of the Irish landscape echo graphite drawings. Movement in the film is subtle and minimal with the drama set by Jürgen Simpson's music composition.
All exhibitions close on the 22nd December except for George Dawson, An Unbiased Eye, Modern and contemporary art from Trinity College which will close on Sunday 19 December.
A full colour catalogue will be available for the Artur Zmijewski and George Dawson, An Unbiased Eye, Modern and Contemporary art at Trinity College, exhibitions.
Image: Janet Mullarney: Se fosse così_if it was like this, 2007, Bronze 9 x 17 x 13cm, Glass 21 x 3 x 16, Photography T. Perissi
Friday 19 November – Wednesday 22 December 2010
15 Ely Place, Dublin 2
Telephone: +353 1 661 2558
Opening hours / start times:
Monday 11:00 - 17:00
Tuesday 11:00 - 17:00
Wednesday 11:00 - 19:00
Thursday 11:00 - 19:00
Friday 11:00 - 19:00
Saturday 11:00 - 19:00
Sunday 14:00 - 17:00
Admission / price: Free