Winter Open Show
Saturday 12 November – Saturday 10 December 2011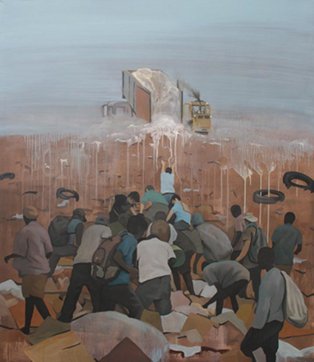 Opening reception Friday 11 November, 6 – 8pm
RUA RED is pleased to present the 1st Winter Open Show in Gallery 1. The exhibition will feature a cross section of emerging and established artists and craft makers presenting painting, printmaking, sculpture, photography, installation, jewellery, mixed media work, craft and applied artwork. All works will be for sale.
Previously, open call exhibitions have taken place during summer months, but this year we're hoping to bring some sparkle to the winter months. As well as offering contemporary art and craft in a wonderful space, it is also an opportunity to pick up a unique gift just in time for Christmas!
All works submitted for exhibition were considered by a selection panel including Ann Mulrooney (Curator, National Craft Gallery) and Hilary Murray (Curator, Collections at Irish Museum of Modern Art).
Exhibitors include Elizabeth Archbold, Karen Donnellan, Darek Fortas, Emmet Kierans, Gail Mahon, Bernie Masterson, Nicole McKenna, Sorcha O'Horain and Rachel Swan, amongst others.
Associated workshops:
Art Trolley sessions – 12th/19th/26th Nov and 3rd/10th December > MORE
Image: Bartosz Kolata: The Raft of the Medusa, oil on canvas, 150/130cm, 2011
Saturday 12 November – Saturday 10 December 2011
South Dublin Arts Centre
Tallaght, Dublin 24
Telephone: +353 1 451 5860
Opening hours / start times:
Monday 10:00 - 18:00
Tuesday 10:00 - 18:00
Wednesday 10:00 - 18:00
Thursday 10:00 - 18:00
Friday 10:00 - 18:00
Saturday 10:00 - 18:00
Admission / price: Free