Winter Open 2018
Friday 7 December 2018 – Thursday 10 January 2019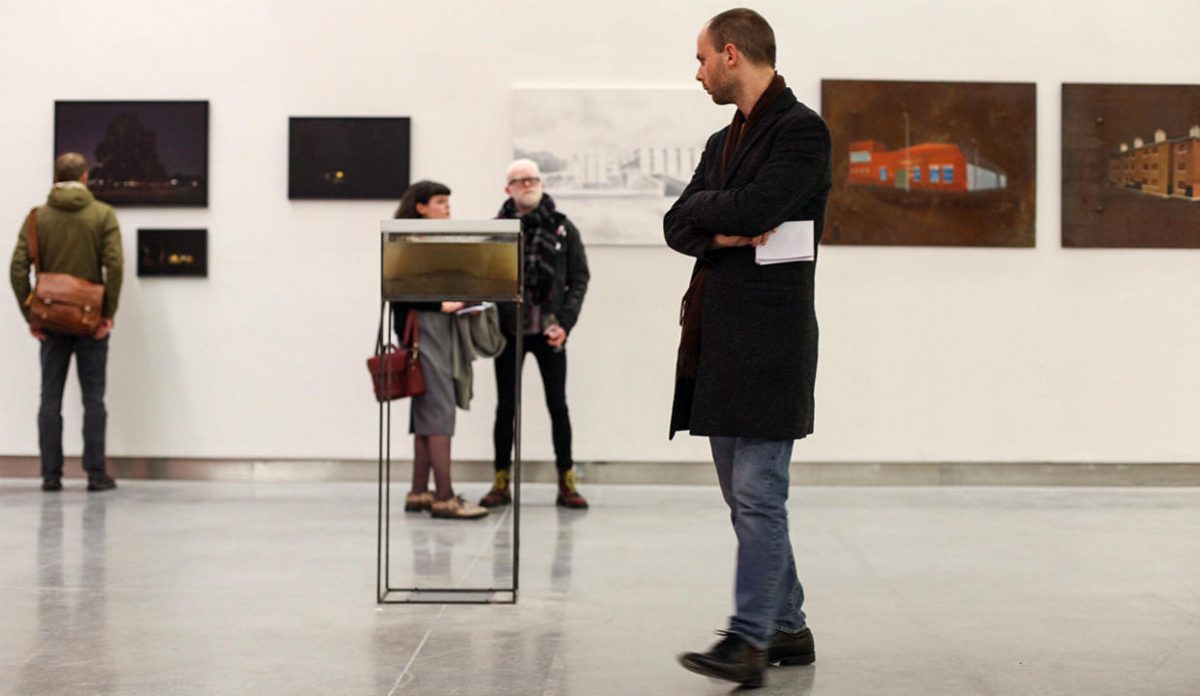 Daithi Magner, Desmond Kenny, Beatrice O'Connell, Grainne H. Dowling, Elaine Grainger, Mary Furlong, Kevin Judge, David Begley, Austin Hearne, Natasha Pike, Bridget Flinn, Paul Gaffney, Sorca O'Farrell, Helena Birmingham, Helen Mac Mahon, Myra Jago, Siobhan Hehir, Helen G Blake, Ciaran Bowen, Daire O'Shea, Kristi Kotilainen, Sean O'Rourke, Siobhan O'Callaghan, Aurelie, Cecilia Moore, David Smith, Jenny Mc Connell, Luke Van Gelderen, Harry Walsh Foreman, Tommy Feehan, Mann de Lacy, Aine Phillips, Jennifer Trouton, Noel Hensey, Pablo Jean and Aoife Herrity.
Rua Red is delighted to present the Winter Open Exhibition 2018 in Gallery 1, an annual exhibition of work by artists living in Ireland chosen from an open submission call by this year's selection panel (Hugh McCarthy, Órla McGovern (Rua Red) and invited panel member, Artist Helen Hughes).
We are committed to exhibiting strong contemporary work of all disciplines. This year the panel had a difficult task selecting from an initial two hundred and fifty submissions down the selected thirty six artists who form this year's Winter Open. The show will feature selection of various art forms including video and installation, photography, sculpture, mixed-media and painting. The range and breath of the work chosen celebrates the energy, ingenuity and diversity of visual arts practices in Ireland.
We would like to remind you that our visitors have the chance to vote for their favourite artwork. The artist will win the People's Choice Award, a cash prize of €1000, sponsored by the Square Shopping Centre. The Voting box and slips will be located at the entrance of Gallery 1.
Rua Red has a policy of supporting artists at all stages of their career. One of the new ways that Rua Red will implement this policy is by forming an 'Acquisition Committee' in September 2018. The role of the committee will be to select and purchase works from the Winter Open exhibition to form a new collection for the organisation. The works will go on show within the building on a rotational basis in the Conference and Meeting Room areas.
Alongside this years selection will be an exhibition by the 2017 Winter Open winner Robert Ellis.
Friday 7 December 2018 – Thursday 10 January 2019
South Dublin Arts Centre
Tallaght, Dublin 24
Telephone: +353 1 451 5860
Opening hours / start times:
Monday 10:00 - 18:00
Tuesday 10:00 - 18:00
Wednesday 10:00 - 18:00
Thursday 10:00 - 18:00
Friday 10:00 - 18:00
Saturday 10:00 - 18:00
Admission / price: Free