Winter group show • Hopscotch
Sunday 20 December 2015 – Saturday 13 February 2016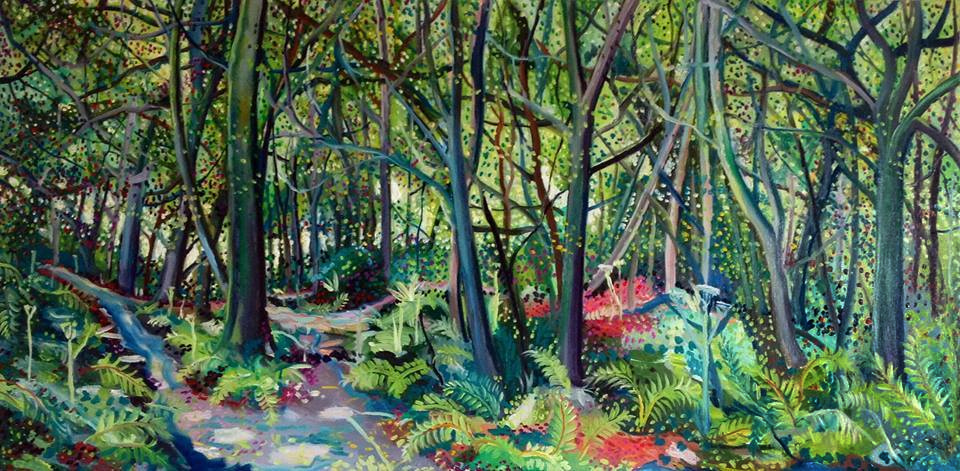 Artists Annika Berglund, Michelle Byrne, Conrad Frankel, Hugh Cummins, John Fitzsimons, Jordi Fornies, Jason Lowe, Eoin Mac Lochlainn, Yanny Petters, Kelly Ratchford, and Adrienne Symes
This year is marked by the 150th anniversary of the publication of 'Alice in Wonderland'. Universal Children's Day is celebrated in November every year. With these two events in mind, at Vue 2015, Ireland's National Contemporary Art Fair (RHA Dublin), the Olivier Cornet Gallery presented a themed group show entitled 'Hopscotch'. The show deals with childhood memories and children's games. We are delighted to be able to show this body of work for our annual Christmas/Winter group exhibition.
Selected works are accompanied by text written by a group of young writers reacting to the works, in collaboration with Fighting Words, the creative writing centre established by Seán Love and Roddy Doyle in 2009.
Image: Conrad Frankel: An Irish Jungle, oil on board, 50 x 100cm
Sunday 20 December 2015 – Saturday 13 February 2016
3 Great Denmark Street
(beside Belvedere College)
Dublin 1
Telephone: +353 87 2887261
Opening hours / start times:
Tues to Fri: 11am to 6pm (till 8pm on Thursdays) • Sat & Sun: 12 noon to 5pm • Closed on Mondays (or viewing by appointment only)
Admission / price: Free
Gallery closed 22 December to 1 January.