William Crozier: The Edge of the Landscape
Friday 13 October 2017 – Sunday 8 April 2018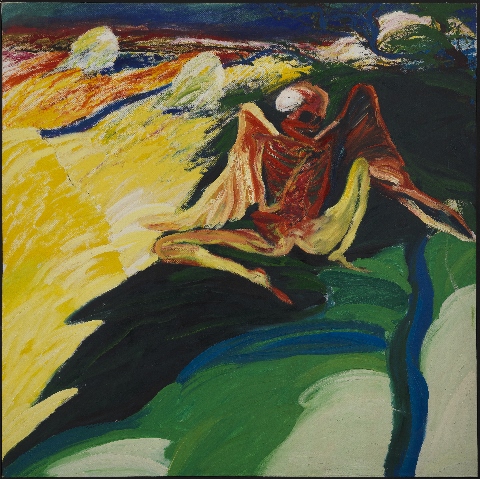 Thursday 12 October at 6pm : Seán Kissane, Curator, Exhibitions, IMMA, introduces the retrospective of William Crozier. Kissane considers the darker impetus behind Crozier's early works that continued throughout his career. Free, but booking required.
IMMA presents a major retrospective of the Scottish-born, Irish artist William Crozier (b. Glasgow 1930, d. Cork 2011). Best-known in Ireland for the lyrical landscapes he made close to his home in West Cork from the mid-1980s, this exhibition will present these familiar works against a backdrop of his early work inspired by the Existentialist movement and the anxieties of the post-war period. The exhibition will be shown sequentially across the two venues with Crozier's later works from 1985 showing at West Cork Arts Centre (15 July – 27 August 2017) and his earlier works shown at IMMA (13 October – 2018). Both exhibitions are curated by Sean Kissane (Curator, Exhibitions, IMMA)
Crozier began to exhibit in the early 1950s and his bleak views of the British landscape from that time seen in works like Essex Landscape (1959) are imbued with a darkness and pessimism that is immediately apparent. Crozier's time spent in Paris in the 1940s, and his encounter with the Existential writings of Jean-Paul Sartre gave a voice to this post-war malaise, and became a touchstone for the work he would make over the next fifty years. In the early 60s the human figure enters the work, but it is often interred in the blasted landscape or, later in the 70s it is flayed and skeletal. Reference is made to contemporary political events such as the Northern Troubles in major works like Crossmaglen Crucifixion (1975) that weave concerns with religion, violence and society.
The exhibition is presented in association with West Cork Arts Centre, Skibbereen.
Exhibition Resources
Read Gemma Tipton's review – William Crozier's glorious paintings sing of Cork and colour – in The Irish Times.
Read Widow of artist William Crozier shares his love for beauty of Irish landscape in The Times.
Image: William Crozier, Winged Figure, 1970 - 75. Oil on canvas, 172 x 172 cms. William Crozier Estate
Friday 13 October 2017 – Sunday 8 April 2018
Royal Hospital, Kilmainham
Dublin 8
Telephone: +353 1 612 9900
Opening hours / start times:
Tuesday 11:30 - 17:30
Wednesday 11:30 - 17:30
Thursday 11:30 - 17:30
Friday 11:30 - 17:30
Saturday 10:00 - 17:30
Sunday 12:00 - 17:30
Admission / price: Free
Bank Holidays open 12:00 – 17:30.