Wilder Beings Command!
Saturday 29 July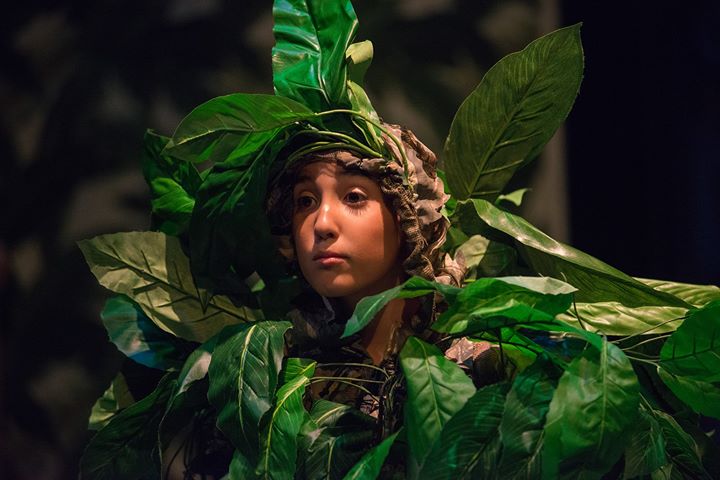 Wilder Beings Command! is a night of outdoor performance at IMMA on Saturday 29 July 2017, 7pm -10pm. This unique night expands from the major IMMA group exhibition As Above, So Below: Portals, Visons, Spirits and Mystics – an exhibition which explores how the spiritual endures in our everyday lives.
Celebrating art beyond the gallery floor, Wilder Beings Command! features performances, music, storytelling and dance. This live event roams across IMMA's meadows and Formal Gardens, and builds to a grand finale in the Chapel. Artists include Gareth Anton Averill, Stephan Doitschinoff, Stephen Dunne and Mark Titchner with Daniel O'Sullivan, Isadora Epstein, Christopher Mahon, Emily Mast, and Barry (Edward Clydesdale Thomson, Sjoerd Westbroek and Frans-Willem Korsten).
With moments of procession and ritual across the evening, the audience can play an active part in its unfolding, or just sit back and watch it all unfurl.
Wilder Beings Command! is orchestrated as a series of overlapping moments. The evening commences with a medley of performances. These include a roving composition by Gareth Anton Averill, a mythical episode by Isadora Epstein, and a sculptural performance by Christopher Mahon. Running in parallel, collaborative projects include Stephen Dunne and Mark Titchner's pseudo-political protest with a starring appearance from Daniel O'Sullivan, aka The Honourable Daines Barrington; and a short play by Barry (Edward Clydesdale Thomson, Sjoerd Westbroek and Frans-Willem Korsten), that philosophises the land, gardening and IMMA's historical grounds.
Later in the evening, the artist Emily Mast gathers the audience towards the hollow of the meadow with a re-working of her group performance Experiments in Falling. Heading to sunset, the night culminates in Stephan Doitschinoff's CVLTO DO FVTVRV procession. Using drums, costumes and paraphernalia, this parade of musicians and participants leads the audience en masse into the Chapel for the final spectacle.
Echoing the collaborative nature of the evening itself, the development of many of these artists' works is rooted within the IMMA site and its locale. Artists are taking up residency at the museum over several weeks, working closely with the Engagement and Learning Department on a series of workshops, talks, castings and rehearsals.
Wilder Beings Command! takes place on the cusp of the ancient Gaelic harvest festival Lughnasa. In each of its elements, the evening echoes an organic connection to the earth, to the present and to one another. Provoking the energy of collective power, it seeks to release a neo-pagan spirit of the wilderness.
Additional information and booking: This is a free event but tickets must be booked in advance. Book tickets here.
● Wilder Beings Command! is suitable for all ages, however it will be most engaging for those over the age of 9.
● As a "rain or shine event", wellies and rainwear are advised, subject to weather conditions on the day.
● Food and non-alcoholic beverages will be available to purchase at the event, and you are welcome to bring your own snacks. Alcohol is not permitted.
● Entry to this event will be via the Main Gate on Military Road. A limited amount of parking is available onsite from 6.30pm – 10pm. IMMA is easily accessible by bus, luas and Dublin Bike. See our website for more information on How to Get Here
Call for Volunteers
Artist Stephan Doitschinoff, currently exhibiting at IMMA as part of As Above, So Below: Portals, Visions, Spirits & Mystics, will return to IMMA this July to present the CVLTO DO FVTVRV procession, a parade conceived in partnership with philosophical society CVLTO DO FVTVRV. The parade will be part of the exciting outdoor evening of performances at IMMA on the evening of Wilder Beings Command!
Stephan Doitschinoff is now calling for Fvtvre Volunteers to take part in this processional event which is inspired by his extensive research and personal experience appropriating symbols of conservative institutions, such as the armed forces and organized religion. Doitschinoff needs 30 people to act as Fvtvre Volunteers, leading the procession through IMMA's grounds. Read the full requirements on the IMMA Blog before contacting IMMA at arp@imma.ie to register your interest.
About The Artists
Gareth Anton Averill is an award-winning, multi-disciplinary film-maker from Dublin. Working primarily as a composer of music for moving images, he is active in many other areas such as direction, A/V installation work and live, improvised performance. His interactive installation 'The Sub Aquatic' has been shown in Providence, Rhode Island, USA, and at the National Concert Hall, Dublin, and his experiments with the Gamelan Nua ensemble have been performed in Christ Church Cathedral, Dublin. Gareth collaborated with visual artist Sarah Lincoln on her recent show, 'Handling Fossils'. Alongside his film work, Gareth is preparing his first solo release, compiling works from the last three years.
Awarded "Most Promising Artist" by the APCA (Sao Paulo Art Critics Association), Stephan Doitschinoff has presented his main actions and exhibitions in institutional spaces like San Diego Contemporary Art Museum / USA, the Fondation Cartier / France, MASP (Museum of Sao Paulo), MAM (Museum of Modern Art Sao Paulo), the Afro Museum and the Curitiba Biennale. He is currently represented by Jonathan Levine Gallery in New York and LJ Gallery in Paris, and is part of The Isabel and Agustin Coppel collection, in Mexico. Doitschinoff has published two books with German Publishers Gestalten; CALMA: the art of Stephan Doitschinoff (2008) and CRAS (2012), and the documentary TEMPORAL.
Stephen Dunne's work operates across the registers of painting, drawing and moving image. Works are produced in a spontaneous manner and attempt to draw upon the unconscious as a source material. Dunne is a graduate of the Royal College of Art and of the National College of Art and Design. Currently showing at IMMA in As Above, So Below, past solo exhibitions include Luminous at NAG, Dublin, 2015; Poached Eyes on Ghost & Corpse of Milk, Fumbally Exchange, Dublin 2015; Subliminal Anarchy, Pallas Projects, 2014, and a series of solo shows at Rise in Berlin, The Phantom Limb, 2011; Schizo Epiphanies, 2009, and Der Zauberlehrling (The Sorcerer's Apprentice), 2008. Alongside ongoing collaborative projects with UK artists John Strutton and Mark Titchner, other exhibitions have included Toot Tootsie Goodbye at V1 Copenhagen curated by Francesca Gavin, group shows at Domobaal London, GSK Contemporary at the Royal Academy in London (with Mark Titchner) and The Big Four at Channel Four in London. Stephen was also included in Pilot 3 which was exhibited as part of the Venice Biennale in 2007.
Isadora Epstein is a writer and performer based in Dublin. She received Judge's Choice Award for her Tiger Dublin Fringe 2016 production, Very Rich Hours at Temple Bar Gallery + Studios, Dublin, and her 2015 production Flemish Proverbs received the Best Design Award. She recently performed at venues including Project Arts Centre, The Talbot Gallery, LIVE COLLISION International Live Art Festival, and IMMA (all Dublin) and Sirius Art Centre, Cork. She is currently a researcher on the ARC MA at IADT.
Frans Willem Korsten is Professor 'Literature and Society' by special appointment at the Erasmus University Rotterdam, Associate Professor with the department of 'Film and Literature Studies' at Leiden University, and runs the Critical Pedagogies seminar at the Piet Zwart Institute in Rotterdam. He worked extensively on sovereignty, baroque theatricality and dramatization, and on the relation between literature art and politics and law. In the fall of 2017, A Dutch Republican Baroque will be published. He was 'Best supervisor of the year' in 2015. Together with Yasco Horsman, he founded the Leiden Centre for Art, Literature and Law.
Christopher Mahon (b. 1988, Dublin), recently completed an MA in Art and Research Collaboration, IADT (2016). Recent exhibitions and performances include tantrum-twisters Open Avonds De Appel, Amsterdam (2017), only connect, Kevin Kavanagh, Dublin (2017), You Can't Un-See Something, Lambert Puppet Theatre, Dublin (2016), and This is Public & Sexy, curated by RGKSKSRG, Dublin (2016). Mahon will begin a two-year residency at the Rijksakademie van beeldende kunsten in Amsterdam in 2018.
Emily Mast (b. 1976, Cleveland, Ohio) is a Los Angeles-based visual and performing artist. Mast's work unfolds in chapters through the proposition of iterations and offshoots of the same piece. Recent projects include The Cage is a Stage which explored both the political implications of marginalization and the behaviour of humans through a cultural understanding of animal nature. Other projects include a "choreographed exhibition" at La Ferme du Buisson, Noisiel, France and an 18-part roving procession of performances at the Los Angeles County Museum of Art. Her video, installation, and performance work was part of the Hammer Museum's, Made in L.A. Biennial (2014). Mast's performances have been exhibited at venues including: China Art Object Gallery, Los Angeles (2015); Mona Bismarck American Center, Paris (2015); Silencio, Paris (2015); Night Gallery, Los Angeles (2014); Robert Rauschenberg Foundation Project Space, New York (2013); Public Fiction, Los Angeles (2012); REDCAT, Los Angeles (2012); MUHKA, Antwerp (2011); Human Resources, Los Angeles (2010) and Performa, New York (2009).
Daniel O'Sullivan is an English artist, multi-instrumentalist and composer from Manchester, England, best known for playing in experimental art-rock bands such as Grumbling Fur, Guapo, Miasma & the Carousel of Headless Horses, Ulver, Sunn O))), Æthenor, Miracle and Mothlite.
Edward Clydesdale Thomson is Scottish and Danish and lives and works in the Netherlands. He graduated with a Master's Degree from the Piet Zwart Institute in Rotterdam and followed the BArch programme at Glasgow School of Art. From 2011 to 2012, he was a resident at the Rijksakademie van Beeldende Kunsten in Amsterdam; and in 2011 he won the Lecturis Award and was nominated for the Prix de Rome. In 2013 he was resident at iaspis, Stockholm and in 2014 at IMMA – Irish Museum of Modern Art, Dublin. Edward Clydesdale Thomson's work was shown in the solo exhibitions Causa Finalis (2012) at Galerie Fons Welters, Amsterdam; Nothin' Shakin' but the leaves on the trees, Marabouparken, Sweden; wild care, tame neglect, Frankendael Foundation, Amsterdam.
Mark Titchner's (b. 1973, Luton, UK) work involves an exploration of the tensions between the different belief systems that inform our society, be they religious, scientific or political. His work often explores words and language. His projects in the public realm are frequently created from extended group activities, working particularly with young people. He is currently lead artist for As you change so do I, an evolving three-year public art project based in his hometown of Luton. Recent solo exhibitions and public projects include What I want more than anything else, public venues in Hull, Burnley and Wigan, 2017; Beacon, Hat Factory, Luton, 2016; Me, here, now (Burning Too) with Jeremiah Day, various venues Antwerp, 2016 ; Our work is today together, Sceaux Gardens Estate, London, 2015; Provocation, Queen Elizabeth Hall, London, 2015; CGP/Dilston Grove, London, 2014; An image of truth, Foyles Gallery London 2014. Recent group exhibitions include A certain kind of light, Towner Art Gallery, Eastbourne 2017; Back to basics: Text, Enia Gallery, Athens, 2017; Into boundless space I leap, Maxwell Centre, University of Cambridge, 2016; 2050: A Brief History of the Future, Royal Museums of Fine Art Belgium, Brussels and Palazzo Reale, Milan, 2015.
Sjoerd Westbroek (1979) is an artist who lives and works in Rotterdam, the Netherlands. He graduated in 2008 with a Master's Degree in Fine Art from the Piet Zwart Institute in Rotterdam and in 2015 he obtained a BA in Philosophy from Erasmus University. In 2012 he was a resident at AiR Berlin Alexanderplatz in Berlin and in 2013 at the Jan van Eyck Academie in Maastricht. Recent projects include The Building a Pedantry of Lines at the Jan van Eyck Academie and Friendly Stalking, as part of Zero Footprint Campus, an international art-science manifestation at Utrecht Science Park. Sjoerd Westbroek co-founded artist initiative ADA (Area for Debate and Art) and is a core tutor at the Willem de Kooning Academy and the Master Education in Arts programme of Piet Zwart Institute.
Picnic!
As a warm-up to Wilder Beings Command! audiences are welcome to bring their own picnic, snacks and blankets/seating from 6.30 – 9pm. Food and drink will also be available to purchase on site. Performances will start at 7pm.
Tickets
This event will be free, but ticketed. Tickets must be booked in advance. Book tickets here.
Tickets will be available in early July. Please bookmark this page and revisit for further information or join our mailing list.
Image: Emily Mast: The Cage Is A Stage, 2016 (performance detail) Image courtesy the artist. Photography Henry Chan.
Saturday 29 July
Royal Hospital, Kilmainham
Dublin 8
Telephone: +353 1 612 9900
Opening hours / start times:
Tuesday 11:30 - 17:30
Wednesday 11:30 - 17:30
Thursday 11:30 - 17:30
Friday 11:30 - 17:30
Saturday 10:00 - 17:30
Sunday 12:00 - 17:30
Admission / price: Free
Bank Holidays open 12:00 – 17:30.