Wild Swans Performance Art: A Pound of Feathers
Sunday 8 May – Sunday 5 June 2022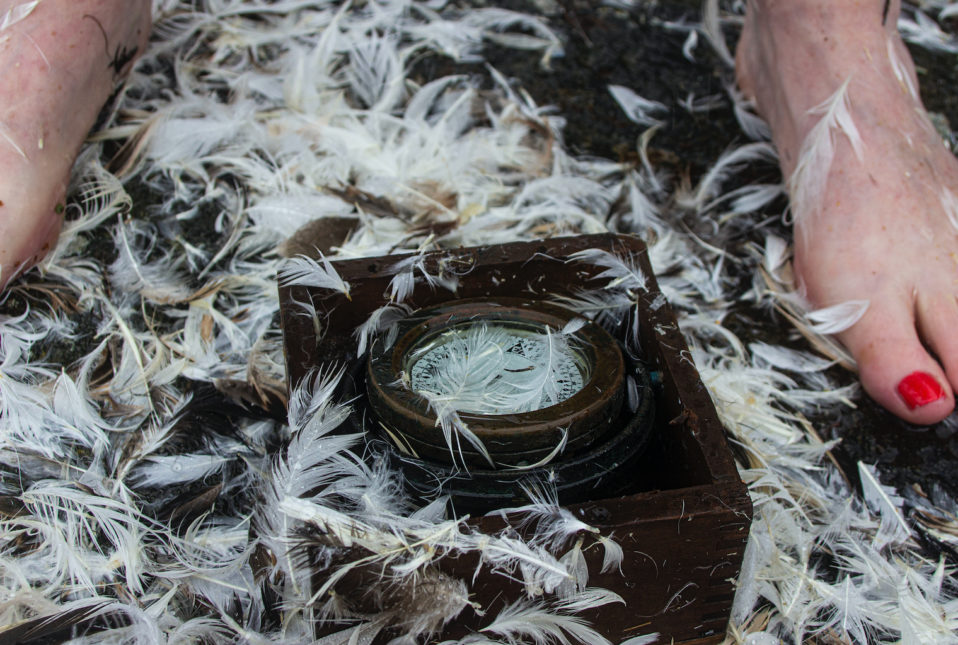 A Pound of Feathers by Wild Swans Performance Art showcases site-specific artist performances, writings and installation from Rathmullan, Co Donegal, Girona, Spain and Puerto Rico in the Caribbean.
International Performance artists, Denys Blacker (Spain) Sandra Johnson (NI) Marina Barsy (PR), Mireia Zantop (Spain), Aodán McCardle (IRE) and Bernadette Hopkins (IRE) collaborate on this project with Rathmullan The Way Forward community group to make six live and filmed public performances. Three performances were held at the historic Gun Battery Fort, Rathmullan Co Donegal on the shores of Lough Swilly, two performances were filmed in Spain at Madremanya, Girona and one performance took place on the Caribbean Island of Puerto Rico.
The title of the project A Pound of Feathers comes from the old riddle about which is heavier, a pound of feathers or a pound of lead? This juxtaposition creates a lens for these performances and writings in the context of human migration and war and the migration of birds and the earth's sixth mass extinction and the interconnectedness of both. Within the work, the 'weighing' of these two aspects of migration is processed and presented as new observations and explorations. Weighing becomes a strong metaphor and is pivotal to those displaced and dispossessed.
The filmed performances and creative texts, explore aspects of migration and our colonial past, the voyages of discovery and flights of exile which occurred from the shores of Rathmullan, Lough Swilly to Spain, to and from Puerto Rico and include stories of internal displacement. The international refugee crisis and climate emergency have all refocused attention on the global political context within which, any artistic study of migration, must consider. Wild Swans have observed and have creatively commented on how small changes and patterns in the movement of wildlife and human journeys have dramatic consequences on the survival and extinction of other forms of life; of how movements of people, have influenced the development of our culture, education and economies.
Film and Editing by Jacqui Devenney Reed, Charlie Joe Doherty and Regional Cultural Centre, Letterkenny.
Photography by Jacqui Devenney Reed.
Assistance by Isa Fontbona.
Sunday 8 May – Sunday 5 June 2022
Port Road, Letterkenny
Co. Donegal
Telephone: +353 74 912 9186
Opening hours / start times:
Monday closed • Tuesday 11:00 - 17:00 • Wednesday 11:00 - 17:00 • Thursday 11:00 - 20:00 • Friday 11:00 - 17:00 • Saturday 13:00 - 17:00 • Sunday closed Admission is free
Admission / price: Free