Where were you? Dublin Youth Culture and Street Style 1950 – 2000
Thursday 24 November – Sunday 27 November 2011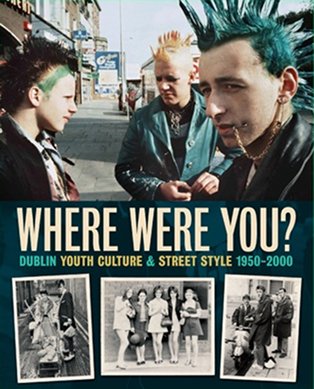 WHERE WERE YOU? Dublin Youth Culture & Street Style 1950 – 2000, by Garry O'Neill
Official launch byGavin Friday: 7pm Thursday 24 November 2011
A selection of photographs will be exhibited in the Gallery until 6pm Sunday 27 November 2011.
Starting with the 1950's this unique book is a fascinating visual record of Dublin's youth culture captured through a snapshot aesthetic. The fashions and photographic trends particular to each decade are beautifully presented in a full colour hardback gift-book. Where Were You? is the result of 10 years research and sourcing of images by author Garry O'Neill. This lively and engaging book also features an introduction by Steve Averill, designer of early U2 album artwork and former member of the band The Radiators.
The book was kindly supported by Fuji Ireland and is available for €29.99 from www.wherewereyou.ie. Signed copies are also available at the Gallery of Photography Bookshop.
About the book:Where Were You? is a photographic celebration of Dublin's youth culture, street style and teen life, from the 1950s to the late 1990s. From a flyered request Garry accumulated more than 5,000 images. This selection of over 800 of those images includes work by established photographers such as Tony O'Shea, Derek Speirs, Bill Doyle and Fergus Bourke, as well as an incredibly diverse and eclectic mix of snapshots, photo-booth and Polaroid photos contributed by the public.
About the author: Garry O'Neill became an avid collector of Dublin youth culture history while working in the City Arts Centre in the late 90s. He was born and reared in the city and still lives there. He explains his motivation 'I had a feeling that there would be a lot of interest generated in it because a lot of what's in it has never been covered before. There's been articles on certain youth cultures in magazines or newspapers, but actually putting them together in a book covering a long period of time hasn't been done'. Niall McCormack formerly of the Jubilee Allstars at Hi-Tone design has worked closely with Garry in producing this unique visual archive.
Thursday 24 November – Sunday 27 November 2011
Meeting House Square
Temple Bar, Dublin 2
Telephone: +353 1 6714654
Opening hours / start times:
Tuesday - Saturday 11am - 5pm. Mondays by appointment for education, artists archiving and training. Closed Sundays
Admission / price: Free