What Do You See When You Look At Me?
Saturday 12 May – Saturday 2 June 2012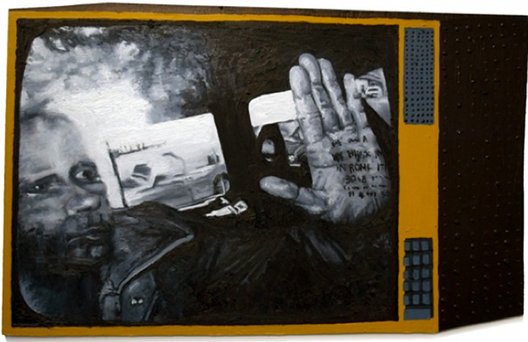 An exhibition from the IMMA Collection at the Burren College of Art
What Do You See When You Look At Me?, an exhibition developed in partnership with the Burren College of Art and the Irish Museum of Modern Art's National Programme, opens to the public at the Burren College of Art, Ballyvaughan, Co Clare, at 3.00pm on Saturday 12 May 2012. This exhibition comprises some 20 artworks from the IMMA Collection specifically curated for children and explores ideas around representation, both in the form of portraiture and in less conventional ways, posing questions about how we view ourselves and others. Artists featured include John Doherty, David Godbold, Brian Duggan, Robert Ballagh, Louis le Brocquy, Andrew Folan, James Hanley, John Kindness, Nevan Lahart, Alice Maher, Caroline McCarthy, Nick Miller, Tom Molloy, Isabel Nolan and Martin Parr.
The works range from self-portraits by Tom Molloy and Isabel Nolan, to portraiture of others, some famous for cultural or political reasons such as Louis le Brocquy's portrait of Samuel Beckett and Nevan Lahart's depiction of former Israeli nuclear technician Mordechai Vanunu. As well as looking at the representation of a subject's environment, the exhibition explores portrayals of objects, references to the history of art, and questions what is represented through absence or missing information in portraits. A series of workshops for primary school children from the Burren area will take place during the exhibition facilitated by members of IMMA's Mediator team.
The works forming Irish artist Nevan Lahart's ongoing Static TV series, from 2001, are set in isometric TV structures, a framing device for referencing his personal feelings, art history and things as seen on TV, particularly socio-political media images. Included in the series and this exhibition are Ch.26: Sub-Commandant Marcos, The Friendly Terrorist (After R. Hamilton), 2002, and Ch.76: 3 Cheers for the Psalms of Mordechai Vanunu (Before R. Hamilton), 2007. Both these titles reference the British artist Richard Hamilton, frequently known as the Father of Pop, who, like Lahart, uses appropriated media imagery in his work. The former alludes to Hamilton's The Citizen, 1981–3, from his Northern Ireland series. The latter was conceived and painted as a contemporary update of Hamilton's Swingeing London 67, 1968–9, depicting the arrest of Mick Jagger and the art dealer Robert Fraser following a drug raid. Coincidentally, Hamilton's Unorthodox Rendition, 2009–10, used the same media images of Vanunu's arrest as Lahart had.
Scraping the Surface and Dulce et Decorum est…, both 1990, are part of a series by Belfast-born artist John Kindness, made during his residency at PS1 in New York. Kindness is interested in the detritus of human life, in Scraping the Surface he has etched a familiar New York taxicab bonnet that he found abandoned in the street. The yellow paint of the door was scraped away and then darkened with a metal oxide resulting in a black image on a yellow background – deliberately reminiscent of classical Greek Attic vases. Throughout his career Kindness has used traditional methods of working such as mosaic and fresco painting; exploring contemporary themes and defying conventional notions of the fine art object while drawing on established traditions. By deliberately mimicking the visual styles of ancient Greek vase-painting that survive through archaeological excavation, Kindness suggests that the residues of contemporary life will be the artefacts of the future.
In the double screen video work Greetings, 1996, by Irish artist Caroline McCarthy, the artist inserts herself abruptly and repeatedly into a typical Irish landscape, familiar to us from tourist brochures and traditional Irish art, in a deliberately awkward and comic way. The reference to picture postcard messages in the title suggests the artist is only visiting the location. McCarthy questions where she belongs in our rapidly changing culture from the once rural to the new urban focused contemporary Ireland.
IMMA's National Programme is designed to create access opportunities to the visual arts in a variety of situations and locations in Ireland. Using the Collection of the Irish Museum of Modern Art and exhibitions generated by the Museum, the National Programme facilitates the creation of exhibitions and other projects for display in a range of venues around the country. The National Programme establishes the Museum as inclusive, accessible and national, de-centralising the Collection, and making it available to communities in their own localities, on their own terms, in venues with which the audience is comfortable and familiar.
Image: Nevan Lahart: Ch.26: Sub-Commandant Marcos, The Friendly Terrorist (after R. Hamilton), 2002, oil on MDF, 38.5 x 58 cm, collection Irish Museum of Modern Art, Purchase, 2010, Image © the artist.
Saturday 12 May – Saturday 2 June 2012
Newtown Castle
Ballyvaughan
Co. Clare
Telephone: +353 65 7077200
Admission / price: Free