WE CAN CAN CAN
Friday 6 October 2023 – Sunday 28 January 2024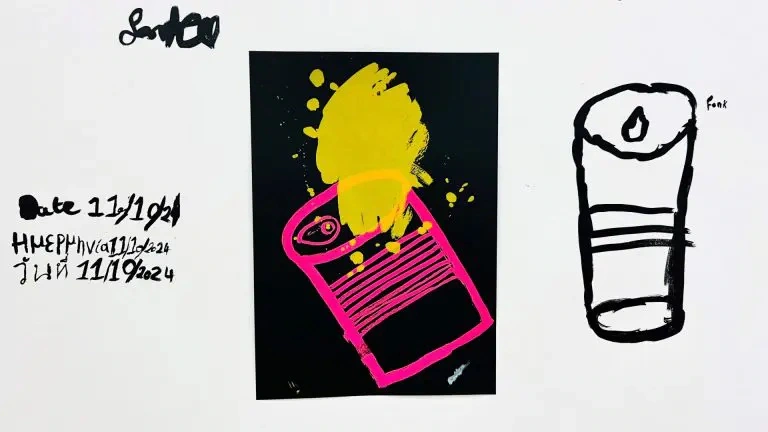 WE CAN CAN CAN is an Education and Community Outreach project by visual artist Liliane Puthod in response to Andy Warhol Three Times Out at Hugh Lane Gallery.
Based on Andy Warhol's famous Campbell's Soup paintings and sifting it through the lens of Irish culture, the project is built on four chapters titled Can of Beans, Silver Can, Revolving Can and Humming Can, each exploring media and themes used by Andy Warhol as a way to initiate a dialogue around the production of singular and multiple objects within an everyday environment.
Focusing on the 'can' as an ordinary object, the project began with an extraordinary visit to a local site of production, Batchelors Beans Factory with Cabra For Youth.  This inspired unique ink drawings of cans which were used to create  WE CAN CAN CAN's beautiful wallpaper. The ink drawings were further developed into multiple silkscreen prints at Damn Fine Print. In addition to Cabra For Youth, the three other participating groups are Lourdes Youth and Community Services (LYCS), Dublin 1, St Mary's Secondary School,  Glasnevin and Beneavin De La Salle, Finglas. Over the coming months, each will respectively visit Colorman, Irish Film Institute and Dublin Digital Radio as well as engaging further through  exhibition visits and  art workshops in our Education Space with filmmaker Helena Gouveia Monteiro, tinsmiths James Collins and Tom McDonnell and Dublin-based band Acid Granny.
Reflecting on the handmade versus manufactured object, the echoing title WE CAN CAN CAN captures the many layers of production and scale present in Andy Warhol's extensive series of works, from commercial to fine art, craft trade to mass-production, unique drawings to repetitive prints, experimental to mainstream.
With the incremental addition of artwork made during this project, Gallery 6 becomes a space to question the relationship between time, value, individuals and society.
Chapter 1: Can of Beans with Cabra For Youth, Batchelors Beans Factory and Damn Fine Print.
Chapter 2: Silver Can with Lourdes Youth and Community Services, Colorman Packaging and Printing Company, James Collins and Tom McDonnell with Pavee Point Roma Centre.
Chapter 3: Revolving Can with Beneavin De La Salle College, Finglas, Irish Film Institute (The Irish Adverts Project) and visual artist Helena Gouveia Monteiro.
Chapter 4: Humming Can with St Mary's Secondary School, Glasnevin, Dublin Digital Radio and band Acid Granny.
This project by visual artist Liliane Puthod is co-curated with Jessica O'Donnell, Head of Education and Community Outreach and Cleo Fagan, Education Curator.
Image: WE CAN CAN CAN artwork made by participants from Cabra for Youth
Friday 6 October 2023 – Sunday 28 January 2024
Parnell Square North
Dublin 1
Telephone: + 353 1 222 5550
Opening hours / start times:
Tuesday 10.00 - 18:00
Wednesday 10.00 - 18:00
Thursday 10.00 - 18:00
Friday 10.00 - 17:00
Saturday 10.00 - 17:00
Sunday 11.00 - 17:00
Admission / price: Free