Waking Playthings
Saturday 7 December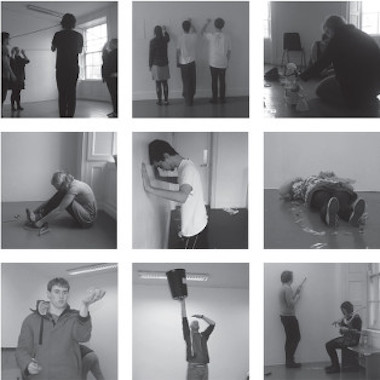 Red Bird Youth Collective's experimental performance 'Waking Playthings' will take place from 4.00 – 5.30pm on the 7th of December in Nun's Island Theatre. This performance is the end result of a collaboration between performance artist Dominic Thorpe and sound artist Vicky Langan. This project is kindly supported by The Arts Council under The Youth Ensemble Scheme.
This collaboration began in September and took the form of weekly workshops in Galway Arts Centre where Thorpe and Langan shared ideas around performance and introduced various approaches to working with live art.The workshops ranged from interaction with materials to vocal improvisation, with a strong emphasis on experimentation and exploration. This project will tour to The GrainStore in 2014. This is Red Bird's fourth collaborative project, their last project was the creation of an original film entitled 'Belong' with Jonathan Sammon and Ruadhrí Brennan. In 2014 they will pursue an architectural project with architect Dominic Stevens and visual artist Ruth Le Gear under the 'Engaging with Architecture Award' from The Arts Council.
Dominic Thorpe is a visual artist working primarily through the body in live performance. Through his practice he often engages with subject matter that has significant social importance. He is a co-director of Unit1 performance art and is currently a resident at the Fire Station Artists Studios, Dublin.
Vicky Langan's performance practice operates across several often overlapping fields, chiefly
live art, sound, and film. In 2009, Langan founded Black Sun Cork, a platform for world-class underground music and experimental cinema in Ireland. Langan co-organises the Avant, an annual festival for Contemporary Arts in Cork.
Admission is free and no booking is required for performance. Audience may come and go as they please through out.
Saturday 7 December
Nun's Island Theatre
Galway
Admission / price: Free