Vue: National Contemporary Art Fair at the RHA & RHA Members Exhibition
Friday 4 November – Sunday 6 November 2011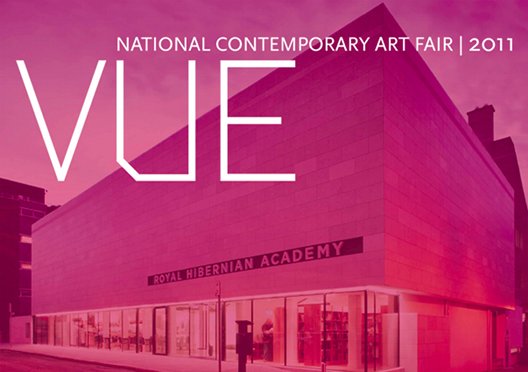 Special Preview: Thursday 3 November 2011, 6 to 9pm
The inaugural Vue: National Contemporary Art Fair will take place at the RHA Gallery in Dublin this November 2011. Running from Friday 4th November to Sunday, 6th November 2011, Vue brings together over 15 contemporary art galleries from Dublin and Belfast under one roof to showcase new and recent work by Ireland's leading artists.
Participating galleries include Rubicon Gallery, Kerlin Gallery, Jorgensen Fine Art, the Peppercanister Gallery, Graphic Studio Gallery, Taylor Galleries, The Green on Red Gallery, The Paul Kane Gallery, Oliver Sears Gallery, Oonagh Young Gallery, Cross Gallery, Molesworth Gallery, Stoney Road Press, Talbot Gallery & Studios the Fenderesky Gallery in Belfast, as well as the Irish Museum of Modern Art. This art fair was previously part of the Interiors Show at the RDS which takes place each May.
Commenting on the launch of Vue: National Contemporary Art Fair, Event Organiser, Louis O'Sullivan said: "Vue: National Contemporary Art Fair is a very exciting project for us, bringing together the highest calibre of artists and leading creatives in the country to showcase their collective talents."
Adding to this, Antoinette Murphy from the Peppercanister Gallery said: "We are really looking forward to this year's inaugural art fair Vue at the Royal Hibernian Academy in November. There will be a great selection of high quality artists on display from all galleries involved with The Peppercanister Gallery showcasing an excellent collective of highly accomplished Irish & British artists including Albert Irvin, John Bellany, Liam Belton and Sonja Landweer, All the pieces have been especially selected and will showcase the talents of these very gifted artists who are either mid or late career. It promises to be an exciting display of beautiful, vibrant and compelling art and will be essential viewing for all art lovers".
RHA Members Exhibition 3 – 6 November
Also showing at the RHA, will be a selection of recent work by RHA members James English RHA, Campbell Bruce HRHA, Remco De Fouw ARHA, John Long RHA, Liam Belton RHA, Anita Shelbourne RHA, Stephen McKenna PPRHA, Imogen Stuart RHA, Una Sealy ARHA, Maria Simonds-Gooding ARHA, Eilis O'Connell RHA, Carolyn Mulholland RHA, George Potter RHA, Vivienne Roche RHA, Joe Dunne RHA, Mick O'Dea RHA, Charles Harper RHA, Brett McEntagart RHA, Veronica Bolay RHA, Maeve McCarthy RHA, Carey Clarke PPRHA and Thomas Ryan PPRHA. All works will be for sale. Further details available on the RHA website, www.royalhibernianacademy.ie
Friday 4th: 7 – 9 pm Private Preview for Friends of the RHA, and guests
Friday 4 November – Sunday 6 November 2011
15 Ely Place, Dublin 2
Telephone: +353 1 661 2558
Opening hours / start times:
Monday 11:00 - 17:00
Tuesday 11:00 - 17:00
Wednesday 11:00 - 19:00
Thursday 11:00 - 19:00
Friday 11:00 - 19:00
Saturday 11:00 - 19:00
Sunday 14:00 - 17:00
Admission / price: Free