Vivienne Roche: Head to Head
Friday 15 May – Saturday 26 September 2015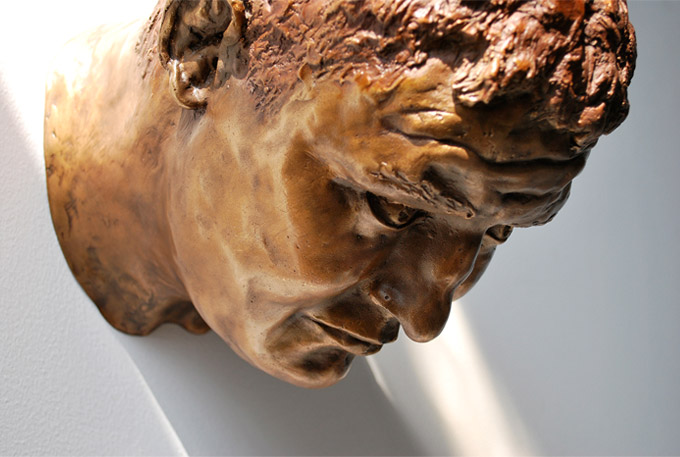 Opening Reception Thursday 14 May at 6pm • Speaker: Sheila Pratschke, Chair of the Arts Council of Ireland
From An Strachaire Fir by Joseph Higgins (1916) to the bronze head of her nephew Stephen Archer: Tight Head Prop (2014), Vivienne Roche RHA curates an exhibition of sculptures titledVivienne Roche: Head to Head in the Crawford Art Gallery Cork. 
Displayed in the setting of the historic sculpture galleries of the Crawford Art Gallery, the exhibition will run from May 15 to September 25 and features a series of heads commissioned by the Arts Council including work by artists Conor Fallon RHA, Kathy Prendergast and Brian Bourke.
In 2014, Vivienne Roche decided to model a head for the first time since  being a student. Roche has made many works that have some reference to the human body, but not in a way that is generally considered figurative.  The head she produced last year was one of Stephen Archer, the artist's nephew and godson. Roche's challenge in modelling Steve (as Roche refers to him) – an Ireland-capped and Munster Rugby player – was twofold: first, how could she approach the task in a novel and  visually engaging way, and secondly how could she add a pespective that the television sports camera must, of necessity, miss?
Vivienne Roche's solution was to take a perspective from the ground up, looking at Archer's head as it locked into position in the scrum, approximately 80 centimetres from the ground, mirroring the head in action as a tight-head prop.  Using bronze casting, Roche achieves that 'monumnental' quality so particular to this medium.
The last time Roche made a head was in 1988, when she was commissioned by the Arts Council for a touring exhibition called Heads, initiated by Martin Drury, along with six other artists.   Roche's head – entitled Victim – was not modeled. It was fabricated in steel, which was the artist's favoured material at that time. 
Vivienne Roche: Head to Head, brings together new work by Roche, together with the Arts Council Head series and the two powerful works by Joseph Higgins. Roche has admired the under-rated Joseph Higgins' since she attended the Crawford College of Art. She describes those works of his which she has chosen as "timeless, powerful, full of character and beautifully modeled". Higgins finished these heads in 1916.
Vivienne Roche situates her show as follows; 'Curiously, the last thirty years in Ireland have rather neglected three-dimensional representations of the human head. I felt it was timely to remind ourselves of how this ancient preoccupation with the head can continue to challenge and reward. Bringing together the 1988 Heads show, the work of Joseph Higgins and myself seemed an appropriate way to do this'.
About the artist:
Over the last 30 years Vivienne Roche has worked in large-scale bronze, glass, steel, sailcloth, stuccodore plaster, and reconfigured landscape.  Drawing, watercolour and photography have also been central to her work. Her artistic themes derive from site-specific dialogues between architecture and sculpture, the emotional resonances of the coastal landscape in which she lives, relationships between male and female, archaeology sites and their artefacts, and between music and the visual. 
Recent solo exhibitions include Spirit and Light RHA Gallery, Dublin, 2013; A Light Interlude from the Pulpit, Triskel /Christchurch, Cork, 2011 and The Geometry of Water 2010, Centre Culturel Irlandais, Paris.  Group exhibitions include RHA Annual Exhibition, 2014; Traces of Peter Rice, Centre Culturel Irlandais, Paris 2013; What happens next is a secret, Irish Museum of Modern Art, Dublin and Into the Light, The Arts Council, 60 Years of Supporting the Arts, 2012.
Roche is a member of Aosdána and of the Royal Hibernian Academy. Active in the creation and implementation of cultural policy, she was a founder member and first chairperson of the National Sculpture Factory in Cork; a former member of the Arts Council (1993-1998) and was awarded an honorary Doctorate in Laws by University College Cork in 2006.  vivienneroche.com
Image: © Vivienne Roche 2015
Friday 15 May – Saturday 26 September 2015
Emmet Place, Cork
Telephone: +353 21 4805042
Opening hours / start times:
Monday 10:00 - 17:00
Tuesday 10:00 - 17:00
Wednesday 10:00 - 17:00
Thursday 10:00 - 20:00
Friday 10:00 - 17:00
Saturday 10:00 - 17:00
Admission / price: Free