Visual Artists for Gaza @ 126
Friday 12 September – Sunday 14 September 2014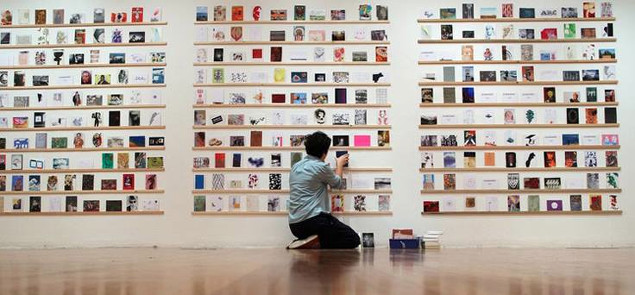 Fundraiser at 126 Artist-Run Gallery © Kerry Guinan • Opening night Friday, 12 September at 7pm • Art Exhibition & Sale • Sale runs through Sunday, 14 September
In response to Gaza's emergency situation, established and emerging artists from Ireland and beyond have generously contributed artwork for a benefit exhibition, to open Friday, September 12, at 7PM. The public is invited to view and collect work at this exhibition, helping Palestinians caught up in the conflict.
This exhibition is a chance for both artists and the public to respond to the atrocities taking place in Gaza and to contribute to emergency relief. Contributing visual artist Michelle Brown said she is delighted to have an opportunity to help the people of Gaza through her particular skill set. Asked why she is submitting work to the project, artist Aideen Barry replied, "We are witnesses to one of the greatest crises of our time. It is our obligation as human beings to stand up for the rights of the most vulnerable, and for those of us with a voice or a visual language, it is essential that we support those who need standing up for. I am supporting the vulnerable children and people of Gaza through this very dark and inhumane time, it's only a small gesture of support but the very core of being human is in it."
Potential collectors are invited to peruse these works at an exhibition in 126, Artist-Run Gallery in Galway, starting on opening night, September 12 at 7pm. The sale will run through September 14, during opening hours, 11am-6pm.
A mix of 2D pieces by both well-known artists and emerging artists, the work will be displayed anonymously, so that the public may enjoy guessing who the artists might be. The art is highly affordable:
– €20 for postcard-sized (approximately A6) pieces.
– €50 for larger (maximum A3) works.
Juried prizes will also be conferred for an entry in each of the two categories.
Funds from the sale of artwork will go directly to Middle East Children's Alliance, https://www.mecaforpeace.org.
The exhibition will be opened by Conor McGrady, Dean of Academic Affairs at Burren College of Art. His work has shown in international exhibitions, including the 2002 Whitney Biennial in New York, and the Biennale of Contemporary Art, D-0 Ark Underground, Sarajevo-Konjic, Bosnia and Herzegovina. As a member of the Culture and Conflict Group, McGrady has co-curated exhibitions highlighting military occupation, national sovereignty and human rights in Palestine.
Artists donating artwork for the fundraiser can do so until Thursday 11th September. Please post or drop artwork into 126 Artist-Run Gallery, 4 Commerce House, Flood St, Galway.
Friday 12 September – Sunday 14 September 2014
15 St Brigid's Place
Hidden Valley, Galway City

Opening hours / start times:
Wednesday – Sunday 12 – 6 pm
Admission / price: Free