Vilnius & Unfixed
Thursday 3 October – Tuesday 15 October 2013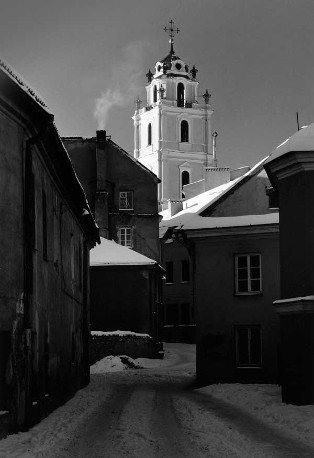 Opening Reception Wednesday 2 October at 6:30pm
Vilnius – photographs of the Old Town by Kęstutis Stoškus
&
Unfixed – New work by Ieva Baltaduonyte­
Showing in Ireland for the first time, master black-and-white photographer Kęstutis Stoškus offers a fascinating insight into the architectural riches of Vilnius. His work carries forward an unbroken tradition of architectural photography of the Lithuanian capital, a World Heritage Listed site renowned for its unique combination of Baroque, Gothic and Renaissance styles.
Recalling Atget's pioneering studies of turn-of-the-century Paris, people rarely appear in Stoskus' work. For him, the fabric of the town is more important than its passing inhabitants. Through his lens, we can experience the city, as though wandering on foot through its lanes and squares; we can accompany the photographer as he takes up the best vantage point, and patiently waits for the optimal angle of light. The exhibition is a tender architectural portrait which reveals the essential character of the city.
To complement this exhibition, new work by Irish-based artist Ieva Baltaduonyte explores the world of Lithuanian migrants in contemporary Ireland. In a series of sensitive and graceful colour studies, 'Unfixed' portrays recent migrants immersed within their new environment. It explores how their lives are surrounded by familiar Irish landscapes, yet infused with two histories, two languages – and two ways of seeing.
These exhibitions are presented as part of the Lithuanian Presidency of the Council of the European Union. With thanks to the National Museum of Lithuania, The Embassy of the Republic of Lithuania to Ireland. The Gallery of Photography is supported by The Arts Council and Dublin City Council.
Image: Image: © Kęstutis Stoškus
Thursday 3 October – Tuesday 15 October 2013
Meeting House Square
Temple Bar, Dublin 2
Telephone: +353 1 6714654
Opening hours / start times:
Tuesday - Saturday 11am - 5pm. Mondays by appointment for education, artists archiving and training. Closed Sundays
Admission / price: Free