Victoria Morton and Merlin James: Double Shuffle
Friday 2 June – Saturday 8 July 2023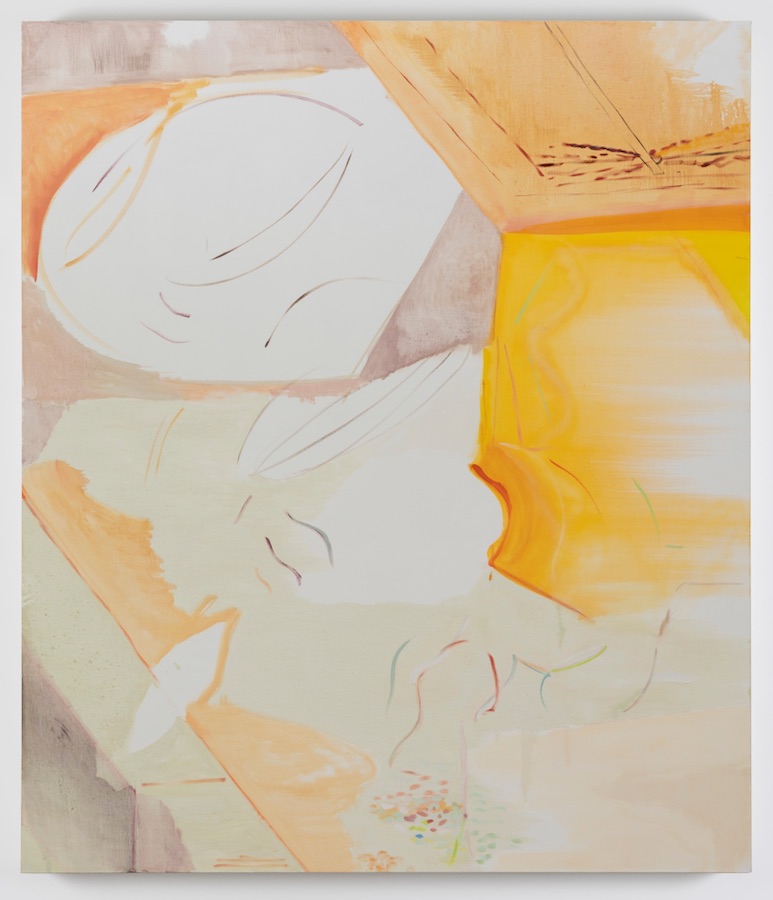 Kerlin Gallery is delighted to present Double Shuffle, a two-person exhibition by Victoria Morton and Merlin James. Presenting the artists' work side by side for the first time, the exhibition showcases two different but interlinked approaches to painting.
Morton and James are each known for an evolved, searching and idiosyncratic investigation of painting. Though distinct in style and subject matter, there is much they share, partly through a deep engagement with the history of their medium. Presented in combination their works promise a mutually enriching and illuminating push/pull, between figuration and abstraction, surface and depth, flow and resistance, dynamism and stillness, translucency and opacity: a double shuffle.
Victoria Morton's paintings teeter on the verges of abstraction and figuration, enveloping us in a sensuous universe of colour, shape and vibrational energy. Shapeshifting forms seem to shimmer and radiate, informed by musical and biological structures, and marked by a sense of openness and mutability. "Paintings are not just a flat thing to look at; they can be felt like clothes you put on or a room you sit in," the artist states in a forthcoming interview for BOMB Magazine (Summer 2023). Double Shuffle marks the first time Morton's work has been presented in Dublin.
Recently described by e-flux's Jonathan Griffin as "notorious for the confounding heterogeneity of his output", Merlin James refines and renews many of painting's most time-honoured concerns – genre and narrative, pictorial space and expressive gesture, the emotive resonance of colour and texture. Double Shuffle features a spectrum of works, including figures, seascapes, buildings, vistas, monochromes, and 'frame' paintings – modes that the artist has revisited and revised throughout his career.
Book & Edition Launch Thursday 1 June, 5pm
On the occassion of Double Shuffle, we are excited to launch a landmark new publication by Merlin James and a new limited edition lithograph by Victoria Morton.
Merlin James's ambitious new book offers the most comprehensive overview of the artist's career to date, compiling 40 years of his painting practice. The book contains full-colour reproductions of almost 300 artworks, organised non-chronologically and guided instead by the various threads and motifs that have woven throughout his career over the past four decades.
Victoria Morton, in collaboration with Edinburgh Printmakers, has produced a new edition especially for Double Shuffle. Titled Announcement, it is a six-colour lithograph printed in four runs with three plates and one stone on Madrid 300 gsm paper.
Both the book and edition will be available at a launch event and signing taking place in the gallery from 5pm on 1 June, ahead of the opening reception for Double Shuffle.
Image: Victoria Morton, Reclining, 2023, oil on canvas, 213 x 182.3 cm / 83.9 x 71.8 in
Friday 2 June – Saturday 8 July 2023
Anne's Lane
South Anne Street, Dublin 2
Telephone: +3531 670 9093
Opening hours / start times:
Monday 10:00 - 17:45
Tuesday 10:00 - 17:45
Wednesday 10:00 - 17:45
Thursday 10:00 - 17:45
Friday 10:00 - 17:45
Saturday 11:00 - 16:30
Admission / price: Free