Vicky Smith: The Cold Bark Against My Back
Sunday 6 March – Sunday 3 April 2022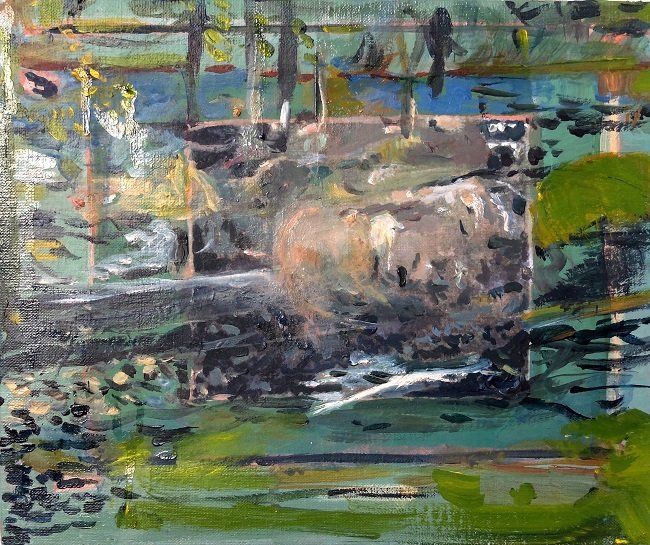 ――― Venue + online ―――
A solo exhibition by Vicky Smith, a member of our AGA group at Olivier Cornet Gallery
Launch of the exhibition:
At the gallery, Sunday 6 March, 2:00-6:00 pm in the presence of the artist. Please book a time that suits you by calling/texting or emailing us. The artist will present her work in a 20-minute conversation with the gallerist at 2pm.
Availability of the show:
Tuesdays to Sundays at the gallery from 8 March to 3 April 2022 (please book a time that suits you).
On line in our 3D Virtual Space from Sunday 6 March 2022 onwards.
The Olivier Cornet Gallery is delighted to present Vicky Smith's first exhibition with us. Vicky is a member of our AGA group.
Made over two years, these works are informed by the experience of the artist being a mother while trying to make work, the longing to go to new places outside the home, and life events as well as more collective feminist themes. Through the process of painting, making, sketching ideas, and writing her thoughts, Smith reflects on these themes to understand and make sense of the universe, in particular the position of women. She considers how our lives change in motion, leading us to one final destination. She considers Greek philosopher Marcus Aurelius's question in Meditations: "What does nature hold dearer or more proper to herself than the invisible existence of change?"
The starting point for this new body of work is Smith's fascination with stories of women in the news media concerning attacks, catastrophe, conflict, depression, desperation, domestic acts, loss, love, moving on, murder, resilience, survival and willpower. She is intrigued by how certain mass media stories about women resonate for women as echoes of their own lives. Women's stories interconnect like the branches of a tree or a woven tapestry or the thread count in a blanket. Smith is drawn to the crisis in each story by how it is unpacked, as if each woman is unfolding clothes from a suitcase after a journey from girlhood to womanhood and beyond. Smith appropriates news photographs depicting these women, meshing them into paint, photo collages, readymade sculptures, annotated sketchbook drawings, and collages.
Image: Vicky Smith, A Woman in a Gorgeous Frothy Bed with a Book and Bow, 2022, oil and acrylic on linen canvas, 25 x 30cm
Sunday 6 March – Sunday 3 April 2022
3 Great Denmark Street
(beside Belvedere College)
Dublin 1
Telephone: +353 87 2887261
Opening hours / start times:
Tues to Fri: 11am to 6pm (till 8pm on Thursdays) • Sat & Sun: 12 noon to 5pm • Closed on Mondays (or viewing by appointment only)
Admission / price: Free