Véronique Doisneau (2004) – A film by Jérôme Bel
Saturday 3 October 2015 – Sunday 10 January 2016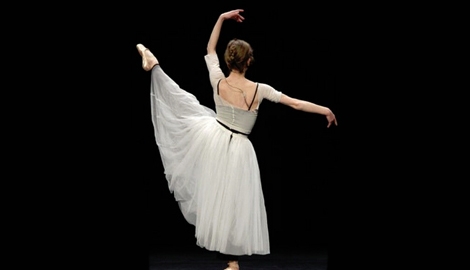 Véronique Doisneau (2004), a film by artist and choreographer Jérôme Bel, explores the formal aspects of the stage, the physical presence of a dancer and the relationship with theatrical space can hold an audience captive. In 2004, the Paris Opera commissioned Bel to make this documentary about the real-life ballerina Véronique Doisneau. Close to retirement age, she stands alone on stage, ruminatively considering her career. Doisneau dances, hums music, and speaks frankly to an audience about life as a ballet dancer. The resulting performance is both moving and illuminating.
Véronique Doisneau was produced by Telemondis and the Paris Opéra, and co-realised by Pierre Dupouey and Jérôme Bel.
Image: Courtesy Studio Jérôme Bel
Saturday 3 October 2015 – Sunday 10 January 2016
Old Dublin Road, Carlow
Telephone: +353 59 917 2400
Opening hours / start times:
Tuesday 11.00 - 17:30
Wednesday 11.00 - 17:30
Thursday 11.00 - 17:30
Friday 11.00 - 17:30
Saturday 11.00 - 17:30
Sunday 14:00 - 17:00
Admission / price: Free
Remember to pay for the parking! Box office open, as well as times given, on day of theatre events from 6.30pm to show start.