Vanessa Donoso López: I shall change the way things are ordered
Thursday 22 March – Saturday 21 April 2018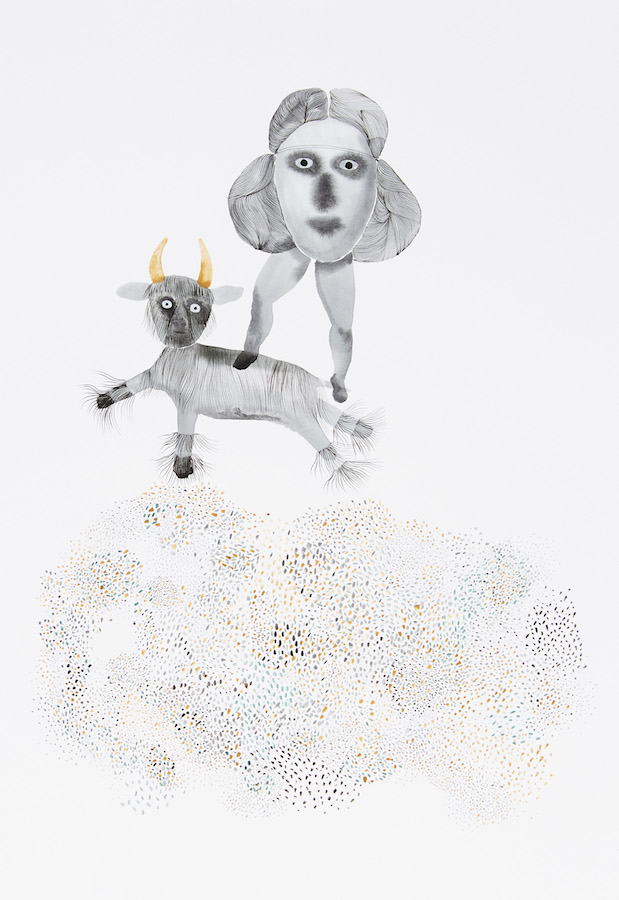 "Initially transcribed in Sumerian on 12 clay tablets, the material link between Gilgamesh and its birthing substance is further compounded in this exhibition. It is also fitting that this most pliable of mediums is paired with a piece of fictive narrative that, having undergone countless translations, exists now as a series of conflicting versions. Donoso López's interpretations are straightforwardly depictive. In both drawing and sculpture, the characters regard us with uniform expressions; we see Gilgamesh, known to be a cruel king, exert his authority with a brute physicality. We see Utnapishtim and his wife – depicted alongside the animals they ushered onto the ark – who Gilgamesh approaches in his search for the youth restoring flower. The flower itself is portrayed as a simple floral substance without reference to its potential magical attributes.
Concurrent with this literal quality, however, is a marked blend of textual interpretation and embodied experience, the substantive crux of the work being the clay retrieved from the three sites across Spain. Integral to how they function in the gallery is the extended movement through space their making entailed, a repeated transitioning across borders geographical and political. Now directly embodying these locations, the works are rich with incidental detail and haptic content, with close and recurring contact: the viewer's experience, though primarily ocular, is tangibly charged with the artist's travels, with each micro-instance of petrichor in the studio as the clay, upon being wettened to be mixed with ink, releases a rain-rich scent."
-Extracted from On Clay and Transitional Spaces, an essay by Sue Rainsford.
On Clay and Transitional Spaces was commissioned on the occasion of I shall change the way things are ordered, the full text will be available at the gallery as of March 22nd.
Vanessa Donoso López (born Barcelona, Spain) lives and works in Dublin. She studied at the School of Arts and Design Llotja, Barcelona, the University of Barcelona and the Winchester College of Art, UK. Some of her solo shows include A painful excess of pleasure, Kevin Kavanagh Gallery, Dublin, Jouissance, Madame la Marquise, Barcelona, it never rains to everybody's taste, Queen St. Studios and Gallery, Belfast, the rain in spain falls mainly of the plane, Barcelona, Spain, Scientifico-experimental-techno-color-movement, M'ATUVU Project Space, Brussels, Belgium, showcase artist at the London Art Fair, London, Establishing a Mission at the Ashford Gallery, Royal Hibernian Academy, Dublin. Group shows include Death Drive, Galway Arts Centre, I want to be your dog, The Glue Factory, Glasgow, 40/40/40, Madrid, Rome, Warsaw and Dublin, Metamorphosis, PS2 Belfast, 182nd Annual Exhibition, Royal Hibernian Academy, Dublin, Drawing Connections, Siena Art Institute, Siena, Italy, Little M, Actus Magnus Gallery, Vilnius, Lithuania, The God of Small Things, Rubicon Gallery, Dublin and Precaution at Irish Museum of Modern Art, Dublin.
Sue Rainsford is a writer and researcher based in Dublin. She is the recipient of the VAI/DCC Critical Writing Award 2016/17, and is currently in residence at the Irish Museum of Modern Art as part of The Freud Project (2016-2021). Her novel, Follow Me To Ground, is forthcoming with New Island Books in May 2018.
Thursday 22 March – Saturday 21 April 2018
Chancery Lane
Dublin 8
Telephone: +353 1 475 9514
Opening hours / start times:
Tuesday to Saturday 11am – 5pm
Admission / price: Free