United States of Europe
Friday 8 March – Saturday 30 March 2013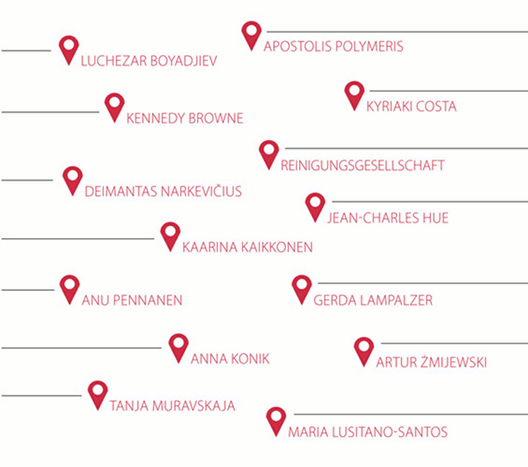 Opening Reception Thursday 7 March at 6pm
LUCHEZAR BOYADJIEV (PL), KENNEDY BROWNE (IE), KYRIAKI COSTA (CY), JEAN-CHARLES HUE (FR), KAARINA KAIKKONEN (FI), ANNA KONIK (PL), GERDA LAMPALZER (AT), MARIA LUSITANO-SANTOS (PT), TANJA MURAVSKAJA (EE), DEIMANTAS NARKEVIČIUS (LT), ANU PENNANEN (FI), APOSTOLIS POLYMERIS (BE), REINIGUNGSGESELLSCHAFT (DE) & ARTUR ŻMIJEWSKI (PL)
In partnership with Cork Civic Trust and National Sculpture Factory, Crawford Art Gallery is delighted to present United States of Europe(Friday 8 to Saturday 30 March), an exhibition offering artists' perspectives on citizenship, freedom of expression, democracy and identity.
These issues have long been important to contemporary art and the question of identity has become particularly crucial due to globalization and intense migration processes that have changed the profile of most nations, including European ones. When identifying themselves, most European Union citizens often talk about nationality, gender, profession, religion, but not about being European.
United States of Europe (U.S.E.) serves both as a platform for an open discussion about contemporary Europe and as a tool to question or strengthen the sense of European identity among European Union citizens. The works in this exhibition make us aware of the complexity and the scope of these questions and sets the stage for a deliberation of various aspects of this issue. United States of Europe features video, installation and photographic works, and provides opportunities to encounter artworks from significant artists working in very different economies and locations.
To coincide with the opening of United States of Europe a two-day symposium organised by the National Sculpture Factory will be held on Friday 8th and Saturday 9th March at the Crawford Art Gallery. The symposium Dreams of Freedom? Conversations on Aesthetics, Ethics & European Democracies will include artists from the U.S.E.exhibition, and key protagonists from Europe who will contest the grounds of Art & Public Space, Aesthetic Resistance, Social and Political Transformation, Demonstration, Democracy and European Hybridity.
The exhibition is part of Culture Connects Programme of Ireland's Presidency of the Council of the European Union. The project was initiated by the Goethe Institut Paris.
Friday 8 March – Saturday 30 March 2013
Emmet Place, Cork
Telephone: +353 21 4805042
Opening hours / start times:
Monday 10:00 - 17:00
Tuesday 10:00 - 17:00
Wednesday 10:00 - 17:00
Thursday 10:00 - 20:00
Friday 10:00 - 17:00
Saturday 10:00 - 17:00
Admission / price: Free