Undercover: A Dialect
Saturday 5 October 2013 – Sunday 5 January 2014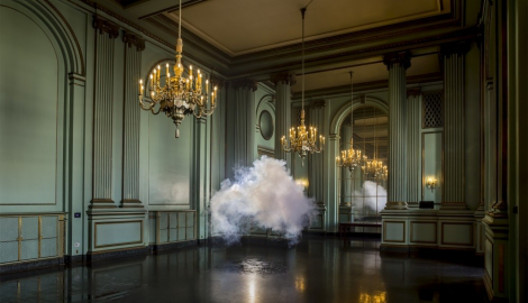 Opening Reception Saturday 5 October at 2pm • Curator's talk at 2:30pm
Group Show curated by Michele Horrigan • Work by Stephen Brandes, Aaron Lawless, Berndnaut Smilde, aiPotu: Anders Kjellesvik and Andreas Siqueland, Jeronimo Hagerman, Magdelena Jitrik, Fiona Larkin, Sean Lynch, Pilvi Takala & Lucy Lippard
Undercover: A Dialect is an exhibition exploring the ways in which artists can be involved in covert and hidden activities in public, often acting out individual trajectories away from any public attention. It takes the position that artistic activity is not about fitting into a consensus of what art in public should be, and identifies with work that enjoys an undercurrent of improvisation and frugality, haphazard formality, and changeability.
The exhibition will take place in the galleries at VISUAL, and in sites around Carlow town and include new work by Aaron Lawless and Stephen Brandes. Berndnaut Smilde will create a cloud for VISUAL as part of his ongoing Nimbus Series. Transient a cloud will hang momentarily in the galleries at VISUAL allowing the artist a brief time to capture an image for print, this will remain as a reminder when the cloud that has evaporated. Norwegian Collective aiPotu will offer open air bathing to the public through a sculptural installation made of recycled timber and featuring Norwegian Pine soap.
Also included in this exhibition is 955,000 an exhibition catalogue curated by Lucy Lippard for Vancover Art Gallery in 1970. Involving loose leaf submissions by over 70 artists on index cards with instructions for artworks, proposals for unrealized projects, hand drawn notes and explanations, it holds contributions by Hans Hacke, Bruce Nuaman, Robert Smithson, Barry Flanagan and Eva Hesse. Lippard's 955,000 offers a snapshot of a time when art was undergoing changes that would radically shape the practices of artists and their relationship to the public.
Michele Horrigan will give a curator's talk at 2.30pm on Saturday the 5th of October.
Undercover: A Dialect is curated by artist and curator Michele Horrigan, who is founder and curatorial director of Askeaton Contemporary Arts.
Image (Nimbus Green Room, Berndnaut Smilde)
Saturday 5 October 2013 – Sunday 5 January 2014
Old Dublin Road, Carlow
Telephone: +353 59 917 2400
Opening hours / start times:
Tuesday 11.00 - 17:30
Wednesday 11.00 - 17:30
Thursday 11.00 - 17:30
Friday 11.00 - 17:30
Saturday 11.00 - 17:30
Sunday 14:00 - 17:00
Admission / price: Free
Remember to pay for the parking!

Box office open, as well as times given, on day of theatre events from 6.30pm to show start.