Ulrich Vogl: of clouds and strings
Friday 21 February – Saturday 22 March 2014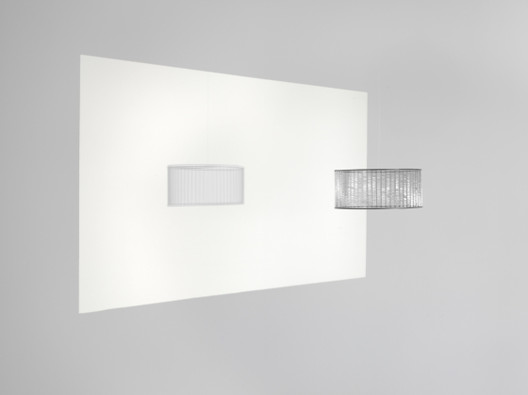 Opening reception Thursday 20 February at 6pm
Ulrich Vogl's most recent body of work focuses on sculptures that are – either in themselves or in their projection – films. Like in previous works Vogl uses movement, light and shadow to capture a suspension of reality and space.
Among the sculptures in of clouds and strings is the Wolkenfilmmaschine (2013) where Vogl combines the early film techniques of the carousel with a moving mobile inside a rotating ball. Film (2012/2014) works with a turning wheel made from wire and its projection references the essence of early black and white movies. Both works are good examples of Vogl's approach: time-based, playful, simple in their creation. In their simplicity they create their own magic – thus giving space to the viewer's own association, the viewer's own film.
Ulrich Vogl was born in Kaufbeuren (Germany) in 1973 and is based in Berlin. He studied Fine Arts in Munich, Berlin and New York. In May 2013 Vogl's first permanent outdoor piece House of Clouds was inaugurated in Stavanger, Norway. Recent solo shows include Do you Remember?(Artport, Tel-Aviv, 2012); Peindre d´abord une cage (Galerie Opdahl, Berlin, 2012); She brings the Rain (with A. Benchamma, ADN Gallery, Barcelona, 2011) and Dunkle Kammer (Kevin Kavanagh, Dublin, 2011). Latest group exhibitions include BERLIN – RIGA. Scores for intermediate places (Latvian Center for Contemporary Art, Riga, 2013), Berlin Status I(Künstlerhaus Bethanien, Berlin, 2012), Märklin World (KAdE, Amersfoort, 2011), Halleluwah! Hommage a CAN (abtart, Stuttgart, 2011), ARTIUM Collection (Artium, Vitoria, 2011/10). In 2012 Vogl was scholar of the Artport Residency in Tel Aviv. In 2011 he received the EHF grant of the Konrad Adenauer Foundation and in 2010 he was awarded the ZVAB Phoenix Price.
For further information please visit: www.ulrich-vogl.de.
Image: Ulrich Vogl: Film, 2012/2014, light source, wheel, motor, string, dimensions variable. Credit Eric Tschernow.
Friday 21 February – Saturday 22 March 2014
Chancery Lane
Dublin 8
Telephone: +353 1 475 9514
Opening hours / start times:
Tuesday to Saturday 11am – 5pm
Admission / price: Free