Ulrich Vogl: Dunkle Kammer
Sunday 4 September – Saturday 1 October 2011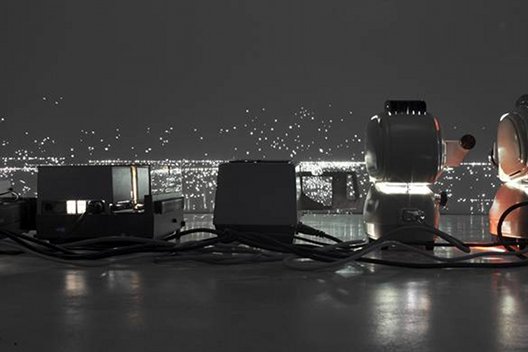 Opening reception on Sunday 4 September between 6 – 8pm
AFTER PARTY with DJ Junk AKA artist – Paul McKinley 8 – late at Radisson Blu Hotel, Golden Lane, Dublin 8 (next to the gallery)
Please allow us to take you out for a glamorous night of dancing… Our capacity is large, so bring a friend!
---
Kevin Kavanagh is pleased to present Dunkle Kammer, Ulrich Vogl's third solo show in Ireland. Dunkle Kammer / Dark Chamber combines various media, drawing, film and sculpture to capture the order (well made drawings and wall mounted sculpture) with the chaos (mobile objects) of the cosmos. Like in previous exhibitions each of his works is underwritten by a strong conceptual basis and he chooses to realize each in the most appropriate manner, whatever that might be. There is also a persuasive consistency to what he does that suggest a concerted engagement with certain core process and media, and it's reasonable to suggest that this ongoing engagement is the dynamo that drives his work along a definite line of development*. Welcome to Vogl's world.
*Aidan Dunne, There is Nothing Outside the Universe.
Ulrich Vogl (b.1973) lives and works in Berlin (Germany). He has exhibited widely in Europe. Recent shows include Nordlicht, Gallery Opdahl, Stavanger (Norway) in 2011; welt, Galerie Opdahl, Berlin (Germany), too topics(with V.Stylianidou),Tint Gallery at the Photobiennale Thessaloniki (Greece), In the light, Le Guern Gallery, Warsaw (Poland), ARTIUM Collection, Centro-Museo Vasco de Arte Contemporáneo, Vitoria-Gasteiz (Spain) in 2010.
In 2011, Vogl was awarded EHF- Stipendium der Konrad-Adenauer-Stiftung , ZVAB-PHÖNIX in 2010 and the Artist's Residency Programme in the Irish Museum of Modern Art in Dublin in 2008. His work is represented in many private collections in Europe and public collections as Centro-Museo Vasco de Arte Contemporáneo in Vitoria – Gasteiz (Spain).
Please RSVP to confirm your attendance at info@kevinkavanaghgallery.ie
We would like to thank to the Goethe – Institut in Irland for their support on this exhibition.
Sunday 4 September – Saturday 1 October 2011
Chancery Lane
Dublin 8
Telephone: +353 1 475 9514
Opening hours / start times:
Tuesday 10:30 - 17:30
Wednesday 10:30 - 17:30
Thursday 10:30 - 17:30
Friday 10:30 - 17:30
Saturday 11:00 - 17:00
Admission / price: Free