Twenty
Friday 27 May – Sunday 16 October 2011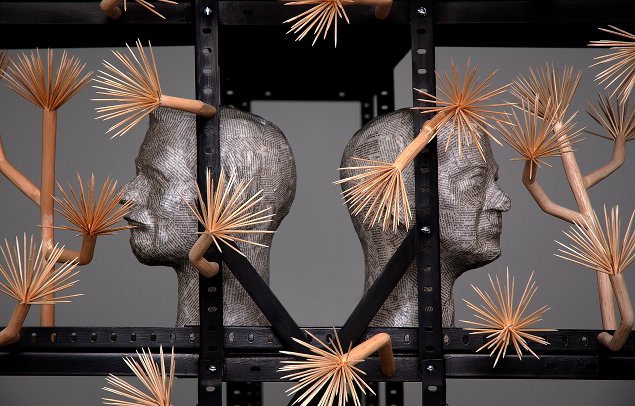 Drawn from IMMA's Collection, the works in Twenty include installations, photography, painting and sculpture. Commonalties and dialogues appear between the works, but the exhibition seeks to allow sufficient space that each may be viewed as representing an individual practice. For example, Katie Holten's 137.5 / It started on the c train, 2002, a web-like wall installation made from crochet, started on the subway in New York and continued as the artist traveled around Eastern Europe. Another work, Memorial Gardens, 2008, by Niamh O'Malley was made while O'Malley was participating in IMMA's Artists' Residency Programme. It presents footage taken in the nearby War Memorial Gardens in Islandbridge projected on to etched-primed aluminum, creating an unreal, chimera type effect of distance and loss. Works by Orla Barry, Stephen Brandes, Nina Canell, Fergus Feehily, Patrick M FitzGerald, John Gerrard, David Godbold, Paddy Jolley, Nevan Lahart, Niamh McCann, Willie McKeown, Perry Ogden, Liam O'Callaghan, Alan Phelan, Garrett Phelan, Eva Rothschild and Corban Walker are also shown, together with a borrowed piece by Irish artist Sean Lynch.
Many of the Irish artists live abroad – in New York, Berlin, Vienna or London – reflecting the increasingly international environment in which their work is now seen. The significance of IMMA's Artists' Residency Programme, established in 1994, is also evident as many of the artists in Twenty have participated in the programme at some point, including Orla Barry, David Godbold, Liam O'Callaghan, Niamh O'Malley, Sean Lynch, Paddy Jolley, Katie Holten, Nevan Lahart, Alan Phelan and Garrett Phelan.
Other events taking place on 27 May include a talk by Irish artist Dennis McNulty at 3.00pm on his interdisciplinary installation in the Formal Gardens created in response to the Royal Hospital site. A series of short talks by the artists in Twenty will follow at 4.00pm, offering a personal perspective on their practice, while the participants in the IMMA's Artists' Residency Programme – John Hawke, John Beattie, Mark Hamilton, Andrea Pichl and the multi-faceted visual arts project CULTURSTRUCTION – will open their studios to visitors from 5.30 to 7.00pm.
Poet and novelist Jeremy Reed and musician Itchy Ear (Gerry McNee) take to the stage at 7.30pm with their unique collaboration The Ginger Light, In what has been described as a performance dynamic unparalleled in British poetry, they blur the boundaries between the spoken work, music, sound and song. The celebrations end with The fight against vegetation part 2, a film by French artist Cyprien Gaillard and his compatriot the self-professed "symphonic composer" Koudlam, presenting a characteristically iconoclastic view of man's interaction with nature.
Throughout the evening lifestyle store Brown Thomas will showcase 20 unique looks from internationally acclaimed fashion designer Mary Katrantzou. The installation, curated especially for IMMA, will bring together selected creations from her recent collections and an exclusive preview of her autumn 2011 collection. Originally from Athens, Katrantzou is known as the 'Print Princess' due to her amazing bold graphic prints and distinct approach to fashion, evident since the launch of her first collection in autumn 2009.
Twenty continues until 31 October 2011. Admission is free.
Image: Alan Phelan: Information deficit blended-in as a tree, 2006. Metal shelving, archival paper, toner, EVA glue, balsa wood, cocktail sticks, varnish, grate polish, framed c-print photograph, (papier-mâché made from pages of the Daily Telegraph). 350 x 200 x 300 cm. Collection Irish Museum of Modern Art. Purchase 2010. Image courtesy of the artist.
Friday 27 May – Sunday 16 October 2011
Royal Hospital, Kilmainham
Dublin 8
Telephone: +353 1 612 9900
Opening hours / start times:
Tuesday 11:30 - 17:30
Wednesday 11:30 - 17:30
Thursday 11:30 - 17:30
Friday 11:30 - 17:30
Saturday 10:00 - 17:30
Sunday 12:00 - 17:30
Admission / price: Free
Bank Holidays open 12:00 – 17:30.