Tulapop Saenjaroen
until Saturday 25 September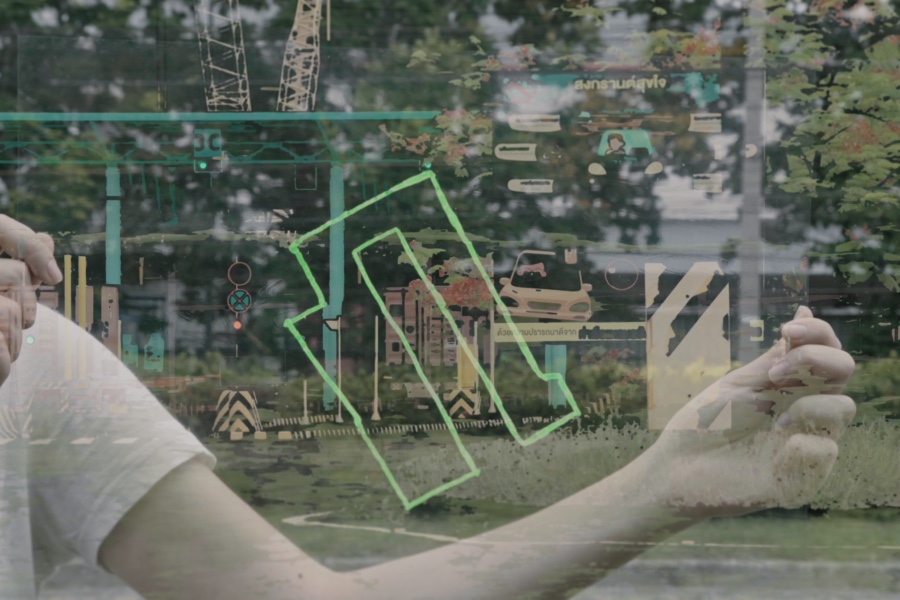 ――― In venue ―――
Tulapop Saenjaroen makes films, performances and installations in response to themes of capitalism – property, work-leisure dynamics, tourism, self-care, migration and free labour. His storytelling style draws from cinematic traditions, but he pressures the notion of 'reality' by fictionalising his account of a given subject. He explores questions of subjectivity in the neoliberal condition, including the paradox of control versus freedom in an everyday life that is highly regulated to facilitate a mindset geared towards production.
Notes from the Periphery (2021) witnesses the convergence of global economic networks, territories and realms of trade and labour in the port city of Laem Chabang in Chonburi province, Thailand. Situated in the intertidal periphery between life and death, safety and danger, the work depicts an in-between space connecting container ships to the life cycle of barnacles. As barnacles attach themselves to human-made constructions such as ships, Saenjaroen demonstrates, the process is not only material, but also points to a more abstract vocabulary of attachment via kinship, relationship and ownership. The indeterminate overlapping of images in the film mirrors the water washing across the barnacles, offering new perspectives on how connections may emerge across multiple ecologies.
Notes from the Periphery was commissioned by Abandon Normal Devices.
Tulapop Saenjaroen (b. 1986, Thailand) practices in Bangkok, Thailand. He graduated from the Slade School of Fine Art, University College London, and California Institute of the Arts. His work has been presented in events and institutions such as the Locarno Film Festival; International Film Festival Rotterdam; Images Festival, Toronto; Image Forum Festival, Tokyo; AND Festival, Manchester; Vancouver International Film Festival; Seoul International New Media Festival; San Francisco Museum of Modern Art; Museum of the Moving Image, New York; and Harvard Film Archive.
Produced by SIRIUS.
Image: Tulapop Saenjaroen, Notes from from the Periphery, 2021.Video, colour, sound, 32 minutes. Courtesy the artist, Bangkok
until Saturday 25 September
The Old Yacht Club
Cobh, Co. Cork
Telephone: +353 21 481 3790
Opening hours / start times:
Gallery hours during exhibitions:Wed-Fri 10:30-17:00 • Sat-Sun 13:00-17:00 Closed Mon - Tue
Office hours: Mon - Fri 09:30 - 17:00 • Closed Sat - Sun
Admission / price: Free