Trish Morrissey: Autofictions
Thursday 23 November 2023 – Saturday 10 February 2024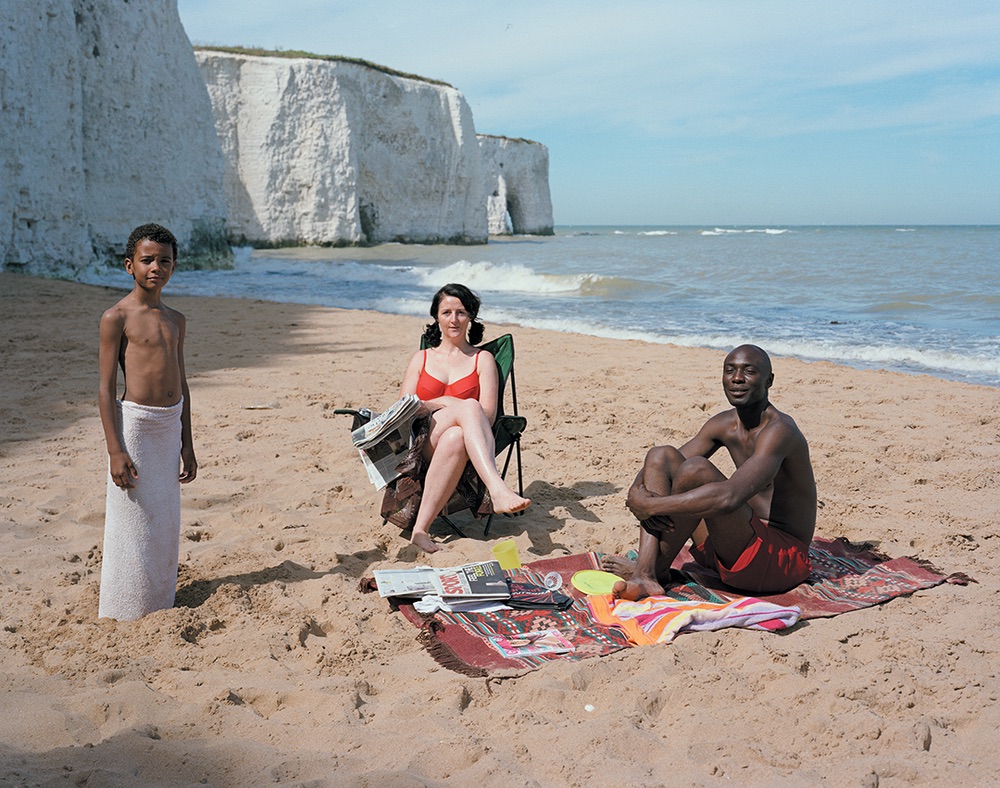 Twenty Years of Photography and Film
This survey exhibition of Irish artist Trish Morrissey brings together more than twenty years of work, focusing on the artist's commitment to representing female experience and telling the often overlooked stories of women. The exhibition is the Irish premiere of several bodies of work, including Psycho Beach, made on Achill Island, and Morrissey's latest film, Eupnea.
Trish Morrissey was born in Dublin and lives and works in the UK. Her practice combines performance, photography, and film, using archival research and her own biography as points of departure to develop and play real and fictional characters and explore ideas around family, the roles of women, and the body. Morrissey appears in her photographs and films, sometimes performing all the roles herself, and often chooses characters with whom she identifies. This creates a kind of 'autofiction' whereby experiences from her own life are explored through the stories of others.
The much-anticipated mid-career survey exhibition of renowned photographer Trish Morrissey, "Autofictions," is set to bring together photographs and films from over two decades of her practice. Originally produced by Serlachius Museums in Finland, the exhibition will now be showcased at Photo Museum Ireland as well as Impressions Gallery in Bradford. The exhibition will feature a new body of work, including Morrissey's most ambitious film installation to date, which will premiere in the UK and Ireland. Other works not shown previously in the region will also be on display, including a series of beach photographs from Ireland and Wales.
Included in the exhibition are selections from Morrissey's landmark series "Seven Years," which was created in and around the Dublin home where the artist grew up. These works were originally exhibited at the Gallery of Photography in Dublin to great acclaim. Morrissey's ongoing commitment to representing the female experience and telling the often-overlooked stories of women is a central theme of the exhibition.
Visitors will have the opportunity to delve deeper into Morrissey's work with the fully-illustrated publication, which features texts in English and Finnish. The publication includes a conversation between Morrissey and art historian Lucy Soutter, an introductory essay by curator Kate Best, and an essay on Morrissey's film work by Josephine Lanyon.
With its diverse range of works and themes, "Autofictions" promises to be an unmissable exhibition for photography enthusiasts and art lovers alike. Be sure to check out this exceptional showcase of Trish Morrissey's incredible talent and groundbreaking work.
---
EVENTS PROGRAMME
Artist & Curator In-conversation
5.00pm Thursday 23 November
Join us for a special in-conversation event with the artist and curator Kate Best. They will discuss the background of Morrissey's practice, the works featured in the exhibition, and the development of her artistic approach over the last twenty years.
This is a free event but places are strictly limited. Book your ticket at the link below.
Exhibition Opening
6.00pm Thursday 23 November
---
Originally produced by Serlachius Museums, Mänttä, Finland, curated by Kate Best, with Josephine Lanyon as consultant film curator, Trish Morrissey: Autofictions Twenty years of photography and film is toured as a partnership between Photo Museum Ireland, Dublin and Impressions Gallery, Bradford, UK.
Image: Trish Morrissey: Hayley Coles, June 17th, 2006, from Front, 2005 – 2007 © the artist
Thursday 23 November 2023 – Saturday 10 February 2024
Meeting House Square
Temple Bar, Dublin 2
Telephone: +353 1 6714654
Opening hours / start times:
Tuesday - Saturday 11am - 5pm. Mondays by appointment for education, artists archiving and training. Closed Sundays
Admission / price: Free