Town Planners
Saturday 3 February – Sunday 30 December 2018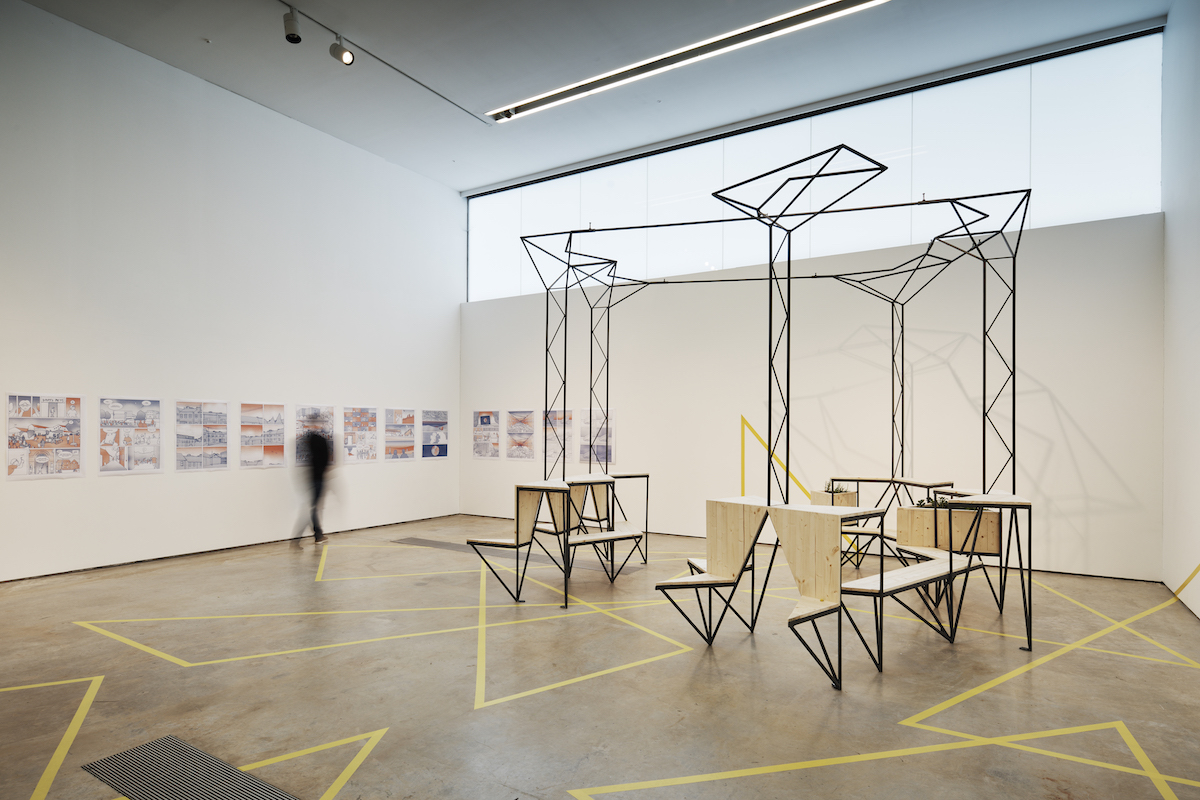 Co-produced with Workhouse Union • A year-long programme of design activities 2018
Town Planners examines our sense of civic space, the principles of planning and our relationships to the built environment and the world around us. The Studio Gallery will transform and change over the year, acting as a hub from which to explore the future of Carlow town through an active programme of events. A civic plaza space is reimagined in steel and wood by Spanish architectural collective Todo Por La Praxis as a place for people to gather, accompanied by Paul Bokslag's vinyl floor and wall drawing which takes its cue from urban road marking patterns.
In Summer 2017, VISUAL commissioned Studio Weave to develop 'My Carlow', a shared narrative for Carlow Town; for Spring 2018, Town Planners gives us an opportunity to explore what this might mean for Carlow's future.
Studio Weave are an award-winning multi-disciplinary group of designers and architects based in London, UK. They use storytelling and narrative as a means of engaging people in collaborative projects around placemaking and planning.
Todo por la Praxis is a design collective focusing on tactical urbanism and participatory processes. Their work provides innovative models for urban development that enables new tools, communication and engagement between diverse stakeholders, as well as new models of citizen co-management. The collective is based in Madrid and works throughout Spain, Europe, and Latin America.
Workhouse Union (based in Callan, Co. Kilkenny) works with artists, designers, architects and crafts-people to develop projects examining housing, civic infrastructure and the commons, engaging people with the spaces and places we live in. Their current work explores the future of rural towns through Meet You at the Green? (2017) and Bring Your Own Chair (2018).
Paul Bokslag (b. 1969, Vlaardingen, the Netherlands) studied at University of Applied Sciences Leiden and moved to Co. Kilkenny in 1999 to co-found the inclusive KCAT Arts Centre where he still works as a tutor and facilitator, alongside his artistic practice.
Town Planners is co-produced by VISUAL and Workhouse Union and funded through the Arts Council Engaging with Architecture Strand.
Saturday 3 February – Sunday 30 December 2018
Old Dublin Road, Carlow
Telephone: +353 59 917 2400
Opening hours / start times:
Tuesday 11.00 - 17:30
Wednesday 11.00 - 17:30
Thursday 11.00 - 17:30
Friday 11.00 - 17:30
Saturday 11.00 - 17:30
Sunday 14:00 - 17:00
Admission / price: Free
Remember to pay for the parking! Box office open, as well as times given, on day of theatre events from 6.30pm to show start.