Tony O'Malley: Comóradh Céad Bliain – Celebrating 100 Years
Thursday 26 September – Wednesday 9 October 2013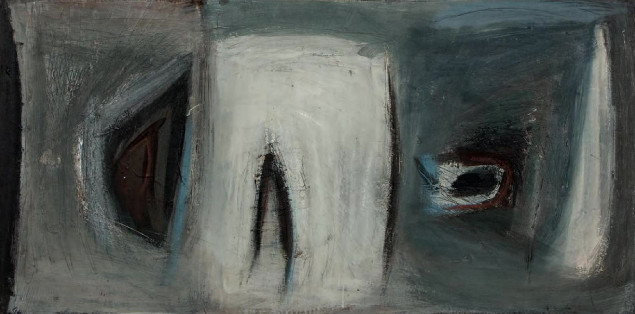 Opening Reception Wednesday 25 September at 6pm
Taylor Galleries is delighted to present Comóradh Céad Bliain – Celebrating 100 Years, a very special selected retrospective exhibition of work by Tony O'Malley (1913-2003) that celebrates the centenary of his birth.
The exhibition opens on what would have been the artist's 100th birthday and includes work from every decade of O'Malley's output from the 1940s to 2000s. It is accompanied by a catalogue that features a specially commissioned essay by Brian Fallon.
O'Malley was both an intellectual and a "man of the people," which is a rare combination. He had known all sorts and conditions of men, seen the insides of several hospitals, submitted to bureaucratic office routines, endured the regimen of cheap lodging-houses in small towns, subsisted as a freelance artist, downed beers or whiskies in innumerable pubs…endured the sniggers and jibes of fellow-lodgers when he persisted in listening to Bruckner on the radio. He could watch an All-Ireland hurling final on TV and give you a shrewd analysis of it afterwards; a few hours later, however, he might be absorbed in listening to a Mahler song recital. The man who enjoyed a good plate of fish-and-chips in a back-street of St. Ives was also an occasional guest at Barbara Hepworth's select dinner parties, or a welcome visitor to The Eagle's Nest, Patrick Heron's prestigious house and garden near the village of Zennor.
– Brian Fallon, 2013
Born in Callan, Co. Kilkenny in 1913, Tony O'Malley worked for many years as a clerk with the Munster and Leinster Bank, began painting in the 1940s and then moved to St. Ives in Cornwall to pursue his artistic career full-time in 1960. From early figurative works his practice expanded to encompass his interest in depicting inner worlds as well as landscapes, and the influence of the leading figures in the community of artists in St. Ives directed him towards abstraction and experimentation. He returned to live in Ireland in 1990 and in 1993 was elected Saoi of Aosdána. Throughout his life he exhibited widely, both in Ireland and abroad, and spent time working in the Bahamas and Lanzarote. His work is represented in many private, museum and corporate collections worldwide. Tony O'Malley died in Physicianstown, Co. Kilkenny in 2003.
Thursday 26 September – Wednesday 9 October 2013
16 Kildare Street, Dublin 2
Telephone: +353 1 676 6055
Opening hours / start times:
Monday 10:30 - 17:30
Tuesday 10:30 - 17:30
Wednesday 10:30 - 17:30
Thursday 10:30 - 17:30
Friday 10:30 - 17:30
Saturday 11:00 - 15:00
Admission / price: Free