Tom Wood: Men and Women
Thursday 21 November 2013 – Sunday 12 January 2014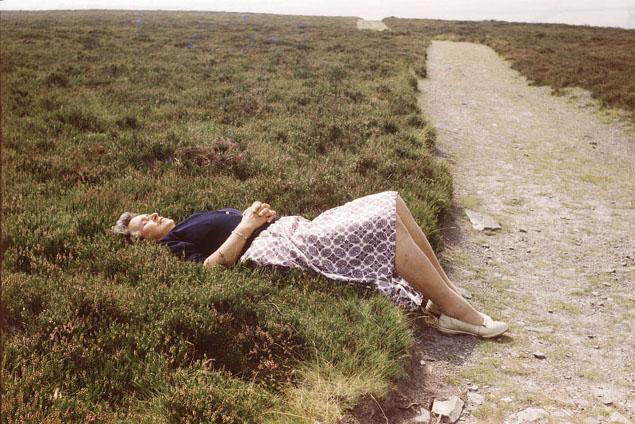 Opening reception Thursday 21 November at 6:30pm
You and your guest are warmly invited to attend the opening of Tom Wood 'Men and Women' on Thursday 21st November 2013 here in Gallery of Photography.
Tom Wood has taken photographs almost every day for the last 40 years. Never seen without his camera, and constantly moving between different formats and photographic styles, colour and black and white, the Photie Man (as Wood became known locally and as his recent book with Steidl was titled) readily mixes images of strangers with portraits of family and friends.
Men and Women presents Wood's most recent arrangement of his highly acclaimed works. Wood, in a creative collaboration with artist Padraig Timoney, has searched through his vast archive images. Editing from long-term and previously unseen bodies of work — such as the along with the seminal Looking for Love, All Zones Off Peak, Football Grounds, Shipyard and Docks and Women's Market – his photographs were organised under the headings 'Men' and 'Women'.
What began to emerge was a subtle new reading of his work that dealt with gender alongside his other preoccupations with character and place. Displayed together without chronology, the fluid arrangement highlights the intentional visual play between the images, as well as Wood's prolonged involvement with his subject matter.
Trust and empathy are both key elements in Wood's practice and his photographs are the result of considered observation, offering affirmative responses to moments from the lives of those he pictures. The exhibition highlights include Charlie and Alan (1977), a photograph depicting his father and cousin during a visit to their family home in Ireland; 20 and 13 (2008), a snapshot of his two sons; Not Miss New Brighton (1978/79) an image featuring two young women sitting on top of a red car posing for the camera; and Mrs Coulson (1973), one of the very first photographs taken by Wood picturing his landlady resting on the grass on a summer's day.
Men and Women was first shown at The Photographers' Gallery, London in 2012 in an exhibition organised in collaboration with the National Media Museum, Bradford. The works were included in their recent major retrospective of Wood's Tom Wood: Photographs 1973-2013. This new staging of Men and Women on show here is organised in collaboration with Belfast Exposed.
Artist's Book A new pair of books, Men and Women (Steidl), on which he collaborated with artist Padraig Timoney, is available for sale priced €65 for the pair €35 each.
Artist's talk:
Tom Wood will talk about his work at 5pm on Thursday 21st November 2013. Booking is essential.
Image: Tom Wood: Heather level, undated © Tom Wood
Thursday 21 November 2013 – Sunday 12 January 2014
Meeting House Square
Temple Bar, Dublin 2
Telephone: +353 1 6714654
Opening hours / start times:
Tuesday - Saturday 11am - 5pm. Mondays by appointment for education, artists archiving and training. Closed Sundays
Admission / price: Free